Looking for not-so-scary Halloween movies for the kids? Or maybe you want spooky Halloween movies for teens? Here is a list of some of the best Halloween movies for kids and teens ranging from rated G to PG-13, even rated R if you want to go there. I'll list which Halloween movies are more kid-friendly than not and which Halloween movies for teens you can stream online.
List of Best Halloween Movies for Kids and Teens
This list of best Halloween movies can work for kids, tweens, and teens. It all depends on how much scare you want in your Halloween movies!
The Nightmare Before Christmas
Muppets Haunted Mansion
Nightbooks
The Witches
Hocus Pocus
It's the Great Pumpkin, Charlie Brown
Hubie Halloween
The Ring
Beetlejuice
Scream
Scream 5
Best Halloween Movies For Kids With A Little Scare
These Halloween movie picks are for the kiddos. You'll get some classics and also some new movies added to Netflix. Some may talk about Halloween and others may be just a little spooky, but nothing too bad or rated over PG.
It's The Great Pumpkin, Charlie Brown
For the littles, you can't go wrong with Charlie Brown. It's The Great Pumpkin, Charlie Brown is a Halloween staple, and isn't too frightening for children.
The Peanuts gang celebrates Halloween, with Linus hoping that, finally, he will be visited by The Great Pumpkin; Also, Charlie Brown is invited to a Halloween party.
It's The Great Pumpkin, Charlie Brown is not rated, but I would classify it as rated G.
The Nightmare Before Christmas
Is it a Halloween movie, is it a Christmas movie? I'm undecided. But it's a cult classic, meaning some people love it and some people hate it. It's weird for sure, but if you're a Disney fan, you gotta see it at least once, especially if you go to the Halloween parties at Disney World or Disneyland. You'll see some characters from the film out doing meet and greets.
Jack Skellington, the pumpkin king of Halloween Town, is bored with doing the same thing every year for Halloween. One day he stumbles into Christmas Town, and is so taken with the idea of Christmas that he tries to get the resident bats, ghouls, and goblins of Halloween Town to help him put on Christmas instead of Halloween — but alas, they can't get it quite right.
The Nightmare Before Christmas is rated PG for some scary images.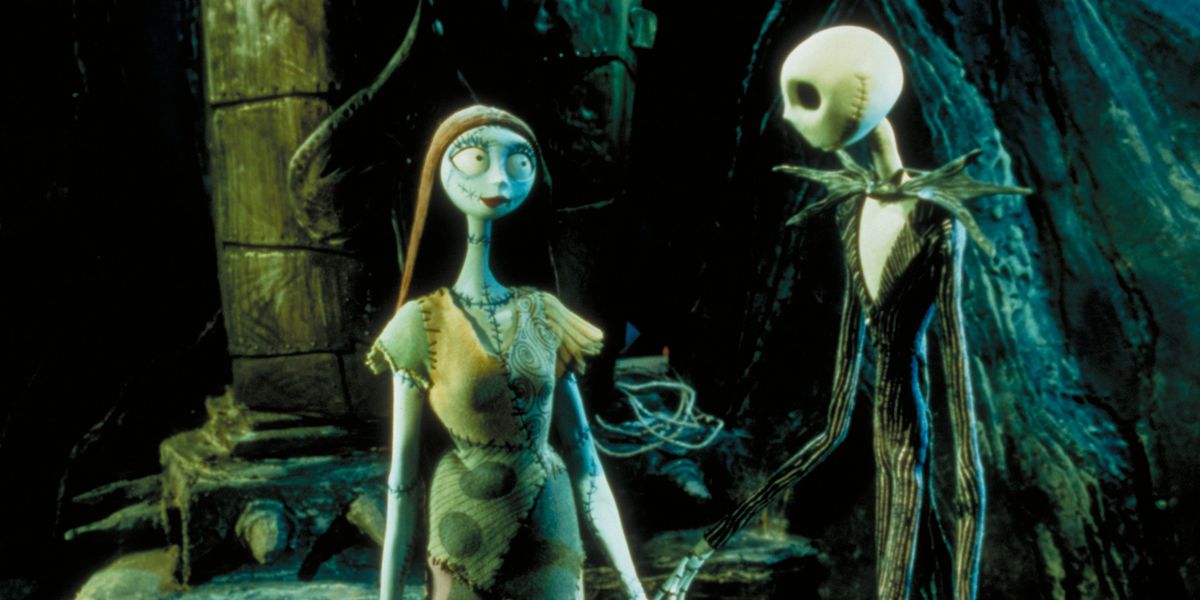 Muppets Haunted Mansion
Speaking of Disney fans, Muppets Haunted Mansion is a hoot! If you are a fan of the Haunted Mansion attraction in Disney theme parks, then this is definitely for you! It's funny, gives great nods to the Haunted Mansions, and has great quotes!
Nightbooks
Nightbooks is for the kids who want scary, but aren't quite ready to graduate to PG-13 movies. Nightbooks is an excellent film on Netflix that may be appropriate for tweens, but I think many kids could handle it. My 9-year-old loved it! Check out my Nightbooks Parents Guide if you want even more details on it.
Alex is a huge scary story fan, but is made fun of for his love of writing spooky tales. HE is kidnapped by a witch and must tell a spine-tingling tale every night, or stay trapped with his new friend in the wicked witch's magical apartment forever.
Nightbooks is rated TV-PG for scary elements.
The Witches
The Witches is a remake that came out last year that adds a little extra spook for kids but doesn't cross the line. This is another for those kids who want more scary than animated shows can provide. Check out The Witches Parents Guide for more details.
In late 1967, a young orphaned boy goes to live with his loving grandma in the rural Alabama town of Demopolis. As the boy and his grandmother encounter some deceptively glamorous but thoroughly diabolical witches, she wisely whisks him away to a seaside resort. Regrettably, they arrive at precisely the same time that the world's Grand High Witch has gathered her fellow cronies from around the globe — under cover — to carry out her nefarious plans.
The Witches is rated PG for scary images and language.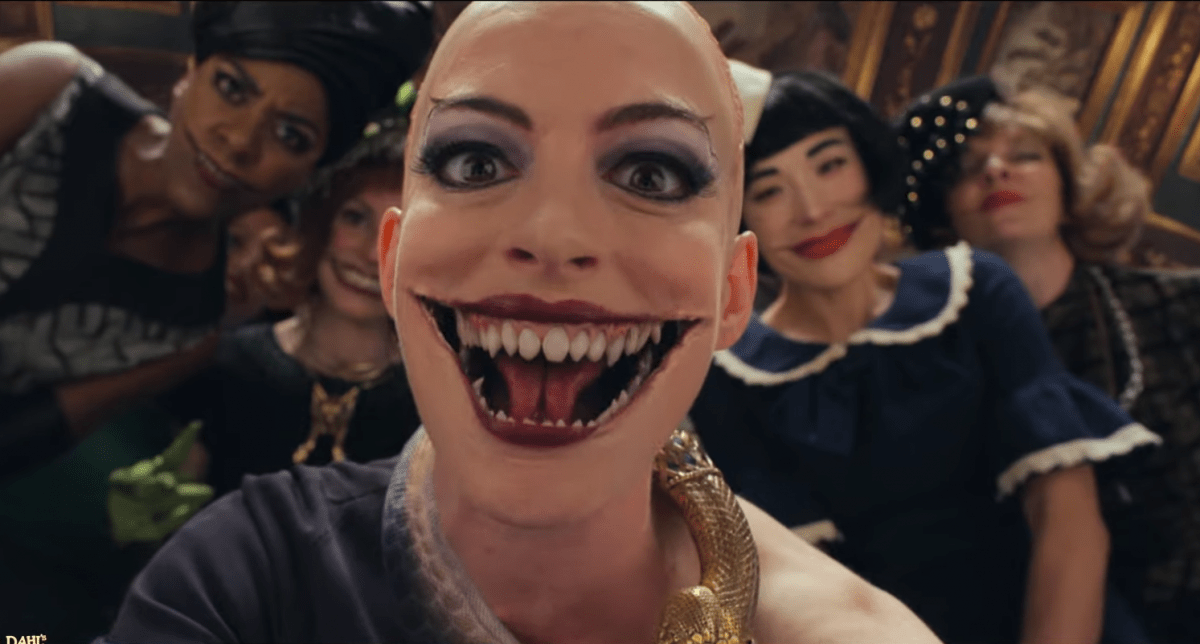 Best Halloween Movies for Teens
Here is a list of Halloween movies for teens that are a bit more mature and/or scary! You can decide what kind of scary they are ready for.
Hocus Pocus
Hocus Pocus is another cult classic that you either love or hate. It's so weird sometimes that I don't recommend it for kids, because sometimes I'm like what is happening here? But at the same time, it's funny and easy to make fun of which tweens and teens sometimes like to do. The musical numbers are pretty rad though.
300 years have passed since the Sanderson sisters were executed for practicing dark witchcraft. Returning to life thanks to a combination of a spell spoken before their demise and the accidental actions of Max, the new-kid-in-town, the sisters have but one night to secure their continuing existence.
Hocus Pocus is rated PG for some scary elements and language. And it's weird, y'all. This Hocus Pocus Parents Guide will break down age recommendations for you.
Hubie Halloween
Hubie Halloween is that bridge where teens can enjoy a mildly scary Halloween movie, but still get some inappropriate content that may be too much for kids. You can get more details in my Hubie Halloween Parents Guide.
Despite his devotion to his hometown of Salem (and its Halloween celebration), Hubie Dubois is a figure of mockery for kids and adults alike. But this year, something is going bump in the night, and it's up to Hubie to save Halloween.
With typical raunchy Adam Sandler humor and some scares, this film is entertaining enough for teens.
Hubie Halloween is rated PG-13 for language and crude humor.
The Ring
I'm not really into the horror genre, because I spook easily, but I watched The Ring, and it creeped me out! However, it wasn't gory, which is what I really don't like. Slasher movies are not my thing. If you want a scary movie, but don't want one that will give you nightmares for weeks, then check out The Ring.
Rachel Keller is a journalist investigating a videotape that may have killed four teenagers (including her niece). There is an urban legend about this tape: the viewer will die seven days after watching it. If the legend is correct, Rachel will have to run against time to save her son's and her own life.
The Ring is rated PG-13 for thematic elements, disturbing images, language and some drug references.
Beetlejuice
All my kids love Beetlejuice – ages 9 to 17! I think it's a bit over the top, but they seem to love it, so I had to add it to the list. The spirits of a deceased couple (Adam and Barabara) are harassed by an unbearable family that has moved into their home, and they try to scare them out. However, they're not budging, so they hire Beetlejuice, a malicious spirit to drive them out. However, Beetlejuice has his own plans. This is more of a comedic pick.
Beetlejuice is rated PG, but that's old school PG, because there is language and mature content.
Scream
Scream was probably the first real scary movie I saw as a teen. It's scary, especially with that popular mask and is a bit of a slasher/campy fun movie. However, it gets intense, so this is on the top of the scale as far as scary movies for teens go in my book. This is for teens who like this genre, who have already seen this type of film and can handle it. I wouldn't recommend Scream for tweens.
There is extreme language including about 20 f-words, also some sexual content and innuendos, but no nudity. Some teens wear provocative clothing and one girl takes off her shirt and you see her back.
A year after the murder of her mother, a teenage girl is terrorized by a new killer, who targets the girl and her friends by using horror films as part of a deadly game.
Scream is rated R for violence, gore, and language.
Scream 5
If you're on a Scream marathon kick, then add Scream 5 to your Halloween movie list for teens. Scream 5 was released in 2022 and probably has more actors your children have heard of.
Twenty-five years after a streak of brutal murders shocked the quiet town of Woodsboro, Calif., a new killer dons the Ghostface mask and begins targeting a group of teenagers to resurrect secrets from the town's deadly past.
Scream 5 is rated R.
Happy Halloween!
More Holiday Movies for Kids and Teens
New Year's Eve Movies for Kids and Teens
Best Valentine's Movies For Kids and Teens