Halloween 2022 is almost here, and I know I'm still googling family costumes. Here are some easy Halloween Couples Costumes for 2022 that I was able to put together in about 1 to 2 hours depending on what you have at home. These should be easy on the budget, too.
Last-Minute Halloween Couples Costumes
If this year has been a dumpster fire for you. Well, I made a costume for that, too. But costumes don't have to be complicated, and you can throw together a couples costume for Halloween in a pinch that may just win you some awards.
Tiger King Couples Costume
Oh yes, a Carole Baskin costume and a Joe Exotic costume all in one. Do these 2 ever go out of style? Maybe they hate each other in real life, but you cool cats and kittens can throw this together easily.
I bought a mullet wig and a blonde wig at Walmart for $5.99 each. I already had a cheetah print shirt and paired it with jeans. To make a flower crown, they had wire garland also at Walmart and I hot glued little purple flowers around it, then just tied the garland after I measured it on my head. It took me a total of 10 minutes. You can find fake flowers at any craft store.
For Joe Exotic, we had an old plaid shirt at home, so I just cut off the sleeves. My husband had a little bit of stubble on his face, so I used brown eyeliner to complete the look. Then he used flimsy key rings that you get from the car dealership and stuck them on his ear for earrings. He wasn't about to commit to having his ears pierced.
Find a fake Tiger, get an attitude, and voila, Tiger King costume. And check here if you need Joe Exotic quotes about Carole Baskin for your Instagram captions.
Super Mario Bros Couples Costume
Who doesn't love the Super Mario Bros – Mario and Luigi? Grab a red and green shirt, long-sleeved or short-sleeved depending on the weather where you live. If you have overalls, great. If not, you can also use jeans or tutus and then add suspenders (real ones or make them out of cloth for the look).
We just used yellow paper to add buttons and make stars. I found white gloves at Party City for $2.99. They had fake mustaches at Walmart for $.99 or else just use eyeliner to draw them on your face. Any little detail you can add sells the costume even more. But it doesn't have to be expensive. Use paper!
Squid Game Couples Costumes
This easy DIY Squid Game Costume is simple to turn into a couples costume. You can add a player or you can add another staff character with a different shape. A quick trip to Walmart should get you all the supplies you need.
Chip and Joanna Gaines Costume
I quickly threw together a Chip and Joanna Gaines costume for Bus Stop Costumes with my daughter, but you can easily turn this into a couples costume. Grab some jeans, boots, and a flannel or denim shirt for Chip or JoJo. Grab a tool belt and some tools, say "shiplap" and "are y'all ready to see your Fixer Upper" a lot, and you're golden.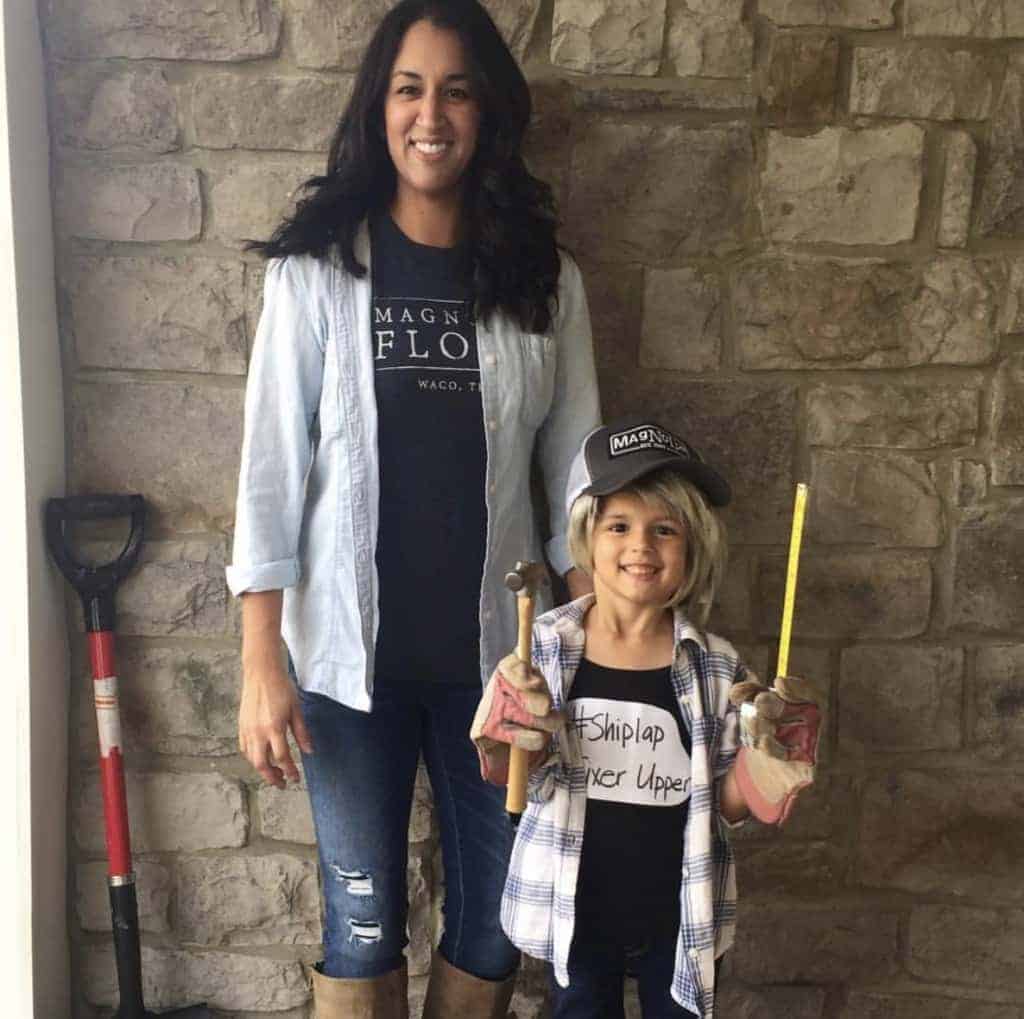 I hope these ideas helped. If you need more costume inspiration, check out these Halloween costumes for moms and kids.