You can make this easy DIY Stick Figure costume in less than 15 minutes. Yes, you heard me correctly. This is what last-minute Halloween costume dreams are made of, and it's easy on the budget. Make Stick Figure costumes for a family costume, group costume, couples costume, or the school monster mash! It's simple and fun – the best kind of DIY costumes!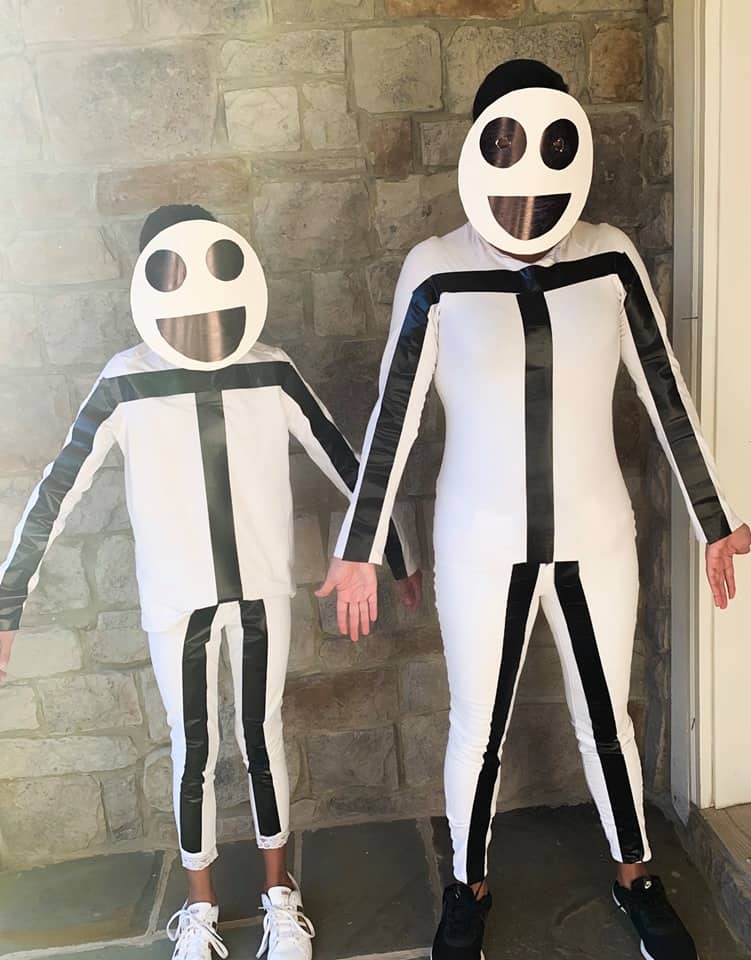 How to Make DIY Stick Figure Costumes
DIY Costumes make some of the bestHalloween costume ideas like this scuba diver costume I made earlier.
You don't need many supplies for this Stick Figure Costume, and we had everything at home except for the poster board. Here's what you'll need.
Stick Figure Costume Supplies
White pants and white long-sleeved shirt
Black Duck Tape
White Poster Board
Black Marker
Scissors
String, Ribbon, or Yarn
Family Stick Figure Costume Instructions
The more the merrier with this costume!
First, lay down your white clothing and apply the Duck Tape to the pants and arms. You may have to make adjustments once you put on the clothes to get the stick figure to look how you like.
Next, make your face out of poster board. We traced a popcorn bucket to make a perfect circle. You can make your face any shape you'd like!
Then draw your face! You can be as creative as you want here, too. We went standard eyes and mouth, but you can add hair, accessories, a goofier smile, whatever you'd like.
Finally, attach the ribbon, string or yarn to the poster board and tie around your head. You can punch holes on the side and then put the string through there, but I preferred to tape two pieces of ribbon to the back of the face and then tie it around my head. And just like that, you have yourself a stick figure costume!
The best thing about these family costumes is that you can be as creative as you like with them! Dance the floss, make funny poses, or even change up the colors. If you want some glow-in-the-dark stick figures, then use black clothing and glow-in-the-dark tape. The possibilities and fun are endless!
Happy Halloween!
For more Halloween Costume ideas, check out these Couples costumes or Toy Story Bo Peep Costume.