I love dressing up for Halloween, but I also don't have much time as a busy mom. With this list of easy DIY Halloween costumes for moms and kids, you can make something from things you have around the house or a quick trip to the fabric store. Sometimes adults find it silly, but every year we do a family Halloween costume, and my kids love it! These fun last-minute costumes for moms or mother/child costumes will have you ready for Halloween or any costume contest in no time.
Easy and Fun Halloween Costumes for Moms
Costumes for moms do not need to be expensive or too time-consuming. These fun Halloween costumes for moms are super easy and don't require much work. In fact, you can make of these costumes last-minute!
It's all about what you want out of it, but the most important part is that you have fun! Plus if you have a son or daughter, you can have a matching Halloween costume for moms and kids.
These are just some of the easy Halloween costumes for moms and daughters that I've done. I hope it sparks some ideas and helps you see that dressing up doesn't have to be overwhelming.
For the past couple of years, I have participated in Bus Stop Costumes, with my friend Julie. We dress up every day in October to pick up our kids from the school bus stop. Often times, I'm coming up with these ideas the day of and some do require a little planning.
Another tip for easy costumes for moms is that Amazon Prime and the fabric store are your friends.
DIY Elf on the Shelf Costume
This creepy little DIY Elf on the Shelf costume either makes people laugh or cringe. I made this in about 30 minutes. First, you need to find red clothing. It can be pajamas, mix and match, whatever. I also had on red socks.
Other than that I used felt and a hot glue gun. I bought a huge piece of felt since it's inexpensive, and I knew I was probably going to mess up. For the collar, you can try to make it one piece, but we cut the collar in pieces and then just hot glued them together.
For the elf hat, I made a cone out of stiff red felt, hot glued it, and then added a white strip of felt to the bottom. My friend, Julie used poster board for hers. Safety pins will help secure it. I did spring for a wig, because I think it adds to the creepiness, but you could easily make fake bangs with your real hair.
For the gloves, I didn't have time to sew them, so these were super quick. I just traced my hand (make sure to make them extra big), and hot-glued two pieces of felt together to make a glove. It works if you're in a pinch, but sewing them would be better. Then add red cheeks with Halloween make up or I had some red lipstick I used.
Punny Chili "Chilly" Pepper
For the costumes that are punny that make you think, try this Chili "Chilly" Pepper costume. All you need is cardboard and inexpensive paint you can find at Walmart for $1 a bottle, a hat and gloves. Here are the full instructions for this punny Chilly Pepper costume.
Princess Leia and R2-D2 Costume
I usually had my 4-year-old sidekick with me at the time, so she was part of the fun!
I purchased my Princess Leia costume from Target the year before during their clearance sale, but they have the same costume on Amazon. However, that one can be a little expensive if you don't find a sale. You could also use a white sheet, wrap it around and then make a belt with craft foam. I have made Princess Leia costumes for my daughters before using white pillowcases. Just cut holes in the pillowcase and make a belt with craft foam. Sorry the picture below is old.
For a quick R2-D2 costume, I used 2 pieces of white poster board, taped them together, and my husband free-handed the R2-D2 designs.
We cut two holes on the side for arms. I had a silver bowl in my kitchen, and we just used construction paper and taped the shapes onto the bowl. To help the bowl stay on my daughter's head, we taped the bowl to a hat. This was one of my favorite costumes, because I had most of the items at home already. Things don't have to be perfect to work out.
Buzz Lightyear and Toy Story Alien Costume
That Toy Story Alien costume is a treasure I bought on clearance at The Disney Store years ago that I knew one day would come in handy, because it's adorable. So I needed a quick Buzz Lightyear. I had a Buzz Lightyear Accessory Kit I bought on clearance from Target (do you notice a pattern here?) that included inflatable wings, gloves, and a hood.
I had an old white t-shirt and just colored on it with markers. It was literally 10 minutes before the bus came, so the work was shoddy, but if had more time, I would have used paints. I also added white jeans on the bottom.
Chip and Joanna Gaines Costume from Fixer Upper
Any other Fixer Upper fans? We had to pay a little tribute to Chip and Joanna Gaines. This is definitely an easy Halloween costume for moms and a cute couples' costume!
I threw on a typical Joanna outfit – jeans, boots, t-shirt, and a denim shirt over top. I had a vintage Magnolia Flour shirt that my friend gave me. My little one turned into Chip with a blonde wig, a Magnolia hat, a flannel shirt, jeans, work gloves, and some accessories like a hammer and measuring tape. Easy peasy and things we already had in the house.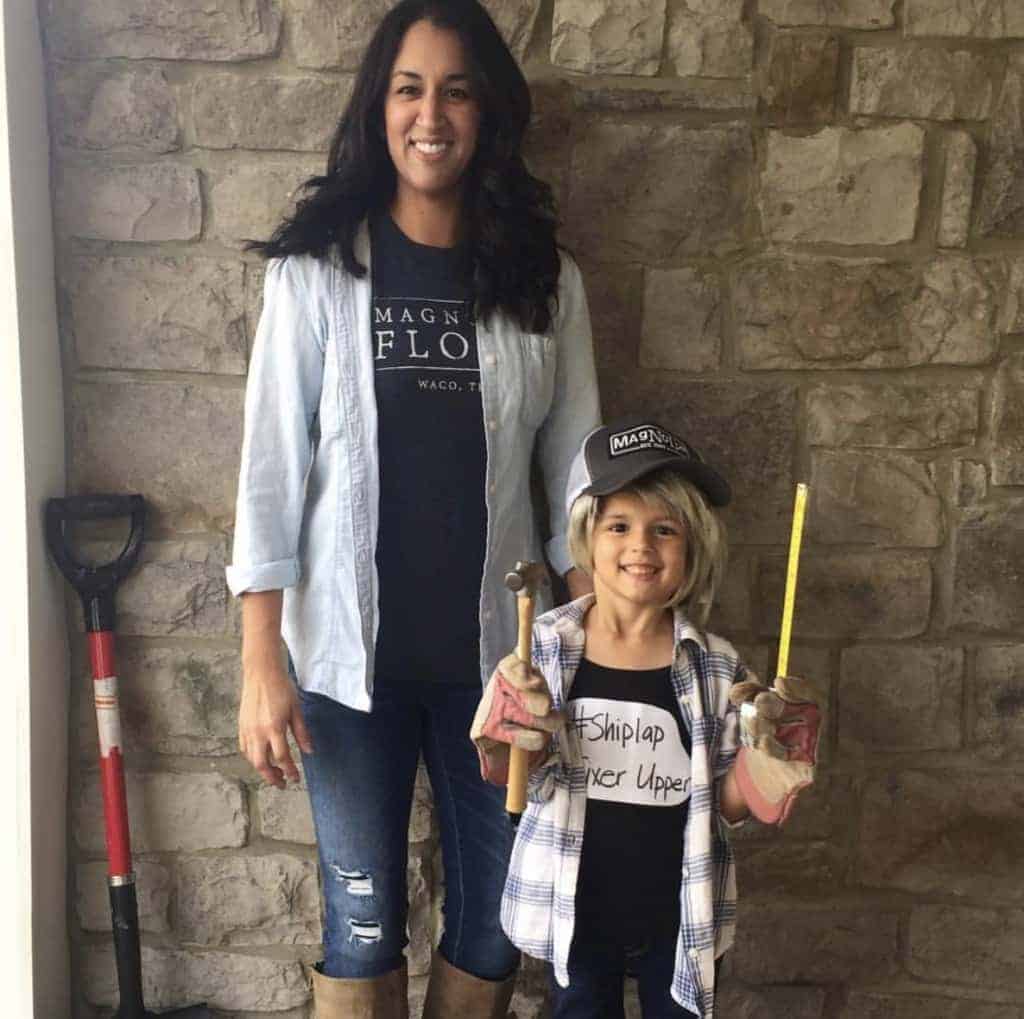 Olaf and Princess Elsa Costume
Being a mom of 5 girls, we had plenty of Elsa and Anna dresses lying around. So I figured my favorite snowman, Olaf, could be a good companion. I had the shirt and hat made from a previous family Frozen costume, but I followed this simple Olaf hat tutorial.
Grab a hat, felt, and a glue gun and you're golden for this easy Halloween costume for moms and kids. I had white pants and a white t-shirt that I glued black felt circles on and voila, Olaf!
Dorothy and the Wicked Witch Costume from The Wizard of Oz
I'll get you my pretty…and your little dog, too. We had an old Dorothy costume (Target clearance) and we grabbed a stuffed dog on the way out. You can also add a basket, red bows, red shoes, etc.
For the wicked witch, I used a black dress I already had, threw on a black sweater, bought a witch hat for $3 and painted my face green with Halloween paint that was $1. Easy, cheap, and pretty painless aside from that whole green face thing.
Cruella de Vil and Dalmatian Costume
This costume was really easy and inexpensive to do, too! The Cruella wig was the most important staple. I ordered that off of Amazon, found some cheap red gloves at Walmart, and wore a black dress I already had with red shoes. I wanted to add a little more Dalmatian something, so I had fabric cut at Joann's and threw it over my shoulders.
For the Dalmatian we found some pajamas at The GAP, but my other daughters were Dalmatians, too. They wore white clothes and I cut black spots out of felt and taped them on. I used red ribbon as a collar and used velcro to fasten it.
For the headband, I just covered a regular plastic headband with the Dalmatian material and cut out ears and glued them onto the headband. Add some make-up for cuteness and you've got yourselves a puppy!
Easy DIY Minions Costumes for Moms and Kids
You can be a pirate minion, you can be a regular minion, you can be any kind of minion you'd like. My Pirate Minion is actually a giant onesie found in the pajama section at Walmart. I added some black gloves and a plastic sword to be a little more extra that we had lying around the house.
My daughter is wearing a yellow shirt, denim overalls, and a homemade hat. We borrowed that from my neighbor, but it's a yellow hard hat with electrical tape and pipe cleaners. You can easily make an eye with a hockey puck or anything round and duct tape. Beedo, Beedo, Beedo. This is an easy Halloween costume for adults, too!
Buddy the Elf Costume
Ok, so this costume has no DIY at all. Could you? Sure. You'd need yellow tights, pants, or leggings, and you could make a simple robe out of material from the fabric store. Add a black belt, and the hat is crucial.
I would make the hat out of craft foam and add a red feather. Then add a curly wig, of course. This Buddy the Elf costume was borrowed from a neighbor and can be purchased on Amazon.
I included this one, because it just makes me laugh so hard. All the kids loved it, the adults thought I was insane, so then I had to take a ridiculous picture with spaghetti and syrup. It's a good reminder to not take myself so seriously. Now this is a perfect Halloween costume for adults to get a lot of laughs. Plus there are so many quotable lines to stay in character.
DIY Draco Malfoy Costume
If you have Harry Potter fans and you want a costume that's a little different, then how about Draco Malfoy? I lean a little Slytherin sometimes and this DIY Draco Malfoy costume made so many people laugh online and at the bus stop! I found a Slytherin robe on clearance at Target for $5, so I had to buy it, but really the robe is black with the Slytherin crest.
You can use either color robe, print out the crest and then tape it or safety pin it. If you don't have robes and want a cheaper option (this works better for kids) buy an oversized t-shirt and cut it down the middle. Instant robe!
I borrowed my husband's white collared shirt and black sweater, threw on a blonde wig, and nasty scowl and instantly turned into Draco Malfoy!
Family Themed Halloween Costumes
Sometimes the best costume ideas are on the fly, and they don't need to cost a lot of money. Also, ask your neighbors and friends to borrow a costume if you're in a pinch. I hope these easy Halloween costumes for moms can help you out and encourage you to dress up with your kids!
My children love to see what I'll come up with next, and these are things they remember.
If you need costume ideas for little ones, check out my friend Julie and her Halloween Costumes for Babies and Toddlers! For those of you with Goosebumps fans, this DIY Slappy Costume is easy and spot on!
For family-themed Halloween costume ideas, check out our Alice in Wonderland Costume Ideas, Family 101 Dalmatians Costumes, and our Avengers Family Costumes!