I'm declaring it: Topolino's Terrace Character Breakfast at Disney's Riviera Resort is my new favorite character meal. Why? Delicious food, character outfits, and the view. Plus it feels so relaxed compared to the craziness of some of the theme park character meals. There are some cons though, too. Check out my Topolino's Terrace character breakfast review and is it worth the price?
Topolino's Terrace Character Breakfast Review
So the newest character meal to hit Walt Disney World Resort is the character breakfast at Disney's Riviera Resort. As soon as I saw pictures of the character outfits, I was already sold.
Disney's Riviera Resort has a European vibe is absolutely stunning as you walk in the doors. Head to the elevators and take a ride to Topolino's Terrace. My friend, Patty, and I had just finished running the Walt Disney World 10K and this was our celebratory breakfast, and we were HUNGRY.
We checked in at the podium and had to wait about 10 minutes to be seated. We opted for a late breakfast around 10:30 a.m., so the dining room wasn't completely full.
This picture was taken after breakfast was over.
Topolino's Terrace Breakfast Food
I was a little worried that I wouldn't get enough food, because I like a good buffet, and this is a plated food service, but they took good care of me.
First of all, 2 words – POG Juice. POG juice is heavenly. You can find it at Disney's Polynesian Village Resort and on Disney Cruise Line. I'm sure you can find it elsewhere, but those are my two go-to spots.
It's a mixture of Passionfruit, Orange, and Guava juices. And now add Topolino's Terrace to the list of locations of where you can find POG Juice!
You start off with assorted pastries for the table to share, just like at the Bon Voyage Character Breakfast at Trattoria al Forno.
It comes with seasonal danish, chocolate chip muffins, croissants, and Epi Bread. They were all fairly good, nothing extraordinary. Some of the bread was a little tough, but I really enjoyed the honey butter, jam, and chocolate-hazelnut spread to add a bit of variety and flavor.
I was really in the mood for protein and ordered the Wood-fired Butchers Steak. It was just what I needed!
I asked for no mushrooms, and it came plain like this, so I'm assuming it's already mixed with the onions and tomatoes that are also listed on the menu. I didn't mind, because the flavor was actually really good, and the meat was tender.
The polenta was fantastic, but I've been in a grits mood lately. I wish there had been a little more.
Patty ordered the Sour Cream Waffle. It came with roasted apples, chantilly, orange-maple syrup, and a choice of meat or plant-based sausage.
I had a taste of this, and it wasn't my favorite. I don't know if it was the sour cream or if the waffle was wheat based, but it had a wheat-type taste to it. I'm a white flour type of girl. It wasn't bad, and Patty liked it a lot! It's just different taste buds like different things. The fruit was delicious!
Patty also ordered a side of eggs with it, and they didn't charge her for it. I don't know if that's a regular occurrence or if our server was really nice.
The Characters at Topolino's Terrace
Ok, here's where the 'is it worth it' comes into play. I'm in love with the outfits that Mickey Mouse, Minnie Mouse, Daisy Duck, and Donald Duck wear. Plus I love the classic characters, and it's rare to see Daisy on the regular.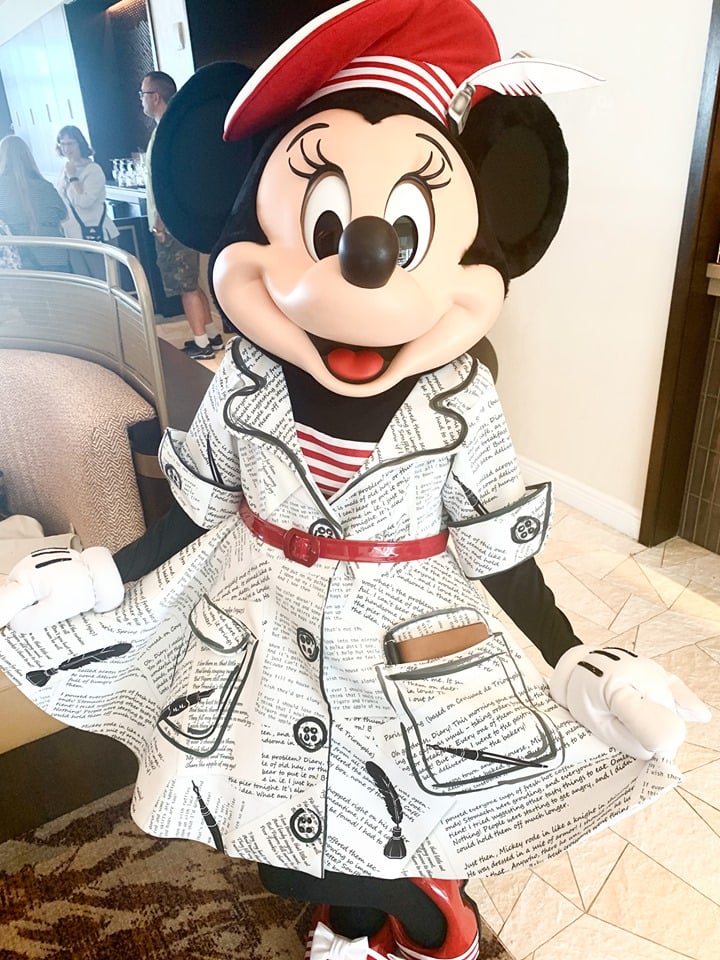 I die at Minnie's dress. I want the whole dang outfit.
Mickey looks very dashing even with paint splattered all over him.
Daisy Duck as a ballerina is adorable! She was dancing all over the place, full of energy; I loved her!
And of course you have Donald who always strikes a pose.
The character interaction was fantastic. I never felt rushed, and we had no children with us. They sell Riviera Resort autograph books at the restaurant also if you need one for the kiddos. Or you can purchase the cutest plush of the characters from breakfast.
The View from Topolino's Terrace
One of the pros in dining at Topolino's Terrace is the view! There are large windows all around the restaurant, and you can step out on the patio for an even better view.
Disney's Caribbean Beach Resort is right next to Disney's Riviera Resort and you get a view of the Skyliner.
Is Topolino's Terrace Character Breakfast Worth the Price?
When we ate at the Riviera Resort in early January, the Topolino's Terrace Character Breakfast was $41 for adults and $24 for children ages 3-9. Currently Disney's website states adults are $42 and kids are $27. If prices continue to go up, then they may price themselves out. However, at the current prices I'd say it was worth it for ambiance, food, and character interaction.
If those thing aren't important to you, then it may not be worth it, especially for kids. You're paying for characters. The kids menu doesn't seem too food heavy with a light entree and two sides, but I doubt they'll let you leave hungry.
One con could be that it's not inside a theme park if that's what you want. It may not be as convenient, but it is a quick ride to and from Epcot on Disney Skyliner transportation. It will drop you off at the World Showcase entrance.
If you want to hit Epcot or Disney's Hollywood Studios early, then I recommend booking an early breakfast and then hopping on the Skyliner for Rope Drop.
If you're trying to get a Rise of the Resistance Boarding Group, then head to Hollywood Studios first, and grab a later breakfast reservation and ride the Skyliner!
This is definitely a different vibe than say a Chef Mickey's (which is a lot of fun, but so loud!). Grab your cameras and say cheese for some of the cutest photos you'll get with Disney characters.
Overall, this was a peaceful, lovely, fun meal, and I would recommend Topolino's Terrace Character Breakfast!