Topolino's Terrace Character Breakfast at Disney's Riviera Resort is one of my top 3 character meals at Walt Disney World. Why? Delicious food, character outfits, and the view. Is Topolino's Terrace character breakfast worth the price? All you need to know about this character meal at Disney.
Breakfast à la Art with Mickey & Friends at Riviera Resort
One of the reasons you pay top dollar for character meals is for the character interaction, character pictures, and autographs. The outfits worn by Mickey, Minnie, Donald, and Daisy make this character meal well worth it. They are tres chic.
The hours for breakfast at Topolino's Terrace are 7:30 a.m. – 12:15 p.m. And a reminder that characters are only present during breakfast, not dinner.
Is Topolino's Terrace Character Breakfast worth the price? Overall, the breakfast is pricey, but if you have it in the budget, you get the ambiance of the beautiful Riviera Resort and the characters are adorable in their outfits. The food is also delicious, too, but you don't leave quite as full as a character buffet breakfast.
Topolino's Terrace Character Breakfast Review
Breakfast à la Art with Mickey & Friends is a character breakfast at Walt Disney World located at Disney's Riviera Resort. As soon as I saw pictures of the character outfits, I was already sold.
Disney's Riviera Resort has a European vibe and is absolutely stunning as soon you walk in the doors. Head to the elevators and take a ride to Topolino's Terrace.
The one negative about this breakfast is the location if you want to be inside a park. However, its access to the Skyliner does make it easy to transfer from EPCOT or Disney's Hollywood Studios.
Topolino's Terrace Breakfast Food
Topolino's Terrace is not a buffet. I was a little worried that I wouldn't get enough food at Topolino's Terrace, because this is a plated food service, but I left full.
The cost is $49 for adults (ages 10 and older) at Topolino's Terrace Character Breakfast and $30 for children ages 3-9.
First of all, 2 words – POG Juice. POG juice is heavenly. You can find it at Disney's Polynesian Village Resort, Disney's Animal Kingdom Resort, and here. I'm sure you can find it elsewhere, but those are my go-to spots.
It's a mixture of Passionfruit, Orange, and Guava juices. And now add Topolino's Terrace to the list of locations of where you can find POG Juice!
You start off with assorted pastries for the table to share.
It comes with croissants, chocolate chip muffins, and a coffee cake type muffin. They were all fairly good, nothing extraordinary. Some of the bread was a little tough, but I really enjoyed the honey butter, jam, and chocolate-hazelnut spread to add a bit of variety and flavor.
I was really in the mood for protein and ordered the Wood-fired Butchers Steak. It was just what I needed! You can also order eggs with the steak. So I just asked for scrambled, but you don't have to get eggs.
My friend ordered the Sour Cream Waffle. It came with roasted apples, chantilly, orange-maple syrup, and a choice of meat or plant-based sausage.
I had a taste of this, and it wasn't my favorite. I don't know if it was the sour cream or if the waffle was wheat based, but it had a wheat-type taste to it.
It wasn't bad, and my friend liked it a lot! It's just different taste buds like different things. The fruit was delicious!
Another friend had the two eggs any style, and there was quite a bit of food on her plate. She said it was all great.
For $30, the kids menu does not come with a lot of hearty options, but the Mickey Waffle Dippers are cute. If you have picky eaters, then a character buffet may be a better option.
The Characters at Topolino's Terrace Breakfast
At Topolino's Terrace during breakfast you can meet Mickey Mouse, Minnie Mouse, Donald Duck and Daisy Duck in rare outfits. This is where the question 'is it worth it' comes into play. The outfits are unique, beautiful, and you can't the characters wearing them anywhere else. I also love to see Daisy Duck in the rotation here.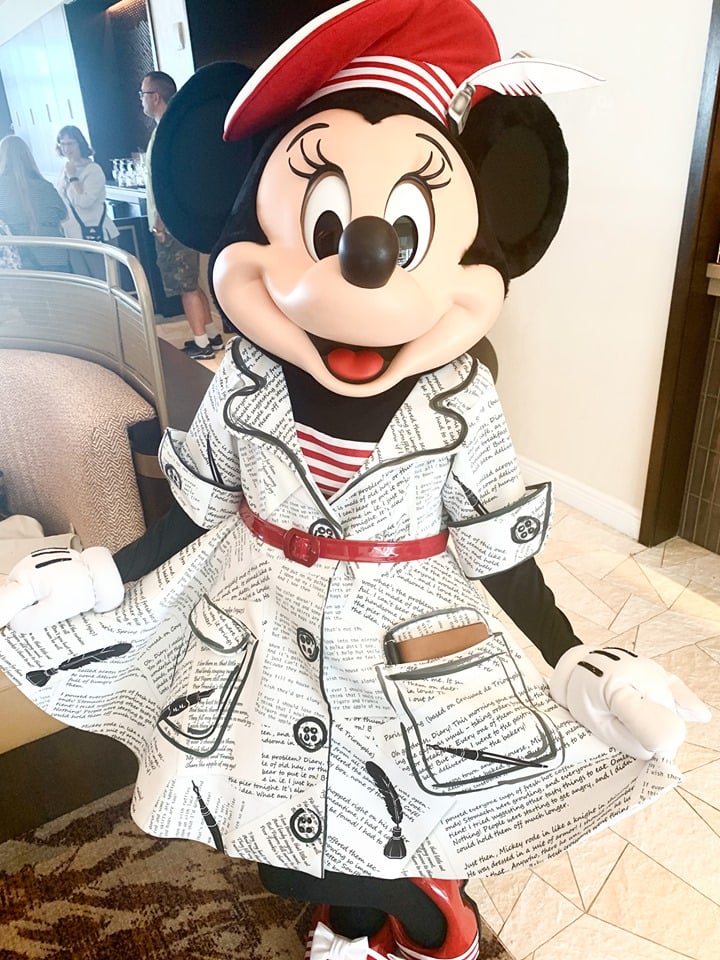 I die at Minnie's dress. I want the whole dang outfit.
Mickey looks very dashing even with paint splattered all over him.
Daisy Duck as a ballerina is adorable! She was dancing all over the place, full of energy; I loved her!
And of course you have Donald who always strikes a pose.
The character interaction was fantastic. I never felt rushed, and we had no children with us. They also give you a postcard with the character autographs on the back.
Do You Need Reservations for Topolino's Terrace Breakfast?
Reservations are not required but they are recommended, especially if you are driving. Security is pretty tight at Disney's Riviera Resort and they won't let you park there unless you have a reservation. However, you can also check the My Disney Experience app to be put on the walk-up list.
If you're on Walt Disney World property you can take the Skyliner over or transfer using the buses.
You can also inquire about sitting at the Lounge if you don't have a reservation, but the experience is different.
Topolino's Terrace Dress Code
The ambiance is a little nicer at Topolino's Terrace that other character breakfast locations, however theme park attire is still fine. During dinner, it turns into a signature restaurant and many guests choose to dress a little nicer. No swimwear is allowed.
Topolino's Terrace Character Breakfast at the Lounge
If you can't get a reservation at Topolino's Terrace, and you want to try to get on the walk-up list, and they're full, there's another option. You can request to sit in the lounge at Topolino's Terrace which is the bar area. They do have tables there, but the characters will not come into that area.
The price of breakfast is the same, so it's kind of a bummer. However, if you ask nicely, sometimes the characters will come to the edge of the carpet, or you can wait until they are leaving the room and snap a picture with them. But they do not come to your table.
The cast members were very nice and accommodating and had us wait until the characters were passing by.
The View from Topolino's Terrace
One of the pros in dining at Topolino's Terrace is the view! There are large windows all around the restaurant, and you can step out on the patio for an even better view.
Disney's Caribbean Beach Resort is right next to Disney's Riviera Resort and you get a view of the Skyliner.
Is Topolino's Terrace Character Breakfast Worth the Price?
Prices have gone up since Topolino's Terrace opened. If prices continue to go up, then they may price themselves out. However, I'd say Topolino's Terrace Breakfast at Riviera Resort is still worth it for ambiance, food, and character interaction.
If those thing aren't important to you, then it may not be worth it, especially for kids. You're paying for characters.
You can use Annual Passholder and Disney Vacation Club discounts for 10% off.
One con could be that it's not inside a theme park if that's what you want. It may not be as convenient, but it is a quick ride to and from Epcot on Disney Skyliner transportation. It will drop you off at the World Showcase entrance.
If you want to hit Epcot or Disney's Hollywood Studios early, then I recommend booking an early breakfast and then hopping on the Skyliner for Rope Drop.
This is definitely a different vibe than say a Chef Mickey's (which is a lot of fun, but so loud!). Grab your cameras and say cheese for some of the cutest photos you'll get with Disney characters.
Overall, this was a peaceful, lovely, fun meal, and I would recommend Topolino's Terrace Character Breakfast!
If you're looking for a delicious breakfast on property that is more affordable without characters, then I recommend Steakhouse 71 breakfast.
More Disney Dining Reviews