If you're looking for a Marvel Movies Parents Guide, you've come to the right place. My family and I have watched all the Marvel movies in chronological order and release order several times. I had forgotten about some of the content in the earlier movies. If you're looking to start watching all the Marvel movies with your kids and don't know where to start, here are the most kid friendly Marvel movies and the least kid friendly Marvel movies, and why. I've also included some of the Marvel Disney+ shows.
The Most Kid Friendly Marvel Movies
First of all, if you want a Marvel movies list in order of release date or chronological order, I've got you. Ever since I started reviewing movies, I have a detailed count of language, violence, and mature content in Marvel movies since Guardians of the Galaxy was released.
A lot of people ask me, what Marvel movies are ok for kids? That depends on what content you don't want your kids to watch.
All of the Marvel movies are rated PG-13, at least in the MCU, not counting films like Deadpool. So all Marvel movies will have some element that is technically not suitable for young children. That being said, some of them have less violence and more language, or less violence and more language, or some sexual content.
Generally speaking you're going to have weapons, fighting, violence, and bad language in every film.
Here are the the most kid-friendly Marvel movies in my opinion.
Captain America: The First Avenger
I generally recommend starting with Captain America: The First Avenger to see if your kids will enjoy Marvel movies. It's not the most action-packed, but it's a good starter, because it's the first Marvel movie if you're going to watch them chronologically.
Plus Captain America is a good role model and does not have a potty mouth. That being said, there are still swear words like a**, bit–, sh–, and hell. There is also some violence, especially since it takes place during WWII, but it's not over the top.
Once you watch this one, you'll get an idea of what you can expect as some of the movies get more violent and more foul-mouthed.
Iron Man
Iron Man is another good one to start with, especially if you're going with the release date order. This is the movie that started it all for the Marvel Cinematic Universe. I forgot how violent it can get sometimes, but it's still on the moderate side compared to some of them.
Also, any time you have Tony Stark involved, you're going to get some colorful language. It gets worse in Iron Man 2 and Iron Man 3, so start with this one.
Captain Marvel
Captain Marvel is moderate on both language and violence with little mature content. For a full rundown check out my Captain Marvel Parents Guide review. Some parts may be a little boring for kids, but I love the girl power aspect and think it's important for little girls to see a female superhero kick butt.
Ant-Man and Ant-Man and the Wasp
If language bothers you, skip the Ant-Mans. They're both mild in violence and other inappropriate content, so that's why I chose Ant-Man for the most kid-friendly Marvel movie list. However, there is a lot of swearing compared to the other Marvel films.
You can check out my full Ant-Man and the Wasp parent movie review here. Parents, if you want a funnier movie, go with Ant-Man. It's in my top 5 Marvel movies for humor alone. There are so many one-liners and funny things that some kids may not pick up on, but it's a good movie nonetheless, just a little less action-packed.
Spider-Man: Homecoming
Kids love Spider-Man. There's just something about him. And Tom Holland as Spider-Man is totally relatable to teens. Spider-Man: Homecoming is low in violence and language, and is a fan favorite with my own kids.
Hawkeye on Disney+
I'm also including Hawkeye in this kid-friendly Marvel list, because if you've gone down the rabbit hole of the Marvel movies, then Hawkeye is a good family friendly-ish transition after Avengers: Endgame. Plus he's an Avenger, so most everyone knows who he is.
This Hawkeye Parent Guide will break down all the action and language in the Disney+ series, but basically there are some sh*ts and damns. As far as action goes, there is typical Marvel violence, but nothing too over the top yet. And also since Hawkeye takes place in New York at Christmas, it's a great holiday pick.
The Least Kid Friendly Marvel Movies
Phase 4 of Marvel seems to be the least kid-friendly. For the most part, you're going to get around the same amount of intensity/violence/language in Marvel movies, but there are some that stick out more than others. These are the most violent or inappropriate Marvel movies for kids in my opinion, mainly due to sexual content and jokes.
Black Panther
I loved Black Panther, but it is extremely violent. And the violence is different, because there aren't a lot of mass killings, but a lot of hand to hand combat and blood shown. There are a lot of closeup shots and that can be disturbing for some children.
Overall, an excellent movie, but one that could be too much for young or sensitive children.
For a full review: Is Black Panther kid friendly?
Guardians of the Galaxy Vol 2
I've seen this one on some people's most kid-friendly Marvel movies list, and I'm wondering if we saw the same movie.
Guardians of the Galaxy introduces a fun yet edgy set of characters. They also like to swear a lot, but more so than the average a**, b*tch,, sh*t, etc. And they throw those words around casually.
What bothers me the most are the crass and sexual phrases they use like talks of an orgy, the word douchebag, dick, sensitive nipples, debates about a penis, and turds. However would kids and teens find that funny? I'm sure they would. But for kids invested in the MCU, it's a little much.
Avengers: Infinity War
Avengers: Infinity War is probably in my top 3 Marvel movies, but it's a tough one emotionally. Spoiler alert: a lot of your kids' favorite superheroes are dusted. Meaning they're basically dead until you know what happens in Avengers: Endgame.
So for little ones (shoot, even for adults), it's hard on the sensitive hearts. I was bawling into my napkins at the theater. For a full review: Avengers: Infinity War Parents Guide.
Black Widow
Black Widow is being added to this non kid-friendly list, because it's a darker Marvel film. The violence is on par with Black Panther, but there is an added element of human trafficking which will be unsettling for many kids and even adults. It fits in with the story, but it is kind of disheartening that Black Widow isn't more kid friendly, since Natasha Romanoff finally gets her movie.
Check out this Black Widow Parents Guide for more details.
Doctor Strange 2
Check out this Doctor Strange 2 Parents Guide, because this is the least kid-friendly Marvel film to date! Marvel keeps getting darker and darker, and this definitely brings the horror element into the mix. Some young kids would not be ok with Doctor Strange 2.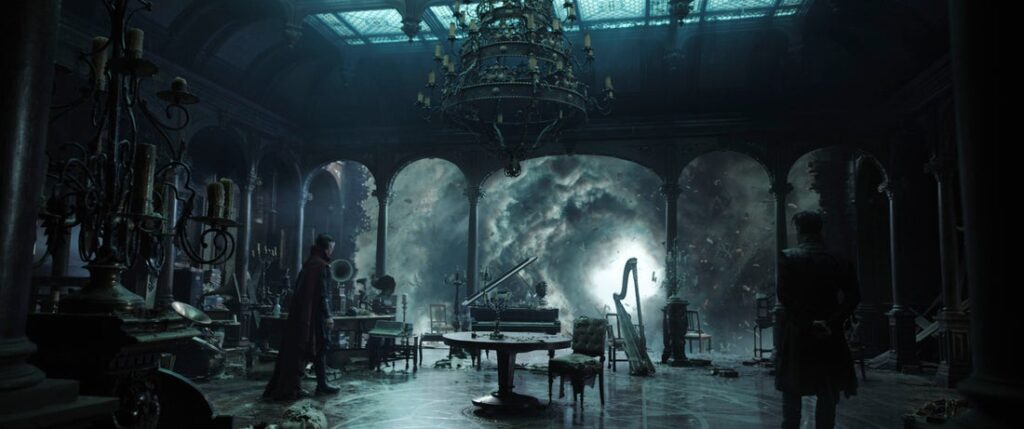 Shang-Chi and The Legend of The Ten Rings
So yes, another new Marvel film in 2021 on the least kid-friendly list. This Shang-Chi Parents Guide will give you the details on what parents need to know for this action-packed film. I think the film itself is great! However, there is a lot of violence, some hard-core monsters, and family drama.
However, Shang-Chi is important as having the first Asian MCU Superhero. The film is beautiful and the women are pretty tough and kick some serious butt. Awkwafina is funny as usual, but you may want to hold off for the little ones!
Eternals
Eternals is the newest Marvel film to hit theaters, and it made my least-friendly Marvel movies list, because there is a sex scene that is totally uncomfortable to watch with young kids, and also because of the length. At almost 2 hours and 40 minutes, it's kind of boring and confusing, especially for fans of the earlier phases of the MCU. Check out the complete Eternals Parents Guide to decide if it's worth the watch.
She-Hulk: Attorney at Law
She-Hulk is not kid-friendly if you're concerned about sexual content. There is talk of Captain America's virginity as well as sexual innuendos. Plus a lot of the content wouldn't interest kids. You can check out the She-Hulk age rating.
What Marvel Movies Will Kids Like The Most?
Also, if you're looking for fun movies to watch with your kids, and you're ok with some language and violence, etc, then I think they'll enjoy the Avengers movies, because you get many of their favorite superheroes in one place.
If you don't have the time to commit to all of the Marvel movies, then start with The Avengers. Another favorite is Captain America: The Winter Soldier. Also, for a different and funny, not as crass as Guardians, try Thor: Ragnarok. Captain America: Civil War is also a good one, but it may be hard for little ones, too, because a lot of their heroes fight each other.
You'll still get a few surprises like in Iron Man 2, Tony parties hard and is drunk and scantily clad ladies at his house. Also in Iron Man 3, he calls a kid a pu–y. So, you do run that risk.
The good thing about watching them at home, you can fast forward through violent scenes or if they're getting bored, change the channel.
Kid-Friendly Marvel TV Shows
Now that Phase 4 has started, there are a lot of Marvel TV shows. The most kid-friendly Marvel show is Ms. Marvel, on Disney+. I wouldn't start there necessarily, because it references The Avengers and events that happened in the Marvel films, but it's the only Marvel anything that is rated TV-PG. Language and violence are pretty minimal. The Falcon and the Winter Soldier can get pretty violent and Hawkeye is about the most MCU like TV show there is. WandaVision starts off kid-friendly, but gets darker as the series continues. It's a must-watch before watching Doctor Strange in the Multiverse of Madness, but I recommend it for more mature viewers.
My family and I really love Marvel, and it's been a fun way to bond and fangirl and fanboy superheroes. If you have any questions, drop them in the comments below.