There has been a lot of hype for Black Panther – with good reason. Did it live up to the hype? Yes! However, is Black Panther kid friendly? There is a lot of violence for a Marvel movie, so it may not be good for little ones. Here's what parents need to know in this Black Panther Parents Guide.
Is Black Panther Kid Friendly?
People know Marvel movies are my jam. Many of my friends have already seen Black Panther. It's part of the business, so the hype and reviews are strong. I came in with big expectations. I also like to screen movies before my kids to make a decision whether they'll be able to watch on the big screen. Usually the only exceptions I make for PG-13 movies are Star Wars and Marvel. Even then, they can't see all of them.
Guardians of the Galaxy Vol. 2 is still on the no-show list for them, because of language and for being crass. Check out the most kid friendly Marvel movies list.
Language
There wasn't a ton. I noticed at least two hells, like 5 or 6 sh**, and there was one scene where Shuri flips her brother (T'Challa) the middle finger.
Mature Content
There is no full nudity, but there are some scenes where men are topless, but not in a sexual manner. There are a few kisses, but nothing over the top.
Violence
Here's where my struggle comes in. Is the violence on par with other Marvel movies? Yes and then some. There is a lot of hand-to-hand combat, a lot of fighting for tradition. You see people being thrust with spears, people being shot and even beheaded. There are also explosions and things being blown up. Wakanda has the best weapons after all.
What Ages Do I Recommend for Black Panther?
For my family in particular, all of my girls ages 15 to 8 have seen it. Watching it on your TV is not as in-your-face with the violence. If your kids have seen Captain America: Civil War, they were first introduced to Black Panther and will likely want to see this movie.
My 5-year-old had seen some Marvel movies, but when we went on our Marvel Day at Sea Disney Cruise, she became a FAN! She asks to see all her super hero friends on TV.
Here's why I love Black Panther for kids. Black Panther is the first black super hero. I want them to see that. I also want my girls to see the Dora Milaje – the personal bodyguards and royal security of Black Panther.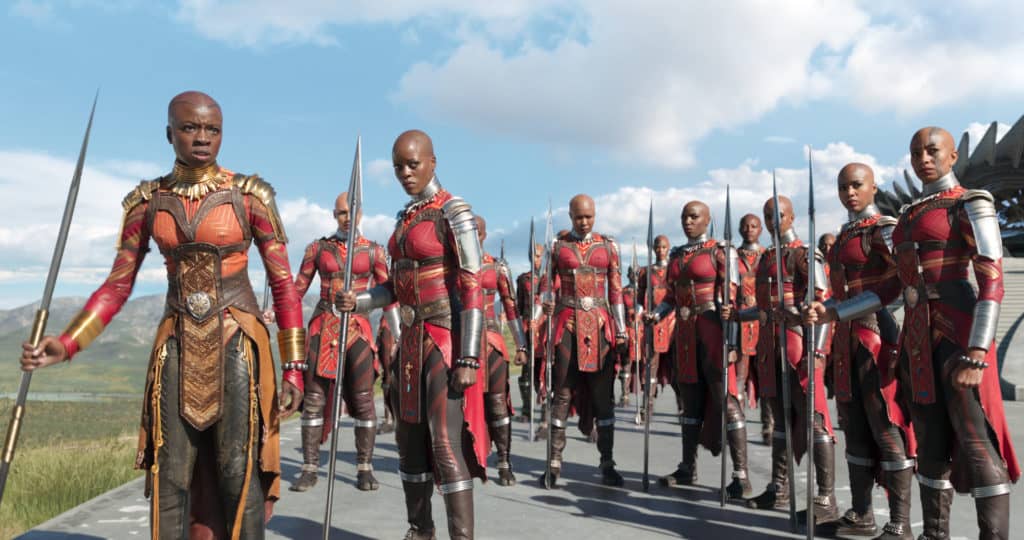 These women are fierce, brave, strong, and smart. Women in Wakanda are the warriors, the confidantes, the decision makers. I want my 5 girls to see this! I've been waiting for this for them. When Black Panther needs someone for a mission, he chooses 2 women, not 2 men to accompany him. That sends a message that needs to be heard.
There's one scene I want to talk about so badly, but it's a spoiler. I clapped and I hollered in the theater! You want to teach girls about self-confidence? Show them the Dora Milaje.
Now back to that violence. As much as I want to show that to my daughters, I also don't want them to grow up too quickly. I don't want to show them other things they're not ready for – and that includes the violence. The close up shots of death are just not appropriate for my 5-year-old or 7-year-old, so they'll have to wait (and they did).
Is Black Panther Ok For Kids?
Is Black Panther ok for kids? Bottom line: that's your decision as a parent. Are they sensitive to violence? Do they just want to watch super heroes? Are you willing to discuss things with them afterwards? Yes, Black Panther is kid friendly to an extent. There are tons of things kids can learn.
Black Panther is a superb film. It's entertaining, the acting is incredible, every character was exciting. The technology is impressive, Wakanda is vibrant and a visual masterpiece, and you learn about another culture, traditions, and family. Letitia Wright as Shuri is a scene stealer. She's the perfect little sister -full of sass and intelligence. Angela Bassett never ages and Michael B. Jordan as Killmonger really made me dislike him, the sign of a good villain.
Chadwick Boseman did an incredible job bringing King T'Challa to the Marvel Universe. What a celebration for the black community as well as an example to the world.
My friend Patty joked that she'd love to see Pandora – the World of Avatar in Disney's Animal Kingdom turned into Wakanda. I can't say I disagree. The energy in the theater was electrifying. Cheers could be heard throughout the movie. As I was walking to the car, a couple saw my posters of Black Panther in my hand.
They asked if we had seen the movie, and I told them we had. The excitement was visible in their faces. I asked if they would like one of my posters. "YES!" was the reply. This movie is important, friends. Let's support it. I dare you not to leave the theater exclaiming, "Wakanda forever."
Now that you've seen Black Panther, watch these Marvel movies in order before you see Avengers: Infinity War. There will be a big battle in Wakanda.
Marvel Studios' BLACK PANTHER follows T'Challa who, after the death of his father, the King of Wakanda, returns home to the isolated, technologically advanced African nation to succeed to the throne and take his rightful place as king. But when a powerful old enemy reappears, T'Challa's mettle as king—and Black Panther—is tested when he is drawn into a formidable conflict that puts the fate of Wakanda and the entire world at risk. Faced with treachery and danger, the young king must rally his allies and release the full power of Black Panther to defeat his foes and secure the safety of his people and their way of life.
To get ready for Avengers: Infinity War, make Avengers Slime with your kids or a Captain America cake.