Look, I'm not saying Knives Out is a Deadpool situation here, but is Knives Out kid friendly? No. And whoever says it's family friendly has a different definition than I do. Knives Out is a fun murder mystery with stellar sweaters and acting, but with over 50+ swear words and talk about suicide, Knives Out is not ok for kids. This Knives Out Parents Guide will tell you why Knives Out is rated PG-13.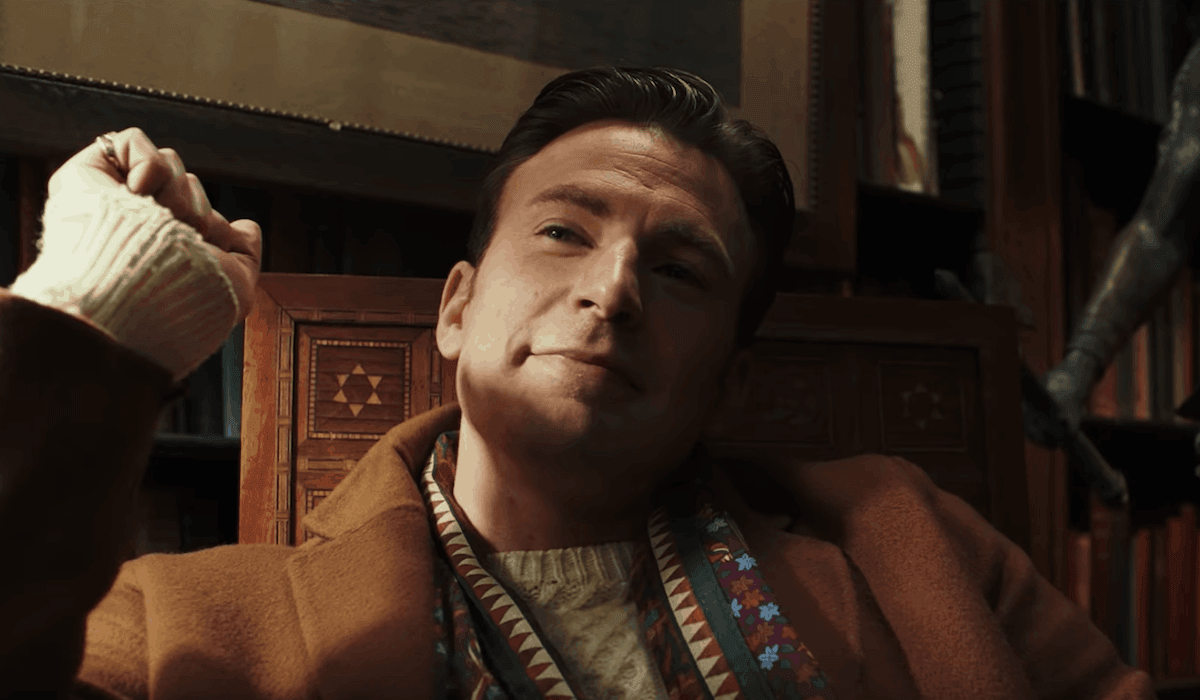 Knives Out Movie Review – Is it Kid Friendly?
Knives Out is a whodunnit murder mystery film in which the wealthy patriarch of a family (a mystery writer himself) has died on his 85th birthday – but was it murder or suicide? It seems like everyone in the family had a motive, and when people get desperate, the knives come out. Knives Out is rated PG-13 for some disturbing images, strong language, and thematic content. I agree with all of that and I would not recommend it for kids under 13.
Kids will want to see it, because Chris Evans, aka Captain America is in it, but this isn't Captain America. Evans may have the worst potty mouth of them all. While, yes, kids hear strong language at school every day, I counted over 50 swear words. Here are the details on language and mature content in Knives Out.
Strong Language in Knives Out
I counted at least 28 uses of sh**, 5 uses of bi**ch, 12 uses of a** or a**hole, at least 6 g-d damns, 4 uses of hell, and 2 f-words. There was also 14 profane uses of g-d or Jesus. Other crass words like bastard and prick were used, too.
Mature and Sexual Content
Is Knives Out safe for kids? There is a lot of content that is not appropriate for children like talk of masturbation and sex. There is some drug use and drinking. One particular sensitive topic for teens is suicide. The premise of the film is whether a suicide took place, so there's a lot of discussion as well as some disturbing images involving death.
Is Knives Out Appropriate for Teens?
Although it's PG-13, I would not recommend Knives Out for younger teens. It's not just the language; the movie is filled with some pretty awful people. I can get behind a story about a dysfunctional family, so we can learn from it, and I was waiting for some redeeming qualities to come through in the Thrombey family. They never came. Maybe there's a sequel?
Teens who have seen Clue, Murder on the Orient Express, and other murder mysteries would most likely enjoy this. It is an entertaining ride with plot twists and turns and even a cringey yet amusing Daniel Craig accent which prompts Evans to ask if this is CSI: KFC. You can get the gist of the tone from the trailer, and get a taste of Evans's "eat sh**" attitude. Check out some of the best Knives Out quotes.
Some of the jokes are trite and childish, but they are somehow remedied with a look or glance from the star-studded cast. And of course, there is Chris Evans in all of his sweaters that can make you forget about a corny joke.
Perhaps Knives Out is a bit of a predictable ride, but it's one worth taking – with all of your adult friends and siblings. It's silly and a wonderful distraction from some of the dysfunction that may come with your own family Thanksgivings.
For more kid friendly reviews:
Is A Beautiful Day in the Neighborhood Kid Friendly?
Is Ford V Ferrari Kid Friendly?