You don't need to be a racing fan to enjoy Ford V Ferrari, a story with heart and adrenaline. However, is Ford V Ferrari kid friendly? Here's what parents need to know before you take kids to see Ford V Ferrari: the details on language, violence, and mature content.
Is Ford V Ferrari Kid Friendly?
Ford V Ferrari is rated PG-13 for language and peril. I would agree with the rating and recommend Ford V Ferrari for kids ages 13 and up. If you don't mind language or some intense scenes, then younger kids may be ok. At 2 1/2 hours it can feel a little long, and you'll need a mature movie-watcher to last through the entire film.
This is a true story about American automotive designer Carroll Shelby and British race car driver Ken Miles as they battle corporate interference, the laws of physics and their own personal demons to build a revolutionary vehicle for the Ford Motor Co. Shelby assembles a team to race (and win) against the cars of Enzo Ferrari at the 24 Hours of Le Mans in France in 1966, a nearly impossible task.
Language
There's a lot of language in Ford V Ferrari; I couldn't keep up with the count sometimes. There are a couple of f-words, at least 30 uses of sh–, 3 uses of bit–, 8 uses of damn, 4 uses of a-hole, 4 others uses of a–, 13 uses of hell (mostly as in bloody hell), and 8 uses of g-ddammit.
There are also strong words used like wanker, prick, bastard, and the phrase "screw you." One character also calls another one a "Wop," which is commonly used as a racial slur against Italians. Honestly, it was unnecessary and uncomfortable.
Violence
There are some explosions and men on fire during car race scenes. One character punches another in the face and a fight ensues.
Mature Content
There is mention of sex and making Ford's image sexier. There are a couple of kisses between a married couple. Some other mature topics for children include drinking, death, and loss.
Why You Should Take Teens
No, I wouldn't recommend Ford V Ferrari for kids, but I would cautiously recommend it for teens if language doesn't bother you for your teen.
Aside from all the language, Ford V Ferrari is an incredible movie about the human spirit, determination, and friendship. Christian Bale and Matt Damon (my husband's self-proclaimed man crushes) are outstanding, as well as the entire cast. It's one of those movies when you leave thinking, wow, they can act. But you don't realize it until it's all over, because you're so engrossed in the story.
I was so conflicted during the film, bouncing around from whose side I should be on. I was anxious during race scenes, mad at Ferrari and Ford during different times of the movie, and sympathetic to families of people with big dreams. This range of emotions makes for good conversations with teens, because I often questioned myself about why I was feeling a certain way.
Most of my children play competitive sports, and this movie showed the intimacy of competition against opponents and the importance of a team. It shows failures and success which isn't often easy to describe to kids. Check out these Ford V Ferrari quotes for more inspiration!
Ford V Ferrari is one of the best movies I've seen this year, and for someone who has little interest in cars besides minivans and SUVs, that's saying a lot.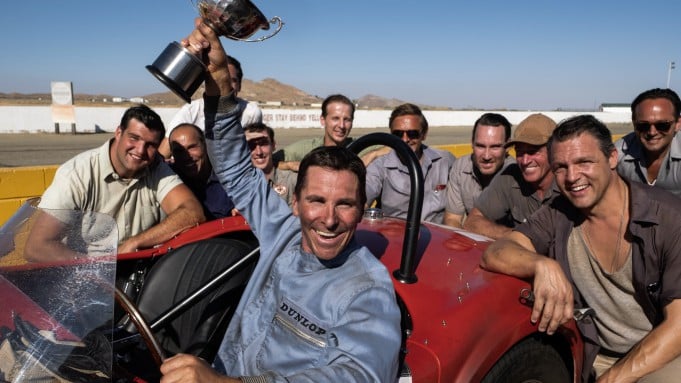 For more kid friendly reviews:
Knives Out Parent Movie Review
Is Last Christmas kid friendly?