Even from the trailers, you get a sense that Frozen II has a more mature feel than Frozen. Is Frozen 2 kid friendly? It's definitely more intense for little ones than the first, and there are battle scenes. Anna and Elsa find themselves in perilous situations, but can the power of sisterhood and love save them again? Here's what parents need to know before taking kids to see Frozen 2.
Is Frozen 2 Kid Friendly?
The old crew is back together in this sequel – Anna, Elsa, Olaf, Kristoff, and Sven. And this time, their adventures are more dangerous, and the stakes are higher. However, many questions are answered. Is Frozen 2 ok for kids? I would recommend this origin story for kids ages 8 and up. You could also go younger as long as they are comfortable with some intensity and see their favorite characters make hard choices.
Language
There was no bad language in Frozen 2 that I noticed was inappropriate for children.
Violence in Frozen II
There is a battle scene where weapons are drawn and people die, but no blood on screen or anything gruesome.
Mature Content
There are some mature topics that Frozen II addresses like self-love, familial love, romantic love, patriarchy, learning from the past, forgiveness, etc. At first, I described Frozen 2 as darker, but the more I thought about it, I would describe it more as intense. There's an intensity and urgency in the storyline and also magic, but not Bibbidi Bobbidi Boo magic. A mythological magic.
The two questions I get asked most are- is Elsa gay – and do Anna's and Elsa's parents come back? Listen, I'm not one to ask animated characters their sexual preferences or provide spoilers. However, I will say that Kristen Anderson-Lopez had previously addressed this by saying that Elsa is not defined by her romantic interests, and it wasn't a story they wanted to tell at this point in time.
So, no Elsa does not come out as gay in Frozen 2. It doesn't mean that she isn't, and it doesn't mean that she is. And I'm hoping it's not the focus, because you would miss out on so many other treasures and important topics. Though I do believe all children should be able to see themselves represented in the movies.
As for the parents, well, you do find out more about their story.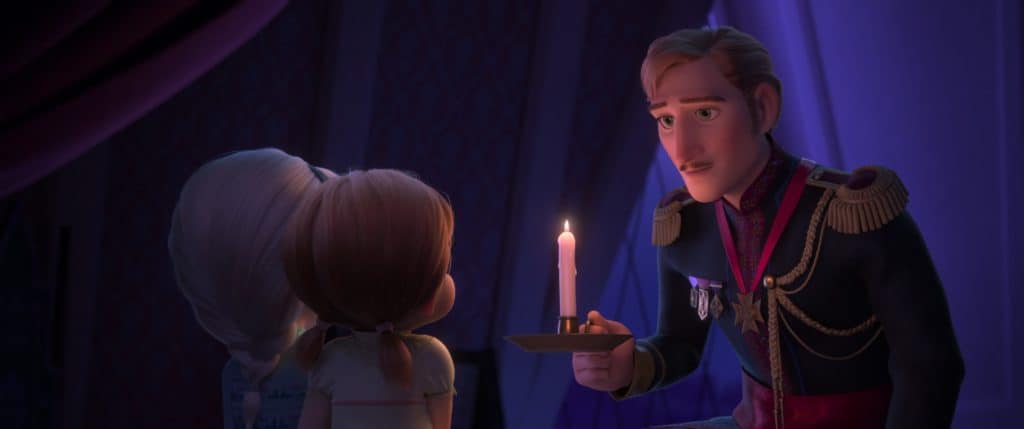 Is Frozen 2 Appropriate for Kids Under 8?
Frozen 2 is rated PG for action and peril, and yes, there are tense scenes, death, and heavy moments for kids. However, Frozen was also rated PG.
Now that all of my kids – ages 15 to 7 – have seen Frozen 2, I would recommend it for ages 8 and up. Can kids younger than 8 watch Frozen II and still be fine? Absolutely! My 7-year-old hid her face a couple of times during the tense moments, but nothing too frightening. All the kids in the theater laughed at Olaf's jokes, and Olaf helped keep the heavy moments lighter.
Little ones may not understand what's going on with some of the mythology and magic. My 9-year-old seemed a little confused and had a lot of questions afterwards. My 7-year-old was just enamored with Olaf, so it didn't phase her. Check out these Frozen 2 quotes to see if some of the content gets a little too deep.
Why You Should Take Your Kids to See Frozen 2
Frozen 2 is about change, and change isn't a bad thing. Your kids will still see their independent Disney princesses – Anna and Elsa, their lovable Olaf (albeit a little less naive), and Kristoff in a whole new light – an awesome, rock star sensitive new light.
Quite honestly, I don't think I got Frozen 2 on the first watch. Maybe I went in expecting a sweet sequel with catchy tunes. But after attending the Frozen 2 Press Junket and hearing from the directors and actors, things clicked, and I'm itching for another watch.
Life is about uncomfortable situations and this world is full of trials and sometimes sadness. Kristen Bell said that when we show these things in movies we give kids a safe environment to try on these emotions. And she's right. When we're next to them, we can see how they react, and this is why we have conversations and give them hugs and bring them comfort.
You'll definitely get music that will be sung through the house and in the car. "Into the Unknown" is my Idina Menzel wannabe power ballad that I sing with my daughters. And Kristoff, oh just you wait for Kristoff to have his moment – but that is more for the parents than the kids.
Evan Rachel Wood refers to Kristoff as Prince Sincere, not Prince Charming. This is why all children should see Frozen 2, not just little girls. Because when Kristoff says, "I'm here. What do you need?," that's worthy of a discussion with everyone.
Frozen 2 allows you to experience this journey with the different characters as they are on their path to self-discovery. Aren't we all on a similar path? This is what connects us.
If you value change, epic adventure, courage, and growth, then Frozen 2 is kid friendly. With beautiful animation, a soulful story, and incredible music, Frozen II is the must-see movie for families this year. Don't be afraid to go into the unknown.
Frozen 2 is in theaters November 22!
For more kid friendly reviews:
Is The Mandalorian on Disney+ kid friendly?