Frozen 2 is one of the most anticipated movies of 2019. With 5 girls at home, "Let It Go" is our anthem. My girls were super excited and a tad envious that I would attend the premiere of Frozen 2, walk the red carpet, and go to the after-party in L.A. as part of The Geekly Retreat. I am not a novice to red carpet events, thankfully because of this job, but why is it that I always make bad shoe choices? I know better, but yet here we are. Take a look at my Frozen 2 Premiere and Red Carpet recap.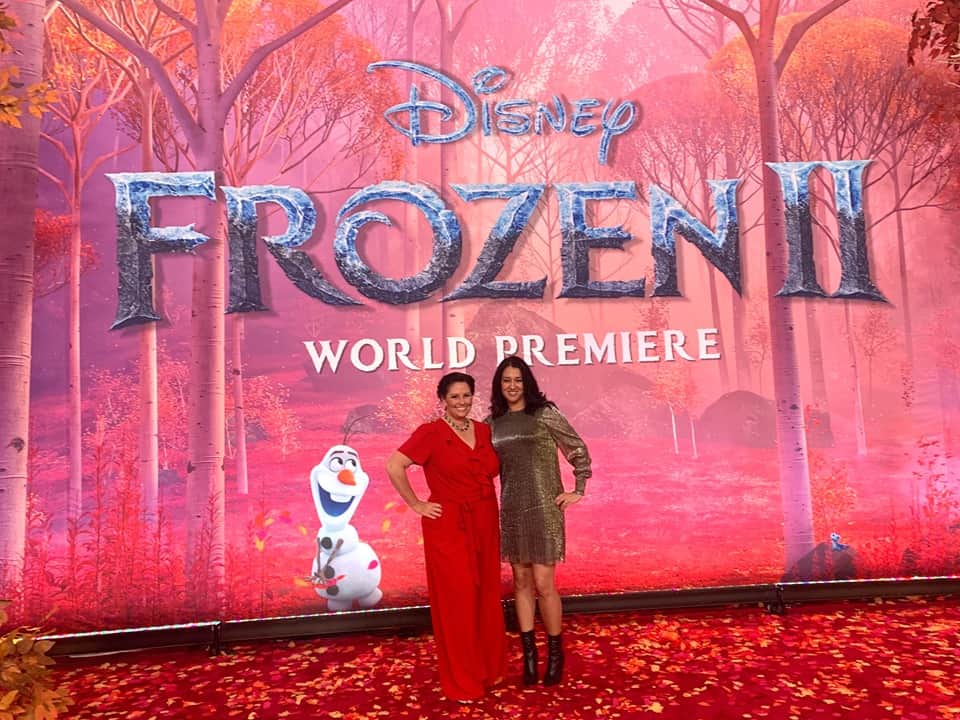 Frozen 2 Premiere and Red Carpet
The Frozen 2 premiere was at the Dolby Theatre, the very same theater where they hold the Oscars! After you go through security, the red carpet is fast and furious. There are a ton of people, and everything is decorated so nicely, you naturally want to stop and take pictures.
Ain't security got time for that. They want to keep the flow moving and the congestion to a minimum. So you can see celebrities on the main carpet doing interviews and taking pictures, but you walk behind a red rope.
I didn't catch a glimpse of my 2 favorite girl crushes – Kristen Bell and Idina Menzel, but I did see them at the Frozen 2 Press Junket a couple of days later. Also Idina was at the after-party!
Frozen 2 Red Carpet Outfit
I really wanted to try to DisneyBound for Frozen 2, since there are so many great characters, but time got the best of me. Luckily I found this cute Banana Republic dress that was shiny and sparkly, so it worked! The link is included, so you can check it out. It was 60% off during the Friends and Family sale.
I had to find new shoes, because I lent my go-to black red carpet shoes to my daughter for Homecoming. Well long story short, she took them off to dance, put them in a corner, and at the end of the night, they were nowhere to be found. Someone took them. Sheesh. I know they were cute, but come on, high-schoolers!
I broke my cardinal rule by not breaking in my shoes before an event. So I took a chance on these Jessica Simpson booties (also purchased with a coupon), and they were hot. But by the end of the night, my feet hurt, and it made it hard for me to want to do all the cool activities at the after party! Big mistake, huge.
Frozen 2 Premiere After Party
So premiere after parties are where the good stuff happens. There's food, music, ambiance, activities, and celebrities who let loose a bit. It's a fun atmosphere! The one downside is that there really isn't any seating unless you're an A-list celebrity or a guest of one.
Did I mention the food? I love a good catered meal, but sometimes at the end of the night, I want McDonalds french fries. And yes, they served happy meals at the after party. Let me tell you, chicken nuggets and fries hit the spot.
There was also an adorable dessert station, complete with Olaf cupcakes. I love Cupcake Wars, so I always wonder if this was the winner of some reality TV dessert contest. I like to imagine it was, so please don't burst my bubble, because these are cupcakes I could probably make, so I want to consider myself skillful.
They also had different stations set up for photo opps, character meet and greets, a makeup station, a VR experience – it was like a play land for kids and kids at heart. However, my shoes were killing me, I was walking at a snail's pace everywhere I went. It was almost laughable.
Many of the stars from Frozen 2 attended the after party like Idina Menzel, Josh Gad, Jonathan Groff, Sterling K. Brown, Martha Plimpton, Jason Ritter, and Jeremy Sisto. As you know from previous red carpet posts, I'm just not a selfie getter. I don't like to interrupt people, especially when they are with their families, but if an opportunity presents itself, I'll jump in.
Thankfully that opportunity did with Sterling K. Brown thanks to my friend, Taty! He was the nicest guy, and I admire his work so much. He plays Mattias in Frozen 2.
This was a dream night, minus the shoes, but I have to let it go. Sometimes things happen, like my friend Patty's Frozen 2 wardrobe malfunction, but you roll with it like pro-fesh-ionals. Then you take off your shoes on the streets of Hollywood to catch a Lyft and pray you don't step in any liquids.
You won't want to miss Frozen 2!! My review will be up later this week.
Frozen 2 is in theaters November 22!
More Red Carpet experiences:
Ralph Breaks the Internet Red Carpet
Solo: A Star Wars Story Premiere