I've been swooning over all the Disney Christmas Trees I've seen online – the Marvel Christmas Trees, the Star Wars Christmas Trees, and the Pixar Christmas Trees that people have put together! However, this mama is on a budget, so I opted for tabletop DIY Disney Christmas Trees for under $20 each. Have you heard of DisneyBounding your outfits? Well now you can DisneyBound your Christmas trees!
DIY Disney Christmas Trees
You can go as simple or as complex as you want. I found tabletop Christmas Trees at Target, Hobby Lobby, and Michaels. I'm sure you can find them at other craft stores and Walmart. There are generally two tabletop sizes and I chose the slightly bigger ones, because there are more ornament choices in the bigger size.
I used the 1.7 in/ 45mm sized ornament glass balls, and I'll usually buy them at Michaels and Hobby Lobby, because there's always a 40% or 50% coupon online at the store's website. Trees ran me from $6-$8 and the ornament boxes around $4.
First, pick your favorite Disney characters and pay attention to the colors that represent them. Start there and then add on details depending on time and money. I was low on both, so I went simple.
DIY Marvel Christmas Trees
Since I have been watching all the Marvel movies in order over the winter to get ready for Black Widow and Marvel Phase 4, I decided on a couple of Marvel Christmas trees. Plus, I already had some Marvel things at home.
When you DisneyBound an outfit, you don't just come out and wear clothing with your character on it. It's more subtle. That's why I decided on solid colored ornaments.
I chose to start with Captain America and Loki, but with Black Widow, it would be easy to use a black and red theme, with Natasha's belt as the ornament topper. There are so many different Marvel characters to choose from to display your fandom!
Captain America Christmas Tree
Red, white, and blue, bam! I've always loved a white tree. I was tempted to go blue, but in the end, white won out. I bought some red ribbon (on sale, of course) and bought red and blue ornaments. I already had this Captain America ornament, but Target had one just like it.
This Captain American Christmas tree is in my room, but I'll continue to add on to it. I'll probably add some star ornaments and find shield stickers for the ornaments. I've also seen people put a bigger shield at the top of their tree.
Double bonus is that this tree comes back out for the 4th of July. But seriously, who am I kidding? It's going to be a year-round tree in my room. Always and forever Team Cap.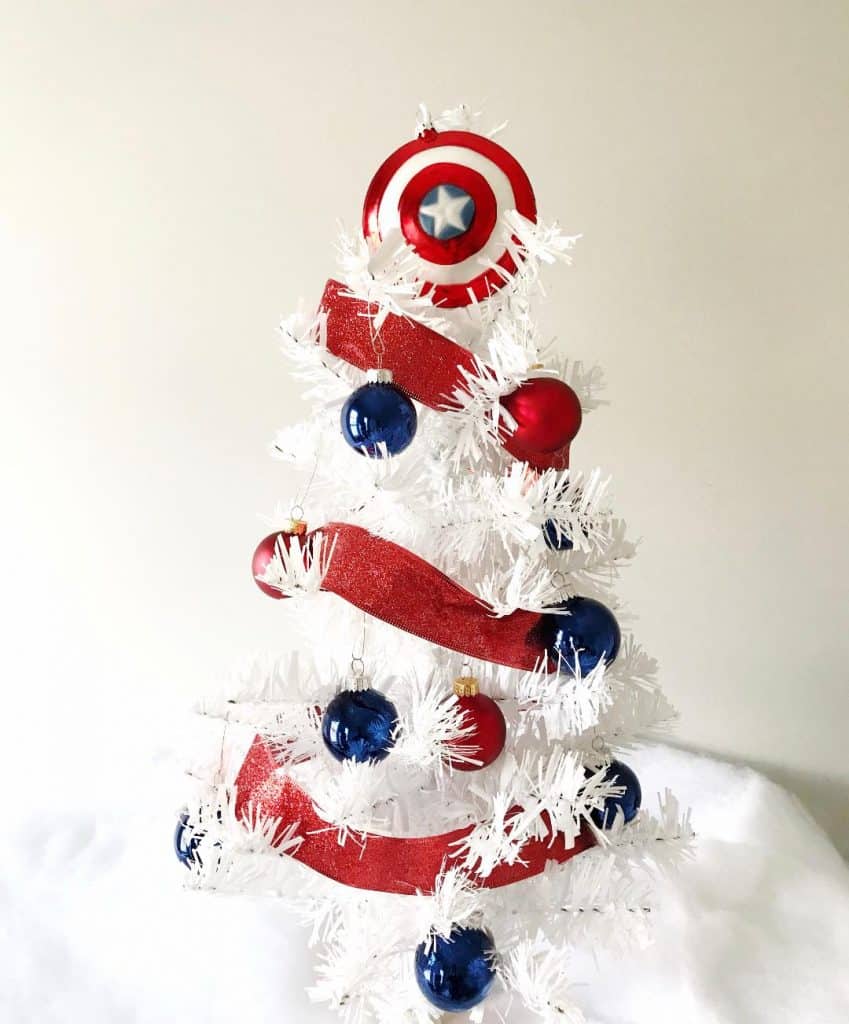 Loki Christmas Tree
Loki is a family favorite, and now with Loki coming to Disney+, there will be even more of a resurgence. And since my husband already made the Loki helmet for Bus Stop Costumes, it was an obvious choice. The helmet is a bit top heavy for the tree, but it works, and I think my husband likes that I'm appreciative of his craft skills. My friend even wore that helmet for the Thor 10K at Disneyland!
The God of Mischief's colors are green, gold, and black, so those are the colors I chose for the tree. You can also find an ornament for the top of the tree, add ribbon, or find tiny scepter ornaments. Eventually, I think I'll make a cape for the tree, too. It's super easy to make a Marvel Christmas tree – just pick your favorite character and go!
Stormtrooper Christmas Tree
I had seen full-sized Darth Vader and Stormtrooper trees online, and I was in love. Not only because I'm a Star Wars fan, but I love black and white anything. Those trees had masks at the top of their trees. I found a cute Stormtrooper ornament at Target, so that ultimately made my decision. Plus, one of my daughters adores Rey, Star Wars everything, and even has Stormtrooper shoes! So this tree is for her room.
It can't get any more simple than this. White tree, black ornaments, Stormtrooper ornament at the top. I did pick a variety of black ornaments for fun. Plus I knew I could use black ornaments from the Loki tree. Some had glitter, some were matte black, and others were shiny black. Now we have a Star Wars Christmas Tree of our own!
With the popularity of The Mandalorian on Disney+, I can see Mando and Baby Yoda trees popping up all over the galaxy!
I hope these DIY Disney Christmas Trees will get your creative juices flowing and show you that trees don't have to be complicated or expensive. I'm really digging the white Christmas trees, so I think my next one will be Marie from The Aristocats. I'll just need pink ornaments and tie pink bows on the branches.
These are great to put in kids' rooms so they can have their own little trees. Add lights, music, or whatever puts you in the holiday spirit.
Whether it's a Marvel Christmas Tree, a Star Wars Christmas Tree, a Disney Princess Christmas Tree, or a Mickey Mouse Christmas tree, show your fandom and ho, ho, ho it up with your favorite Disney (or other) characters!