Which Hersheypark hotel is best for your family? There's not a one size fits all answer as every family is looking for something different. Here are my brief Hersheypark hotel reviews, so you can decide which Hersheypark hotel is best for your Hersheypark vacation – The Hotel Hershey, Hershey Lodge, or Hersheypark Camping Resort?
Hersheypark Hotel Benefits
There are three official resorts of Hersheypark – Hershey Lodge, The Hotel Hershey, and Hersheypark Camping Resort. But which one should you stay at?
Staying on site at Hersheypark is worth it with benefits such as 1-hour Early Access to select rides at Hersheypark on select dates May-September. Also included is complimentary Front Gate Shuttle Service to Hersheypark. This will especially beneficial when Hershey's Chocolate Town and Candymonium open in 2020 at Hersheypark!
As guests of Hershey Lodge and The Hotel Hershey, you receive free admission to Hershey Gardens and The Hershey Story's Museum Experience. It's definitely worth a visit to both of these locations. Hershey Gardens is beautiful, and they have a Butterfly Atrium where you can walk amongst the butterflies!
Hershey Lodge
Hershey Lodge is the least expensive option out of the two Hershey Hotels on the property, but it offers plenty for your money. I've stayed in a room with a King Bed and also with 2 Queen Beds. The rooms were pretty large for a hotel room and include a desk and mini fridge.
Sweet touches are what makes this resort special. There is Hershey Kiss wallpaper in the bathroom, Hershey Kiss sheets, and Hershey Kiss soap. The details are not to be missed.
The one thing that would make me choose this resort every time if I had a smaller family is Hershey's Water Works. Hershey's Water Works is not your average hotel pool. It's complimentary for overnight guests at Hershey Lodge. You can enjoy 30,000 square feet of splashtastic fun including Twizzlers Twists water slides and Reese's Water Walk!
Also included is a zero entry pool (which is crucial for my little ones who can't swim yet), a castle spray zone, lighthouse tipping bucket, and a hot tub! It definitely ups the value for your stay on site at Hersheypark. My kids NEVER want to leave Hershey's Water Works.
Some rooms have outside entrances like a motel. I prefer to stay in the main building. Fire & Grain is a wonderful restaurant, but a tad pricey, especially for a large family. If you want a quick bite to eat, then grab something at The Cocoa Beanery where you'll find sandwiches, soups, drinks, and most importantly -snacks!
If you're going to visit Hershey at Christmas, Hershey Lodge is my favorite place to stay with their inviting fireplace, big Christmas tree, and homey feel.
The Hotel Hershey
The regular rooms are a little smaller at The Hotel Hershey than the rooms at Hershey Lodge, but the decor has a more upscale feel. They are simple and elegant and make me feel like I'm part of another era. Plus the suites are divine.
The one bedroom suite has two queen beds in one room, then a pullout sofa that also turns into a queen bed in a separate room with a desk and bathroom.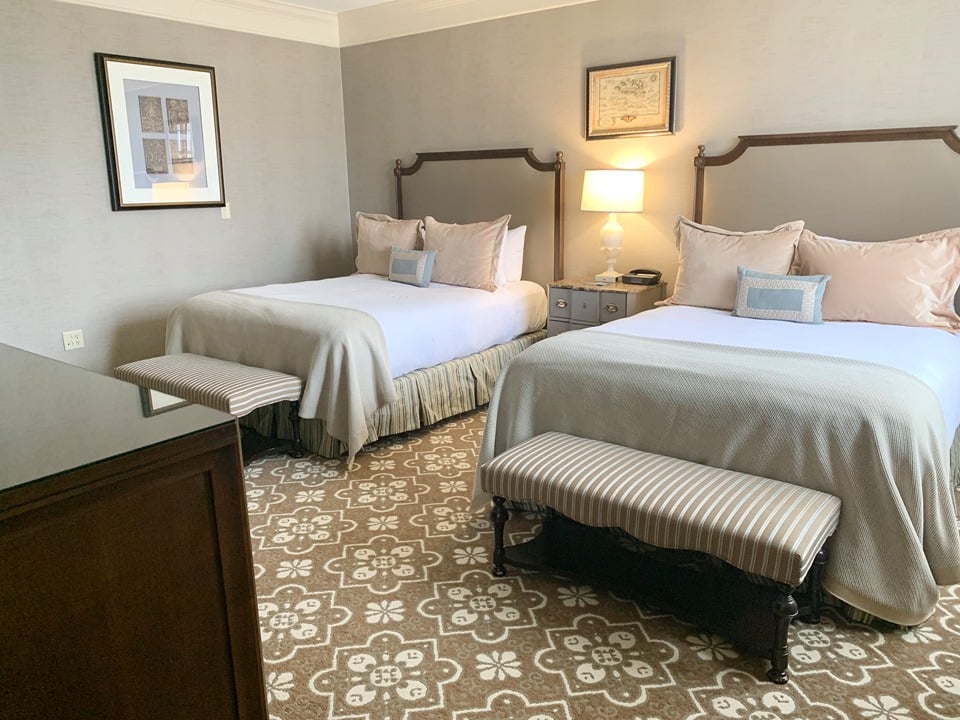 One of the most luxurious things about The Hotel Hershey is The Spa. I'm always up for relaxation and pampering. I opted for the Sweet Feet Pedicure. It's 60 minutes of bliss and of course included chocolate! Even if you're "just" getting a manicure or pedicure, you still get to change into a robe and use the other facilities in the spa-like the Quiet Room and the Steam Room and Sauna.
The Hotel Hershey has several restaurants including The Circular, Harvest, Trevi 5, and The Iberian Lounge. If you need coffee and baked goods, The Cocoa Beanery has you covered.
My favorite restaurant is The Circular. Brunch is heavenly, and I gasped at the beauty when I walked into The Fountain Lobby. It has the feel of a Spanish Patio.
My family has also eaten at Harvest which was also delicious and a fun place to dine on a rainy day. I was worried The Hotel Hershey might feel a little uppity for my sometimes chaotic crew, but we felt at home. It's a splurge, but my kids felt very happy there. They even received free chocolate at check-in.
This is the closest hotel to Hersheypark, so you'll always pay a little more for location. The hilltop views are also fantastic!
The Hotel Hershey also has two pools – an indoor pool and an outdoor pool with zero-entry and a spiral water slide. So there is plenty of water fun!
Another reason I love The Hotel Hershey is the story behind it. Milton Hershey decided to build this great hotel on top of a hill during The Great Depression. Many thought he was crazy to pursue such a thing during this time. However, the hotel employed the town and thrived.
Hersheypark Camping Resort
I think I was most surprised at how much I enjoyed the options at Hersheypark Camping Resort. You can bring a tent, an RV, or stay in one of the beautiful deluxe cabins.
Choose from regular and pull-through campsites with partial or full hook-ups or stay in a log cabin, which range from basic features to deluxe amenities. Plus in the summer, you'll have access to two pools and a kiddie pool.
Some other amenities include basketball courts, volleyball courts, shuffleboard courts, a playground, picnic tables, and a campfire pit. On some nights, they show movies on an outdoor screen.
I enjoy camping, but let me tell you, I'd choose those cabins all day long. I toured an empty 2-bedroom deluxe cabin, and this is the place for me and my family. First of all, they sleep 7. Jackpot!
This is a more affordable option for bigger families like mine. Second, hello, kitchen! Third, indoor plumbing including a toilet and shower in your cabin. Yeah, I'm one of those who really digs indoor plumbing. Call me crazy. I like to refer to the cabins as glamping.
One of the cons is that you do have to bring your own supply of linens, pillows, blankets, and towels. However, it could be worth it for the overall savings or if you just really enjoy camping! Adventure is out there.
Staying On-Site at Hersheypark
Hopefully this guide to staying on site at Hersheypark has helped you decide which Hersheypark hotel is best for your family. With 3 different Hersheypark hotel options, there is something within budget for everyone whether you want to camp, stay in a lodge, or live the high life.
There's so much to do and explore in Hershey, PA that you can make a vacation out of it if you need some down time from Hersheypark. Have fun in the sweetest place on earth!