My family and I took a quick 24-hour trip to Hersheypark in the winter while the kids were on school break. We wanted to unwind and celebrate as a family before all the hustle and bustle of the holidays. A night at the Hershey Lodge, plus Christmas Candylane was just the ticket. But there's more you can find in Hershey, PA for the winter!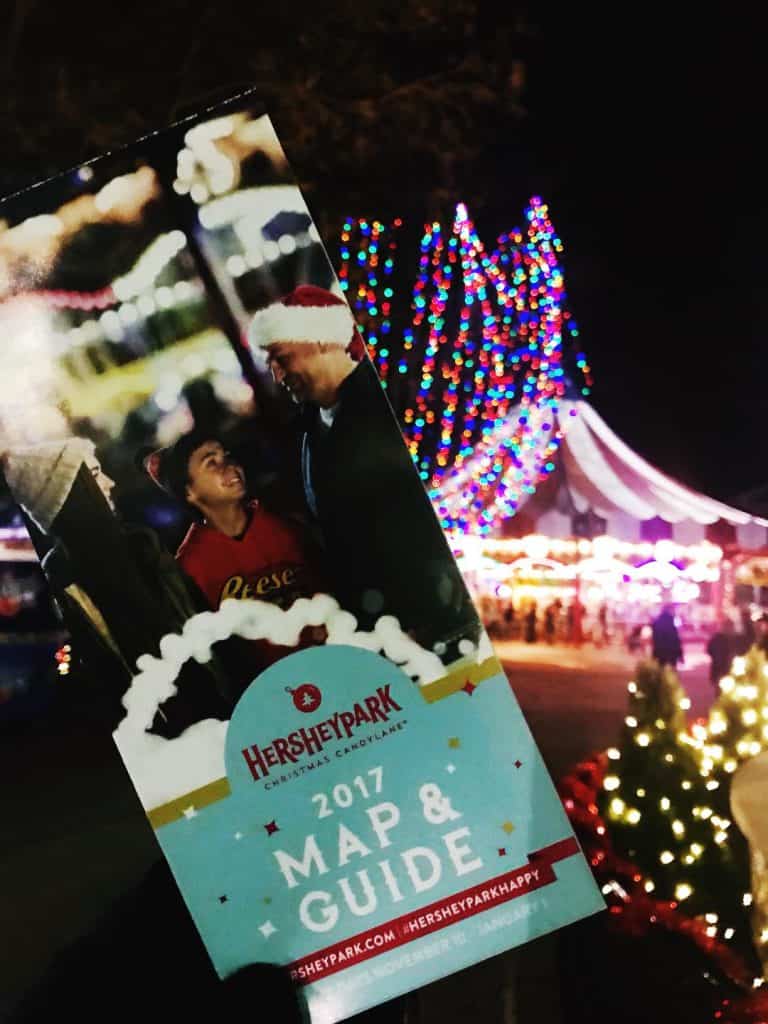 Hersheypark in the Winter
Our main purpose for the trip was to attend Hersheypark Christmas Candylane. My kids love holiday lights and rides. (Thank you, Hersheypark, for providing some complimentary tickets). So we headed down early one afternoon, and arrived at Hershey Lodge around 1:00 p.m. Our rooms were ready, so we decided to take a swim first, then head to the park later since Hersheypark Christmas Candylane opened at 5:00 p.m.
2020 looks a little different, and you can still enjoy Hershey, but there are more safety precautions including masks and temperature checks.
Hershey Lodge
Hersheypark is close enough for us to drive down and back in one night, but we wanted to add a little staycation for the kids. They love hotels, and it was a tough decision whether to stay for one night at Hershey Lodge or two nights at Hersheypark Camping Resort Cabins. The price was about the same. Usually I say two nights always wins out, but there's something about Hershey Lodge in the winter that I wanted my kids to experience.
The other things that swayed me were Hershey Water Works in Hershey Lodge (the indoor water park area with water slides and kid play area) and guests of Hershey Lodge receive complimentary tickets to Hershey Gardens and the Hershey Story Museum. My kids had a blast at Hershey Water Works! Another great bonus is that Hershey Lodge guests also receive $10 off their Christmas Candylane tickets, so they were only $15.
You can purchase tickets online for $39.95 for Christmas Candylane in 2020.
The only thing that bothered me was that parking was not free at Christmas Candylane for Hershey Lodge guests. It was $9. They do have transportation, but the trolley runs on a continuous loop, so it's about a 20-30 minute wait if you just miss the trolley.
Hersheypark Christmas Candylane Tips
Hersheypark Christmas Candylane is on select dates from Nov. 13, 2020 – Jan. 3, 2021.
Going to Hersheypark in the winter is a lot of fun! Just make sure to bundle up. As long as we were dressed properly with layers, coats, hats, and gloves, we were fine!
I even forgot my coat at home, but I had enough layers to keep me warm. And well, I also bought hot chocolate a lot in the park, I even upgraded to the kind with chocolate shavings and whipped cream, because it's the holidays for crying out loud.
Go during the week if you can. Although Hersheypark Christmas Candylane has shorter hours during the weeknights, we rode everything we wanted with barely any lines. A bunch of the roller coasters aren't operational, but there was plenty for my thrill ride lovers to enjoy as well as for my littles to enjoy. It also warmed my heart to see the bigger kids ride with their younger sisters and have a ball doing it. We could all stay together, because the lines were so short.
In addition to the rides and holiday treats, be prepared for holiday lights!! The park was decorated with lights and holiday decor and really put us in the festive mood. Holiday music filled the air and my kids found some Hershey characters to take pictures with. We also found Santa Claus!
We shut the park down and were probably one of the last families to leave at 9:30 p.m. Then we decided to continue the fun over at the Hershey Sweet Lights.
Hershey Sweet Lights
Until January 3rd 2021, you can drive through the holiday winter wonderland of Hershey Sweet Lights. Enjoy nearly 600 illuminated, animated displays from the comfort of your car as you drive through two miles of wooded trails. Nearly 600 displays! This is a great way to visit Hersheypark in the winter and add to your holiday light display list.
The cost starts at $22.15 for carloads up to 8 people Sunday – Thursday and about $30 on the weekends Friday- Sunday. It really is a cool display, and a lot longer than I was anticipating! I think our favorite was the 12 Days of Christmas Display.
Hershey's Chocolate World
The next day we headed to Hershey's Chocolate World – one of our favorite places to visit. It's a gigantic retail shop, but it also has other activities like a ride to explain how chocolate is made. When you exit the ride, you're given a nice chocolate treat. The singing cows are a personal favorite.
You can also create your own candy bar at Hershey's Chocolate World and go on a trolley tour. I'm always in for the snacks. Frozen Hot Cocoa is my jam, but the baked goods are also worth a visit. Hershey's Chocolate World is a family favorite in the winter and the summer! They also have a food court where we like to eat sandwiches and soup.
Butterfly Atrium at Hershey Gardens
Since the Hershey Gardens were included with our stay at Hershey Lodge, we headed over to visit the Butterfly Atrium. I had been before, but my children hadn't. It's a very warm climate inside the atrium where you can freely walk around with butterflies flying about.
We purchased a butterfly guide for $1 and my younger girls loved pointing out the butterflies in their guides. Be careful if your little ones really do not like flying creatures. The novelty wore off on my youngest when she was freaking out at the butterflies flying around her. I tried not to laugh, but it was funny. I love when I can combine educational and fun experiences. This was great for the family, minus the 5-year-old who has an issue with insects.
I completely recommend a visit to Hersheypark in the winter, especially for the holidays! Christmas in Hershey is magical! We had plenty to do and could have stayed an additional couple of nights. There were more activities in the hotel, outlet shopping nearby, the Hershey Story Museum and more! This was just what we needed during winter break.