Ever since watching trailers for The Farewell, I knew it would be an emotional film, and it was. Is The Farewell kid friendly? Rated PG, there isn't anything that's particularly concerning for kids as far as language and violence is concerned, however there is some mature content. This film will provide some good conversations with your teens and family members, so check out this parent review for The Farewell.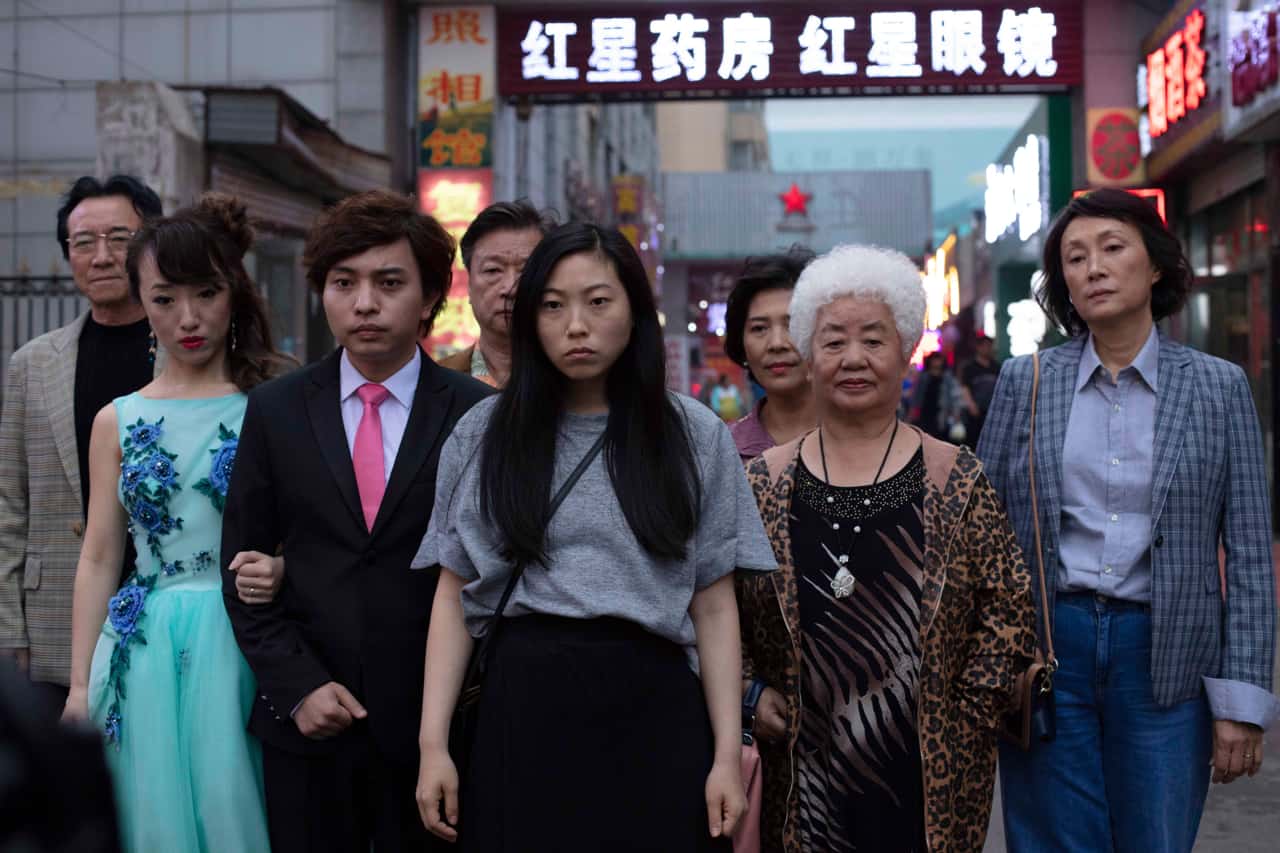 Is The Farewell Kid Friendly?
The majority of The Farewell is in Mandarin Chinese (at least it felt that way), but I never found it to be hard to understand. However, for kids, it may be tiresome to read all the subtitles, and there's not a lot of action to hold their attention. The overall tone is a bit melancholy, but I would recommend The Farewell for teens and older.
Language in The Farewell
The only swear word I heard in The Farewell was sh–. Other words like stupid, dumb, sexy, and the phrase "knocked up" were also used.
Violence in The Farewell
There was no violence in The Farewell.
Mature Content in The Farewell
Some of the content in The Farewell may be inappropriate for children like smoking and drinking alcohol. In one scene, a character is drunk and is in his underwear. There is a brief glance in a room where young girls are with older men. You also see a character getting a massage and is shirtless, in another scene you can see a little bit of side boob, but it's not sexual in nature.
Should You Take Kids to See The Farewell?
The Farewell is not for kids, but it's a movie for families, if that makes sense. It's a fantastic film filled with raw emotion, wit, humor, excellent acting, and causes you to think about the makeup of your own family. However, I don't know that I would bring anyone under 12 unless they speak Mandarin.
Billi's (Awkwafina) family returns to China from America under the guise of a fake wedding to say goodbye to their beloved matriarch -Nai Nai- the only person that doesn't know she only has a few weeks to live. The first thing you see on the screen are the words, "Based on an actual lie."
While watching the grappling with the decision of whether to tell Nai Nai that she has terminal cancer, I found myself wondering what I would do. Have I told my own family lies to save them from pain or to serve my own interests? Here, you really see the struggle in the East vs. the West and cultural differences.
Having essentially been raised in America, Billi is having a hard time with the lie. She thinks that Nai Nai deserves to know, but still goes along with the wishes of her family. It's these situations that give you reason to have different conversations with your own families.
Why You Should Go See The Farewell
The chemistry between Awkwafina and Zhao Shuzhen, who plays Nai Nai, is incredible. It reminded me of the relationship my mother has with my children. The whole time I was thinking what would my 5 strong-willed daughters do if we asked them to do the same? Plus Nai Nai is adorable and transcends the language barrier through her expressions.
The Farewell deals with some heavy stuff, and I almost felt myself get weighed down with Billi's burden during the movie. However, then the conversation shifted as we saw the family who lived in China and Japan share their thoughts. In the East, you're part of a whole – a family and society. In the West, one's life belongs to oneself.
This film really helped me see outside of myself and my own situation. I could legitimately see both sides. If nothing else, The Farewell will cause you to feel and reflect, and that's a win in itself.
For more kid friendly reviews:
Is The Lion King kid friendly?
Is Spider-Man: Far From Home kid friendly?