Downton Abbey fans, this one's for you. The Downtown Abbey film is really a love letter to the fans, a 2-hour long episode that has all the usual Downton flair – drama, humor, and heart. But is the Downton Abbey movie kid friendly? Not for all kids. There are a few things to be aware of, especially the language and behavior regarding homosexuality.
Is the Downton Abbey movie Kid Friendly?
When the Downtown Abbey music hits the screen, flashbacks of hours and hours of binge watching come back, and I am ready to have tea with the queen. Oh, how I've missed the Crawleys.
I would say Downton Abbey is ok for kids who watched the series. There were certainly episodes with more sexual content than this one, but there are still a few things to be wary of in the movie. Here's the scoop on language, violence, and mature content in the Downton Abbey movie.
Language in Downton Abbey
There was no 4-letter profanity in Downton Abbey, but they did say "bloody" which is vulgar in England. I also counted one 'oh my g-d.' When referring to a group of gay men, a character calls them "dirty perverts" and another refers to them as "queers."
Violence in Downton Abbey Movie
There was a gun, a fight, and an attempted murder, but overall, violence was tame.
Mature Content
There are some mature themes in Downton Abbey in true Downton form – some scandal, romance, and jealousy. There are several kisses between a man and a woman and also between two men. Downton Abbey does address homosexuality in the 1920s and the horrible treatment of gay men, and one particular scene is hard to watch.
One character comments how "he'd rather be dead than be like them." This may be difficult for some children, especially empathetic ones, but it also can provide good discussion on how people should be treated.
There are also a couple of scenes when Edith is undressing, and you see her in her undergarments, but nothing too revealing. You'll also see characters drinking alcohol and smoking.
Do You Need to Watch All the Seasons of Downton Abbey Before You See the Movie?
Many people have asked if they need to watch all of the Seasons of Downton Abbey before they go and watch the movie. I don't think so. Sure, it's always funner to have seen the entire series before watching the next episodes or movie, but it's not necessary.
If you can and don't mind spoilers, I recommend watching at least Season 6, which is the last season. You'll see where the characters in the movie left off. You can also watch a quick recap that does a decent job of explaining what Downton Abbey is all about.
The Downton Abbey Film is Full of Fun
It's hard for me to wear my critic hat when I'm such a fangirl. Are some things preposterous, too dramatic, maybe predictable? Sure, but I didn't care one bit. I come to Downton for the people, the stories, the laughs, and the clothes. None of those things disappointed.
In the Downton Abbey movie, the Crawleys have been informed that the King and Queen of England are coming for a visit. Of course this is a great honor for everyone, and a headache for Mary. Hijinks ensue, complications arise, and patience is tested. But through it all, the residents of Downton Abbey, along with extended family and servants, have each other's backs.
Most of all my favorites are back, and that just made my heart soar. The zingers that came from the Dowager Countess literally had me snorting. One gem in particular was an exchange between my favorite friends – the Dowager (Violet Crawley) and Isobel Crawley.
Isobel – "And you're an expert in the matter?"
Dowager – "I am an expert in every matter."
Maggie Smith is a treasure, and nobody can tell me otherwise. Check out this post for more of the best Downton Abbey movie quotes from the Dowager!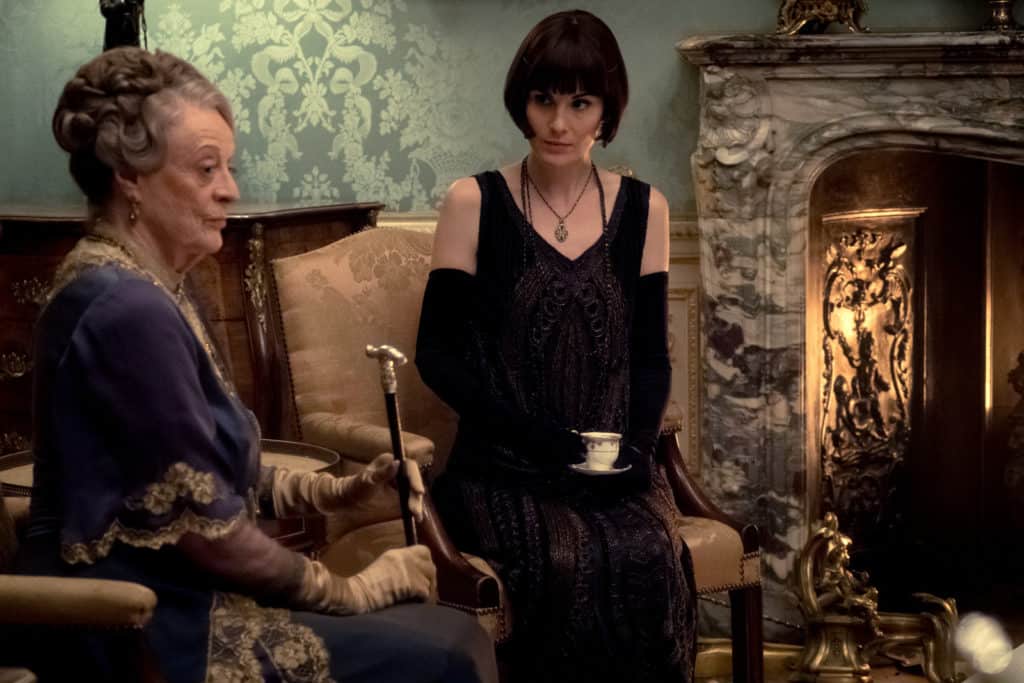 If you're a fan of the show, I don't see how you won't love the Downton Abbey film. At 2 hours long, I recommend leaving the little ones at home, but if you have a royal family fan, then exceptions can be made. If you're not a Downton fan, then do your friend/partner a solid and either come prepared to gossip and drink tea or just stay home. This one's for the family.
For more kid friendly movie reviews, check out:
Is Spider-Man: Far From Home kid friendly?
<div id="alfkevbaz8ozzfcecqbv" data-volume="70″ data-ratio="16:9″></div>
<script type="text/javascript" src="//video.mediavine.com/videos/alfkevbaz8ozzfcecqbv.js" async data-noptimize></script>