Star Wars: Galaxy's Edge in Disneyland and Disney World is absolutely stunning, but let's get to the important details – where to eat when visiting Galaxy's Edge. Some snacks and food are definitely worth trying, while others are worth saving your money for merchandise. Here's your guide to food in Star Wars Land, plus my recommendations on the best and worst food and snacks in Galaxy's Edge.
A Guide to Dining in Galaxy's Edge
There are two main areas where you can find food and beverages in Galaxy's Edge – The Market and Black Spire Outpost. In The Market is where you'll find most of the food and Black Spire Outpost is where you'll find the drinks.
There are no table-service restaurants inside Galaxy's Edge, which is too bad, because it would be nice to have a themed restaurant. So all the locations are quick-service and walk-up.
They usually prefer you to mobile order when you can, but when it's not super busy, they'll let you order inside at a quick-service location.
The Market
In the Market in Galaxy's Edge, you'll find Kat Saka's Kettle, Ronto Roasters, and Docking Bay 7 Food and Cargo. Here's where you'll find the majority of the food and snacks.
Docking Bay 7 is the biggest quick-service location in Star Wars: Galaxy's Edge and has indoor and outdoor seating.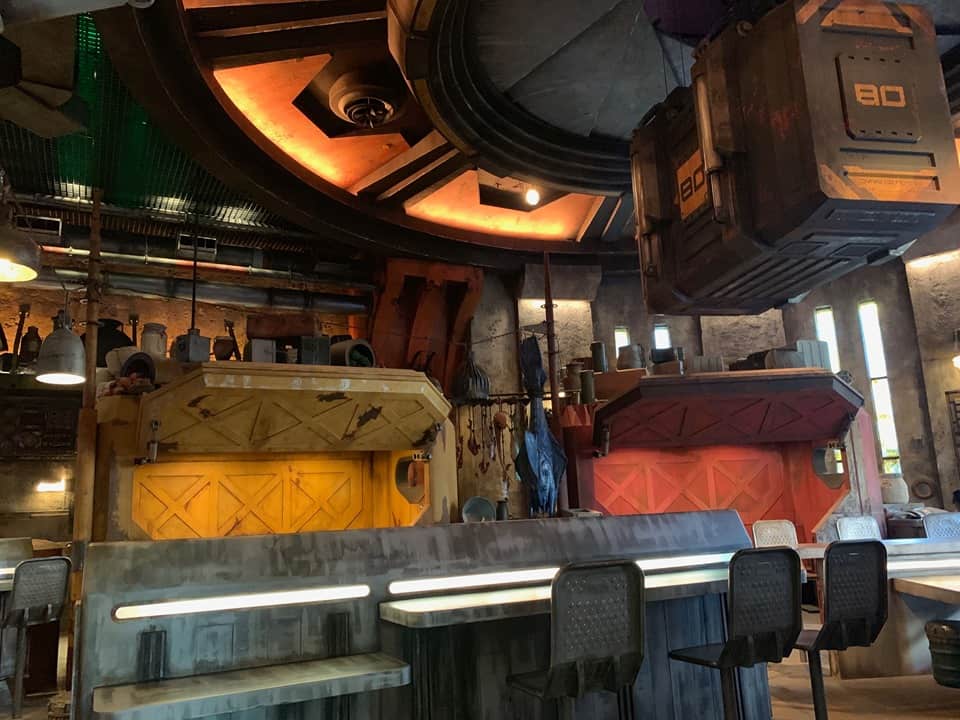 Ronto Roasters has some outdoor tables and serves breakfast and lunch and serves breakfast in the mornings.
Kat Saka's Kettle has an Outpost Mix which consists of sweet and savory popcorn mixed together and Buttered Blue Grains which is colored, butter-flavored popcorn.
Black Spire Outpost
In Black Spire Outpost is where you'll find the beverages. This is where Oga's Cantina and the Milk Stand is located. In Oga's Cantina, you'll find alcoholic and non-alcoholic beverages. The only food they offer in Oga's Cantina is Batuu Bits, a spicy trail mix, and Happabore Sampler, which is like a charcuterie board. Neither one is worth eating.
The Best Food in Galaxy's Edge
These are my recommendations on what to eat in Galaxy's Edge. Food can be subjective, and everyone's tastebuds are different. When Galaxy's Edge first opened in Disneyland, Amiyrah Martin from 4 Hats and Frugal, walked into Docking Bay 7 like a baller and said, "We'll take one of everything." So we tried everything. However, some of the menu items have changed since then (thankfully).
There have been major food improvements especially in Docking Bay 7.
Outpost Mix at Kat Saka's Kettle
The actual amount of snacks on Batuu is low. And the Outpost Mix is by far the best one. It's a mixture of sweet and a little bit of spicy popcorn.
At first, it had a weird taste to me, but then I couldn't stop eating it. Definitely eat the sweet and savory popcorn together. The sweet tasted like Fruity Pebbles to me. The savory had a little bit of a kick. Everyone agreed that it was delicious!
The Buttered Blue Grains is just colored buttered popcorn.
Carbon Freeze at Oga's Cantina
Oga's Cantina is definitely a fun experience. It's a little cramped inside, and they take reservations. There are tables of 8 around the perimeter. Many tables and the bar are standing room only. The music is lively and Rex the DJ knows how to pump out the tunes.
The Carbon Freeze is a non-alcoholic drink with a fruity and tart taste. Carbon Freeze is Powerade Lemon Lime, Wild Strawberry, Blueberry, and Green Apple popping pearls. The presentation is what brings up the fun factor.
Some dry ice makes it smoke and bubble. Be careful though, because sometimes the bubbles will go up your nose. As someone who doesn't drink alcohol, I really appreciated the efforts to make interesting non-alcoholic specialty drinks at Oga's Cantina.
Ronto Wrap at Ronto Roasters
So the reviews are a little mixed on the Ronto Wrap, but overall, I think it's worth a try, especially if you want something quick and easy to eat on the go or while waiting in line. A Ronto Wrap consists of roasted pork, grilled pork sausage, peppercorn sauce, and tangy slaw wrapped in pita. The sausage seems like a hot dog, but the combination of everything makes the flavors blend well.
For breakfast you can order a Ronto Morning Wrap which has eggs, pork sausage, shredded cheddar, and peppercorn sauce in a pita bread. It's a Ronto Wrap with eggs.
Felucian Kefta and Hummus Garden Spread
This plant-based meal is one of the best things on the menu at Docking Bay 7. The Felucian Kefta and Hummus Spread includes plant-based meatballs, herb hummus, tomato-cucumber relish, and pita. It's got a little bit of a kick to it with the spices, but it's balanced out with the bread, and makes for a delicious meal.
Roasted Endorian Chicken Salad
I'm not usually a salad person, but I actually liked the Roasted Endorian Chicken Salad a lot. The funny thing is when I first tried this at Galaxy's Edge opening, it was different and was on my worst foods list. However the recipe has changed. It's marinated chicken, mixed greens, shaved onion and radish, grapes, tomato, and cucumber in a citrus-pomegranate vinaigrette with spice yogurt drizzle.
Again, there's a little kick with the spices, but nothing too hot. It's balanced out with the rest of the flavors. It was refreshing and not too heavy.
Fried Endorian Chicken Tip Yip at Docking Bay 7
This is for the non-adventurous eater, but it's still good. It's like fried chicken without the bone and mac and cheese. A pretty basic choice, but it gets the job done, especially with a version on the kids menu. Sorry for the blurry broccoli.
The Worst Food in Galaxy's Edge
Some menu items were not fan favorites at Galaxy's Edge. These are the food and drinks I would skip at Galaxy's Edge.
Blue and Green Milk at the Milk Stand
Please don't shoot the messenger. I wanted to like it; I really did. There wasn't much information about Blue Milk from Star Wars, so nobody was sure what it was supposed to taste like.
I give Disney props for making this a plant-based drink so that more people could enjoy it. It just wasn't good. But there are people who do like it.
They are both plant-based blends of coconut and rice milk with fruity and tropical characteristics. Again the taste has changed a little bit since the first offerings.
I can actually drink the Blue Milk and be ok. It's not a smooth liquid and more of a smoothie consistence. The Blue Milk is more of a bland taste with a hint of sweetness. If you have to try one for the experience, then I would go with that one.
The Green Milk was just gross. It tastes like bubble gum to me. But again, I know people who love it. It's hard to stomach at $8.50 a pop, but when in Batuu…
The Blue Milk seems to be a little different at Oga's Cantina and is more bearable. Or maybe it's because it comes with a cookie. So if you want to try it, I suggest starting at Oga's.
When I had originally written this post, there were at least 5 items on my worst food list at Galaxy's Edge. Well Disney has removed all of them. Well done, people. Menus can change.
What to Eat For Breakfast in Galaxy's Edge
You can also grab some quick breakfast foods in Galaxy's Edge when rope dropping. At Ronto Roasters they do offer the Ronto Morning Wrap and the Rising Morning Oats.
More on the Ronto Morning Wrap. It's not bad, and if you're in a pinch and need food on the go, it's shareable. However, you can see the egg doesn't quite fit with the length of the sausage. But overall, it's a fine option.
The Rising Moons Overnight Oats are pretty solid. I held off for a long time on trying them and boy do I regret that. The oats are delicious! It's good texture and flavor, especially with the fruit and boba. Plus it doesn't feel as heavy as some of the other foods around.
I'm glad that they're offering more foods at Galaxy's Edge for Star Wars fans!
I made my own homemade Blue Milk recipe that tastes better, but it's essentially a milkshake.
For more Disney tips, check out this Guide to Disney World with toddlers, tips on how to ride Guardians of the Galaxy: Cosmic Rewind, and whether TRON Lightcycle Run is kid friendly.