Star Wars: Galaxy's Edge in Disneyland and Disney World is absolutely stunning, but let's get to the important details – where to eat when visiting Galaxy's Edge. Some snacks and food are definitely worth trying, while others are worth saving your money for merchandise. Here's your guide to food in Star Wars Land, plus my recommendations on the best and worst food and snacks in Galaxy's Edge.
Some of the names of the foods have changed since I first tried them, so I'll add the new name, too.
Where to Eat in Galaxy's Edge Disney World and Disneyland
There are two main areas in Galaxy's Edge – The Market and Black Spire Outpost. Right now during Covid, Disneyland is closed. Walt Disney World is open, but has some limited offerings. Right now, everything is through mobile order, so you'll have to order food and drink on the app before entering. Once you hit "I'm here," you'll wait until you receive the notification that your oder is ready and then you get your food.
The Market
In the Market in Galaxy's Edge, you'll find Kat Saka's Kettle, Ronto Roasters, and Docking Bay 7 Food and Cargo. Here's where you'll find the majority of the food and snacks.
Docking Bay 7 is the biggest quick-service location in Star Wars: Galaxy's Edge and has indoor and outdoor seating.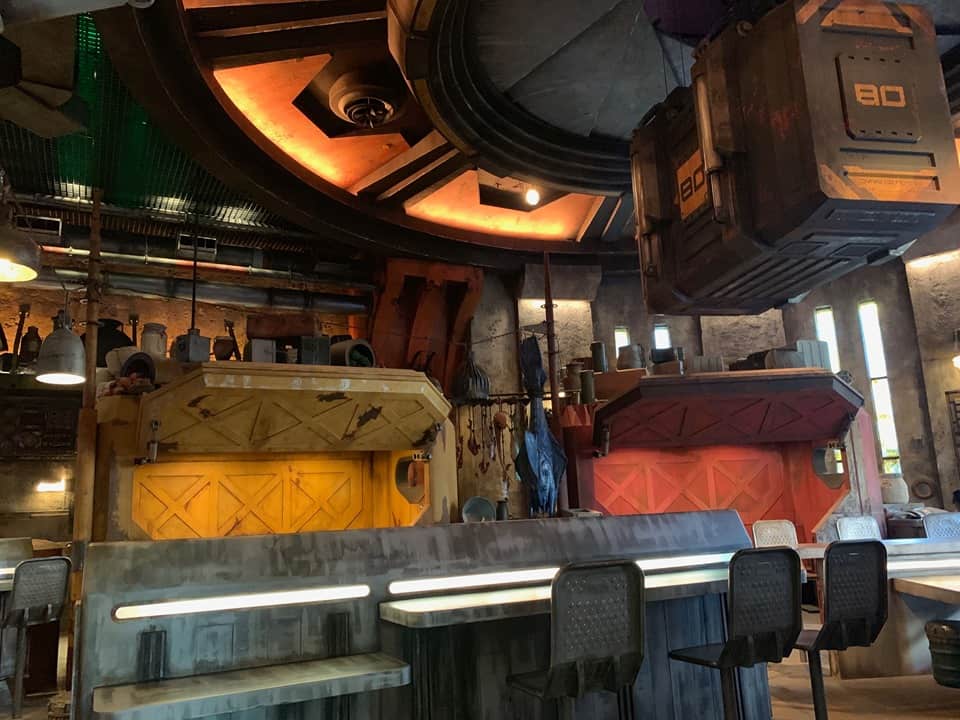 Ronto Roasters has some outdoor tables and two main menu items for lunch and serves breakfast in the mornings. During Covid, you'll have to use mobile order.
Kat Saka's Kettle has an Outpost Mix which consists of sweet and savory popcorn mixed together and Galaxy Grains which is green colored, butter-flavored popcorn.
As of January 11, 2021, Kat Saka's Kettle is still closed.
Black Spire Outpost
In Black Spire Outpost is where you'll find the beverages. This is where Oga's Cantina and the Milk Stand is located. In Oga's Cantina, you'll find alcoholic and non-alcoholic beverages. The only food they offer is Batuu Bits, a spicy trail mix. You can also get Chilled Oats for breakfast if you ask for it and if it's available.
The Best Food in Galaxy's Edge
Food can be subjective. Everyone's tastebuds are different. Two friends and I tried just about every food item you can find on Batuu. Amiyrah from 4 Hats and Frugal, walked into Docking Bay 7 like a baller and said, "We'll take one of everything."
Sometimes we universally agreed on food items, and sometimes we disagreed on what you should eat at Galaxy's Edge. Here are the definite must-eats.
Outpost Mix at Kat Saka's Kettle
The actual amount of snacks on Batuu is low. And the Outpost Mix is by far the best one. It's a mixture of sweet and a little bit of spicy popcorn.
At first, it had a weird taste to me, but then I couldn't stop eating it. Definitely eat the sweet and savory popcorn together. The sweet tasted like Fruity Pebbles to me. The savory had a little bit of a kick. Everyone agreed that it was delicious!
My friend Tessa from Mama's Geeky also tried the newer Galaxy Grains below. It's basically buttered popcorn for the more tame palate.
Black Spire Hot Chocolate
She also tried the Black Spire Hot Chocolate which she said was good and had a cinnamon taste. I'm assuming it's more of a Mexican Hot Chocolate taste. And with the early Rise of the Resistance Boarding Group process, then it's great for the colder early mornings to warm you up.
Carbon Freeze at Oga's Cantina
Oga's Cantina is definitely a fun experience. It seems a little cramped inside, but there are tables of 8 around the perimeter. Many tables and the bar are standing room only. The music is lively and Rex the DJ knows how to pump out the tunes.
The Carbon Freeze is a non-alcoholic drink with a fruity and tart taste. Carbon Freeze is Powerade Lemon Lime, Wild Strawberry, Blueberry, and Green Apple popping pearls. The presentation is what brings up the fun factor. Some dry ice makes it smoke and bubble. Be careful though, because sometimes the bubbles will go up your nose. As someone who doesn't drink alcohol, I really appreciated the efforts to make interesting non-alcoholic specialty drinks at Oga's Cantina.
Ronto Wrap at Ronto Roasters
So the reviews are a little mixed on the Ronto Wrap, but overall, I think it's worth a try, especially if you want something quick and easy to eat on the go or while waiting in line. A Ronto Wrap consists of roasted pork, grilled pork sausage, peppercorn sauce, and tangy slaw wrapped in pita. The sausage seems like a hot dog, but the combination of everything makes the flavors blend well.
*As of 1/11/2021, you can currently order the Ronto Wrap for dinner at Docking Bay 7.
Oi-Oi Puff at Docking Bay 7
*Not currently on the menu in Walt Disney World.
One of two desserts in Galaxy's Edge (I don't count the Blue and Green Milk as a dessert), the Oi-Oi Puff is the better of the two. And it's way better than the Blue Milk.
It's a Raspberry Cream Puff with Passion Fruit Mousse. The combined flavors of the raspberry and passion fruit are delicious. The actual cream puff seems like a cake, but it was dry. There are black flecks of something on top that I would avoid if possible.
Fried Endorian Tip-Yip/ Endorian Fried Chicken Tip Yip at Docking Bay 7
This entree was one all three of us liked! This is for the non-adventurous eater. It's like fried chicken without the bone. The main entrée comes with roasted vegetable potato mash and herb gravy, which was pretty decent.
They also have this on the kids' menu which will be great for picky eaters, because it comes with a small portion of chicken and a healthy portion of mac & cheese.
Braised Shaak Roast/ Batuuan Beef Pot Roast at Docking Bay 7
This is also another entrée we all agreed on at Docking Bay 7. The Batuuan Beef Pot Roast is a beef pot roast with cavatelli pasta, wilted kale, and mushrooms. The pasta was fine, but the pot roast had a good flavor and the meat was pretty tender. I'm not a huge mushroom fan, but I didn't sense a strong mushroom taste.
Honorable Mentions
My friend, Amiyrah and Renee, liked the Smoked Kaadu Pork Ribs at Docking Bay 7. I found the sauce to be spicy, so it wasn't my favorite, but I did really love the blueberry corn muffin it came with.
Also, Amiyrah raved about the Ithorian Garden Loaf at Docking Bay 7. But it's been removed from the menu. If you're looking for plant-based options I hear the Felucian Kefta & Hummus Garden Spread is good!
The Worst Food in Galaxy's Edge
Some menu items were not fan favorites at Galaxy's Edge. These are the worst food and drinks I would skip at Galaxy's Edge.
Blue and Green Milk at the Milk Stand
Please don't shoot the messenger. I wanted to like it; I really did. There wasn't much information about Blue Milk from Star Wars, so nobody was sure what it was supposed to taste like.
I give Disney props for making this a plant-based drink so that more people could enjoy it. It just wasn't good. I'm sure there are people who would like it. But the general population who can drink dairy, maybe not. It's a combination of rice and coconut, and to be fair, I don't really like the taste of non-dairy milk, so that's probably the first issue for me.
The Blue Milk's ingredients are coconut and rice milk with dragonfruit, pineapple, lime and watermelon flavoring. The Green Milk's ingredients are coconut and rice milk with Mandarin Orange, Passion Fruit, Grapefruit, and Orange Blossom flavoring. Sounds good, right? It's not.
The texture is like a smoothie, so don't expect smooth liquid. The Blue Milk is more of a bland taste with a hint of sweetness. If you have to try one for the experience, then I would go with that one. The Green Milk was just gross. Three of us shared both milks and 95% of both of them went into the garbage. They're about $8 a pop!
The Blue Milk is a little different texture at Oga's Cantina and is more bearable. Plus it comes with a cookie that reminds me of a Samoa Girl Scout Cookie. So if you want to try it, I suggest starting at Oga's.
Yobshrimp Noodle Salad/Surabat Shrimp & Noodle Salad at Docking Bay 7
*This item is not currently on the menu. This was an entrée we all agreed was not very good. I like shrimp, so I was excited for it. The noodles and shrimp are chilled and the sauce tastes like an italian salad dressing. There just wasn't anything noteworthy for me to recommend eating this when there's other food worth trying at Galaxy's Edge.
Roasted Endorian Tip-Yip Salad/Endorian Roasted Chicken Salad at Docking Bay 7
While salad may not be my first choice at a restaurant, I can appreciate a good one, especially when my body is craving salad at a theme park after too many snacks. Nobody really enjoyed the Endorian Roasted Chicken Salad in my group. The chicken was nothing great and the green curry ranch sauce seemed to overpower the rest of the greens, quinoa, and pumpkin seeds.
Batuu-Bon at Docking Bay 7
This dessert is a chocolate cake with white chocolate mousse and coffee custard. I really like chocolate, but the cake was really dry, and there was nothing special about the chocolate flavor. Renee said the coffee must be at the bottom, because she didn't taste any. If you want a really yummy chocolate dessert, there are plenty incredible Disneyland snacks.
Nuna Turkey Jerky at Ronto Roasters
Amiyrah said she ordered the sweet jerky, but the jerky was very spicy, so maybe there was a mix-up. The meat was tough and unappealing. I saw Amiyrah's face when she bit into it, and then she said it was REALLY SPICY. So I passed. I just couldn't bring myself to eat it. Just skip it. You don't need the jerky here. Maybe if it had been on a stick…
What to Eat For Breakfast in Galaxy's Edge
They've opened some more options for breakfast in Galaxy's Edge.
At Ronto Roasters they do offer the Ronto Morning Wrap, and the Rising Morning Oats.
More on the Ronto Morning Wrap. It's not bad, and if you're in a pinch and need food on the go, it's shareable. However, you can see the egg doesn't quite fit with the length of the sausage. But overall, it's a good option.
Back to those Rising Morning Oats. I held off for a long time on trying them and boy do I regret that. The oats are really good! It's good texture and flavor, especially with the fruit and boba. Plus it doesn't feel as heavy as some of the other foods around.
You can also find breakfast at Docking Bay 7.
I've heard breakfast is great, and breakfast is just ok. I recommend sharing a Bright Suns Breakfast Platter, because you get a little bit of everything, and then you can see what your taste buds like.
Personally, I'm a totchos girl, so if I was at Disney's Hollywood Studios in Walt Disney World, I would meander to Andy's Lunchbox in Toy story Land for the Breakfast Bowl, but it's not open during Covid right now.
But I am happy to see they're adding more food and snack options in Galaxy's Edge! Check Disney World's Docking Bay 7 Menus for an updated list before you visit, so you can get a jump start on what you want and use mobile ordering!
There you have it – the best and worst foods at Galaxy's Edge. Disneyland has such amazing food in the park, I would rather eat elsewhere. However, eating in Galaxy's Edge is part of the story and the experience, so I understand why some of the choices were made.
Menu items are adventurous and different, so A for effort there.
Let me know if you agree or disagree with any of my choices for the foods to eat in Galaxy's Edge.
For more Galaxy's Edge details, check out this Guide to Galaxy's Edge with Kids!
Also need tips for getting a Rise of the Resistance Boarding Group? I've got you covered with all the best secrets to get you on. Best ride ever!