One of the questions I answered most often on the planDisney Panel was what are the best rides and parks at Disney World with toddlers. Is it worth it? Will toddlers like Disney World and what are the best tips for Walt Disney World with toddlers? This guide to Disney World with Toddlers keeps changing due to Covid restrictions, but the good news is, many things are coming back.
Walt Disney World is an investment, but we keep going back. Again. And again. I have traveled to Disney World with toddlers with all 5 of my girls, but they did not love the same things. Here are the best rides and parks at Disney World with toddlers according to my girls.
A Guide to Disney World with Toddlers
Walt Disney World has four theme parks, and I have traveled to each of them with all five of my girls while they've been babies, toddlers, preschoolers, tweens, etc. Many of my friends ask me when is the right age to take your children to Walt Disney World. I think every age is the right age.
Yes, I drink the kool-aid, but each age offers something different. I love the toddler stage. Sure, sometimes it's hard work, because toddlers can be demanding tiny humans. But toddler faces are the best when they're experiencing magic first-hand.
Walt Disney World is a bit different during the Covid-era, and it requires more planning. You need park reservations to visit; some shows and fireworks are on hiatus, and now there's that Genie+. Here are my recommendations for the best Disney World parks with toddlers and the best Disney World rides with toddlers.
BEST RIDES AT MAGIC KINGDOM FOR TODDLERS
Like Donald Duck, Magic Kingdom Park is #1 for toddlers! Planning for Disney World with toddlers is a breeze at this park, because there is so much for them to do. The attractions and characters available for the little ones far outweigh the others. In fact, I often recommend visiting Magic Kingdom at least two days during your vacation.
Anything without a height requirement is fantastic for toddlers in Disney's Magic Kingdom Park. Fantasyland was designed for the littles, and there's so much for them to experience.
From character meet and greets everywhere, rides galore, an air-conditioned play area inside the waiting area for Dumbo the Flying Elephant, to a water play area in Storybook Circus, and the most amazing snacks, Magic Kingdom is a toddler's dream land. Okay, it's my dream land, too.
If you're unsure what your toddler will like, start off with something tame, like "it's a small world" or Dumbo the Flying Elephant. Once your child feels the excitement, then work them up to The Barnstormer. If they want something even more exciting, try Seven Dwarfs Mine Train.
Then you can try all the Mountains (Splash Mountain, Space Mountain, and Big Thunder Mountain Railroad) if they really love thrill rides and meet the height requirement!
I remember when Snow White's Scary Adventures was still around and friends would start their toddler there, because it was usually a shorter line. Then their kids were too scared to try other things. I know you're excited, parents, and they're excited, too, but start them off slow.
As far as scary rides go, I would watch out for Pirates of the Caribbean (some kids don't like the loud sounds like cannons shooting or the darkness), and Haunted Mansion (my kids are mixed, some love it, some don't). While Haunted Mansion isn't terribly scare, there are ghosts and murderous brides.
Also the cannons in the water have gotten extra big on Pirates, so there's a good chance you'll be surprised with getting wet on the sides. Astro Orbiter makes me motion sick, but my more adventurous children love it.
If I was going to spring for Genie+/Lightning Lane for any park, it would be Magic Kingdom. With as many rides as they have for little ones, the more you can reduce wait times, the better – even with the additional cost.
Character Meet and Greets for Toddlers in Magic Kingdom
Thankfully some meet and greets have opened back up in Magic Kingdom, and now you can hug the characters again!! You can meet Mickey Mouse at Town Square Theater and the princesses in Princess Fairytale Hall. Also, no more masks required, so your photos don't look like the one below.
There are many also Character Cavalcades that spring up in the Disney Parks and Disney's Festival of Fantasy Parade is back!
Now you can even see Mirabel from Encanto during the Adventure Friends Cavalcade! My kids were so excited to see her and Miguel from Coco!
Past air-conditioned character meet and greets included Mickey Mouse (Town Square Theater), Tinker Bell (Town Square Theater), Princess Fairytale Hall (with several Disney princesses), Minnie Mouse, Goofy, Daisy Duck and Donald Duck at Pete's Silly Sideshow in Storybook Circus.
What is Pete's Silly Side Show? Pete's Silly Sideshow is a circus-themed character-greeting area in the Storybook Circus part of Fantasyland. You can get some fun photos of characters in unique outfits! This area still has not reopened as of 7/8/2022, but there is a note that it will be returning soon!!
When my kids are toddlers I'm willing to wait for pictures, because they are so excited to meet them. It melts my heart. Not all toddlers are the same though.
Start with someone they recognize (like Mickey Mouse) and see how they react. Some of my girls loved fur characters more than face characters and vice versa.
Tips for Walt Disney World with Toddlers: Try a character breakfast first, like the Topolino's Terrace Character Breakfast.
Magic Kingdom Park really is a 2-day park, and it's my favorite, but I'm a kid at heart.
You can also wave to all your favorite characters during Disney's Festival of Fantasy Parade that has now returned. The costumes, music, dancing, and characters are mesmerizing even for little ones. The picture of my daughter below is one of my all-time favorites when she's watching the parade.
BEST RIDES AT ANIMAL KINGDOM FOR TODDLERS
Disney's Animal Kingdom Theme Park was my #2 park for toddlers, mostly based on the presence of animals and The Boneyard in DinoLand, U.S.A. The Boneyard is an open air play space where kids can run around in a playground setting designed to look like a fossil dig site, and it's open again! There are ropes, bridges, tiny slides, and more. There's a dig site in the back where they can dig, dig, dig, dig, dig dig…the whole day through.
It's a great place for toddlers to burn off some energy. All of my girls have loved exploring here, and it's always the first thing they want to do. Slow your roll, kids, we have attractions to ride first.
Speaking of attractions, I recommend Kilimanjaro Safaris (a safari jeep ride where you can see tons of animals) and Triceratop Spin (a Dumbo-like ride). Watch out for It's Tough to Be a Bug. It's a 3-D movie, and I find it hilarious. Little children often do not. There are some creepy crawlies, and a giant animatronic bug that pops out.
Also, Pandora – The World of Avatar in Animal Kingdom makes it even better for toddlers. The Na'vi River Journey is a slow-paced boat ride with beautiful scenery and music. Animal Kingdom is definitely a great addition for Disney World with toddlers.
Best Shows at Animal Kingdom For Toddlers
Will your toddlers like the shows offered? That depends on the attention span of your toddler, but it's worth a try. Festival of the Lion King is our family's favorite.
A different version of The Festival of The Lion King is open in Disney's Animal Kingdom, and we're happy it's back! The original show was better, but there's still plenty to enjoy.
We enjoy the music, costuming, and huge floats of favorite characters from The Lion King. At one time they used to invite volunteers from the audience to participate in a parade, but that currently is not the case.
Finding Nemo: The Big Blue… and Beyond! recently opened and it replaces Finding Nemo the Musical.
Also, I'm a big fan of Disney KiteTails at Animal Kingdom! There are two different shows that are about 15 minutes each:
The Lion King, featuring kites inspired by Simba, Zazu and more.
The Jungle Book, featuring kites inspired by King Louie, Baloo and more.
There's a cute little pre-show and then big kites that look like inflatables are flown through the air by drivers on Sea-doos on the water! It's really fun and a nice break to the day!
DISNEY'S HOLLYWOOD STUDIOS FOR TODDLERS
So I was hoping with the opening of Toy Story Land, Disney's Hollywood Studios would be bumped up to number 2. However, I'm leaving it at #3 or it can be tied with #2, especially if your toddlers are Star Wars fans.
Don't get me wrong, Toy Story Land is fantastic! However, there's really only one additional attraction created for toddlers, but the whole land will be a visual feast for Toy Story fans. Check out my Guide to Toy Story Land for Kids and Families.
Disney Characters at Hollywood Studios For Toddlers
There were a lot of Disney Junior characters to meet at Disney's Hollywood Studios like Vampirina and Fancy Nancy! These have also been put on hold, but you can find some of those friends plus Pixar Friends in the Cavalcades at Disney's Hollywood Studios. There are no set times for the cavalcades and they just appear. It's like a mini-pop-up parade!
You can see Minnie Mouse at Red Carpet Dreams and Olaf at Celebrity Spotlight at Disney's Hollywood Studios though!
If you have a tall toddler, they may be able to ride Star Tours. And if you have Star Wars fans, then they'll love Star Wars Launch Bay…when it reopens.
The Disney Junior – Live on Stage show has been replaced with Disney Junior Dance Party!
Disney Junior Dance Party for Toddlers
I was excited that the Disney Junior – Live on Stage show was getting a makeover. The puppets were a little outdated. And when I heard the new name – Disney Junior Dance Party! – I thought it would be just that, a dance party!
The Disney Junior Dance Party! is not exactly a dance party where the characters are on the dance floor with the kids like other dance parties in the parks. It's still a cute show that little ones will definitely enjoy!
There are set showtimes throughout the day, so be sure to check the Times Guide or your My Disney Experience app. The show lasts about 25 minutes. Kids come in and sit on the floor while the show begins! A DJ comes out and gets the show started with music, lights, and fun!
Preschoolers and toddlers will get to see their favorite Disney characters on stage like Doc McStuffins, Vampirina, Timon, and Mickey Mouse. When Vampirina came on the stage, the crowd erupted in screams. I thought Beyoncé had come in.
Kids who are big fans of Disney Jr and shows like Doc McStuffins, The Lion Guard, Mickey and the Roadster Racers, and Vampirina will have a blast! The kids do get a chance to stand up and dance while learning some dance moves, so it's a good time to get those wiggles out.
There is also great audience participation and some kids are called on to help push a button and others can see themselves on the big screen! And just wait until the bubbles and snow come out. Disney Junior Dance Party! is a fun addition for toddlers at Disney World!
Toy Story Land and Hollywood Studios for Toddlers
There are 3 rides in Toy Story Land – Slinky Dog Dash, Alien Swirling Saucers, and Toy Story Mania! They moved the entrance to Toy Story Mania! inside Toy Story Land and Mr. Potato Head is back, which is always fun for toddlers.
Alien Swirling Saucers has a minimum height requirement of 32 inches. It's a super cute ride if your toddler is tall enough! You spin (but not crazy spin like the Tea Cups) and can smush up against your neighbor. The music is upbeat and fun!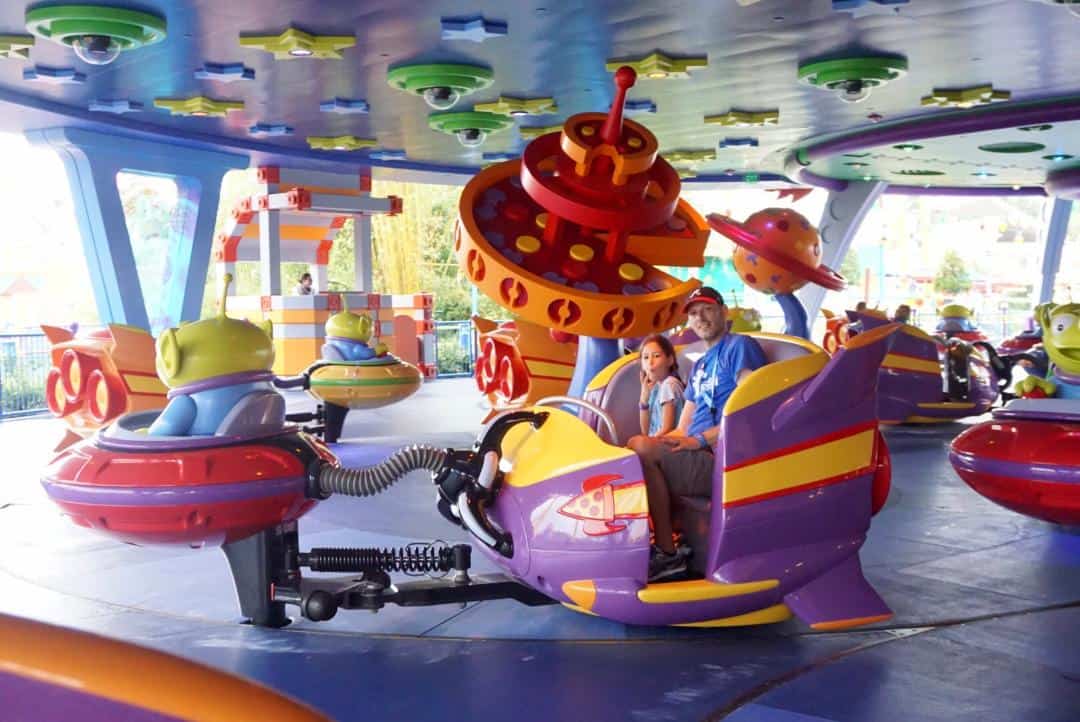 Slinky Dog Dash has a minimum height requirement of 38 inches. It's a fun family coaster that appears bigger than it is. Check out this Ride POV of my daughters riding Slinky Dog Dash.
Disney With Toddlers Tip: If you have a nervous rider, have them sit on the right side of the ride and near the front.
Best Hollywood Studios Shows for Toddlers
For the First Time in Forever: A Frozen Sing-Along Celebration is playing!
The Frozen Sing-Along Celebration is a good chance for kids to see Anna and Elsa on stage. They don't appear too long though, and you won't get any pictures with characters. It's a funny show with current pop culture jokes and a chance for the audience to sing the songs from Frozen together.
Also Beauty & the Beast Live on Stage is back and has all the songs your kids love, but the outdoor show is different than pre-Covid. The actors are spaced apart and it's a little awkward, but nothing a toddler will notice.
BEST RIDES AT EPCOT FOR TODDLERS
With the addition of Toy Story Land, Epcot for toddlers rounds out my #4 pick. I was heartbroken when Maelstrom left, but I have to admit, I loved Frozen Ever After. Your little Frozen fans will adore this ride. Plus Remy's Ratatouille Adventure is a fun addition for toddlers in Epcot!
As far as rides for toddlers go, you can add Gran Fiesta Tour Starring the Three Caballeros in the Mexico Pavilion, Living with the Land (I love it, but it's a tad boring for some), Spaceship Earth and The Seas With Nemo & Friends.
If your toddler is tall enough, she can ride Soarin'. I would check somewhere else first, though. I remember one incident where daughter #2 was a toddler, and she barely missed the height requirement, so she couldn't ride. Said daughter was extremely peeved and proceeded to voice her displeasure to everyone around her. She threw herself on the ground and had a massive tantrum.
Eventually the calming waters of Living with The Land settled her down.
Also, Guardians of the Galaxy: Cosmic Rewind is not the most kid-friendly option for a really tall toddler/preschooler, but it is very fun for thrill seekers!
One of my favorite character meals is in Epcot, Akershus Royal Banquet Hall. I prefer it over Cinderella's Royal Table for princess interaction.
Also, there are always festivals going on at Epcot, and they usually have a game or scavenger hunt to find Figment that some kids love! For example in the spring there's the Spike the Bee Scavenger Hunt for Flower & Garden Festival and in the winter, they have Epcot International Festival of the Arts and the Figment's Brush with the Masters Scavenger Hunt.
Fireworks at Disney World for Toddlers
If your toddler or preschooler doesn't like fireworks perhaps it's better to watch Disney Enchantment from Disney's Contemporary Resort or the beach at Disney's Polynesian Village Resort. I think they'd love the projections on Cinderella Castle and the music since it's from a lot of Disney films, however, the fireworks are loud.
If they do love fireworks, then the hub in the center of Magic Kingdom is the best place. Just a heads up: it's crowded in the hub and people start waiting at least an hour or more before fireworks begin.
Harmonious at Epcot is also a fun show and not quite as loud or as boisterous. For a good viewing spot, you want to be on the ends of World Showcase to see the projections like next to the left of the stage in the American Adventure Pavilion facing the water or the complete opposite side at the beginning of World Showcase.
Is Walt Disney World Worth it for Toddlers?
In my opinion, there is plenty at Disney World with toddlers! That's why we continue to spend our vacation dollars here, because I can be part of the action with kids of all ages. There are rides and attractions for my entire family to enjoy – together!
However, it's different with the restrictions right now. Some little ones can't handle a mask in the heat (only required indoors). Some parents don't want to make park reservations ahead of time and want more go with the flow. Then maybe you should wait a little longer. More things are starting to come back to Disney Parks, so hopefully this is a sign that things are returning to normal.
Some may say that toddlers won't remember their vacations. This may be true, but I'll sure remember that joy in my toddler's eyes when she meets Mickey Mouse or when she shot an arrow waiting for Merida. It's the extra touches that makes planning for toddlers at Disney World fun! Check out my 7 packing list for Disney World and toddlers.
Although we have been many times, we experience family firsts EVERY time. As Disney's Imagineers keep imagining, we'll continue making magical memories. Don't hesitate to go to Disney World with toddlers and remember to travel at their pace. And if you need inexpensive souvenirs, try the Character Warehouse Outlets by Disney World.