Toy Story Land is what's been missing at Disney's Hollywood Studios for families with younger children. There were few rides at Hollywood Studios for little ones even with old attractions like The Great Movie Ride, since there were some frightening scenes. Here's a short guide to Toy Story Land for kids and families and how Slinky Dog Dash and Alien Swirling Saucers will rank on the scary meter.
Thank you to Disney for providing tickets and hotel to attend the Grand Opening of Toy Story Land. All opinions about how I'm the newest addition to Andy's Toy Box are my own.
Toy Story Land at Hollywood Studios Grand Opening
Toy Story Land is now open at Disney's Hollywood Studios. I was lucky enough to attend the Toy Story Land Grand Opening, and we were surprised by Tim Allen, voice of Buzz Lightyear! Toy Story Land opened to the public on June 30, 2018!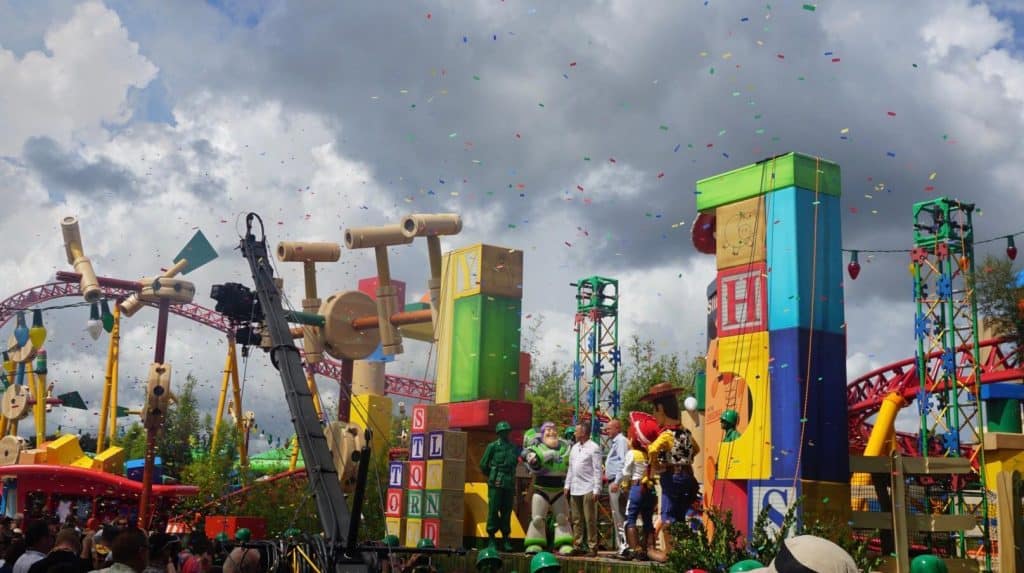 I feel like I've been waiting for this land for a long time since they first announced it. Toy Story Land was meant to be enjoyed by families, and they certainly accomplished that mission. I feel like this was the missing puzzle piece to Disney's Hollywood Studios. It used to rank last on my best rides and parks for toddlers at Disney World.
Toy Story Land for Kids and Families
The moment you walk into Toy Story Land, you feel like a part of Andy's toys. Sheriff Woody is there to welcome you.
You're shrunken down to size and get to play big in Andy's Backyard! If you've been through the original queue at Toy Story Mania, then it's like that blown up times 1,000!
You'll walk by your favorite games as a kid, and even the bathrooms are themed! The benches are made out of dominoes! My friend Patty will give you the scoop on the Toy Story Instagram Walls, for the little ones of course 😉
Toy Story Land Rides For Kids
Toy Story Land technically has 3 attractions – Slinky Dog Dash, Alien Swirling Saucers, and Toy Story Mania. TSM is not new, but the ride entrance has changed to enter from Toy Story Land. But good news, Mr. Potato Head is back in the queue!
This is a fun game for ages toddler and up. Infants can ride, but this is an interactive arcade type game where you're aiming at targets. There is no height requirement for Toy Story Mania. It's one of my family's favorites!
Alien Swirling Saucers
If you've ever been to Disneyland, Alien Swirling Saucers is comparable to Mater's Junkyard Jamboree in Cars Land. My daughters and I laughed and laughed. You get tossed in the seat a little bit onto your neighbor, which brings about the laughter. The colors are bright, the music is fun, and it's great for the whole family.
You do twirl around a little bit with kind of whipping motion, but not like the Tea Cups, which make me dizzy. It's fun! The height requirement for Alien Swirling Saucers is 32 inches.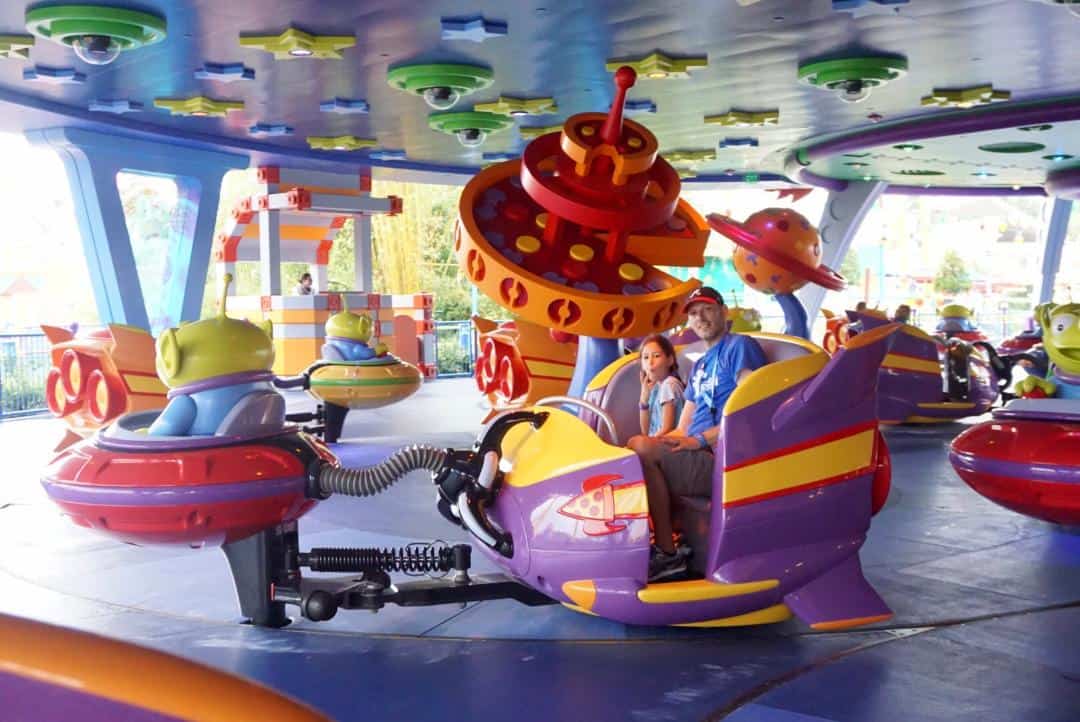 Slinky Dog Dash
The big question is if Slinky Dog Dash is kid friendly. I am a self-proclaimed ride chicken. Seven Dwarfs Mine Train and Big Thunder Mountain Railroad are my jam. Expedition Everest and Space Mountain are not. I'll ride Space Mountain, but it's very jerky at Magic Kingdom. Slinky Dog Dash is a smooth coaster.
As you walk in Slinky Dog Dash may look intimidating to young kids. The drop looks higher than it is, and it turns, so there's no straight down tummy drop like on other rides. The height requirement for Slinky Dog Dash is 38 inches.
Young Rider Tip: If you have a nervous rider, have them ride on the right side. It's a little less intimidating on the big hill.
Take a look at my daughters' reactions – ages 5 and 7- (and a ride POV) on their first ride of Slinky Dog Dash.
Woody's Lunch Box at Toy Story Land
There is one quick-service dining location in Toy Story Land – Woody's Lunch Box. Woody's Lunch Box serves breakfast, lunch, and dinner. There are tables with umbrellas, but visiting on a hot day, sometimes the umbrellas don't protect from all the sun.
Woody's Lunch Box has no indoor seating, and that's probably my one complaint. There really is no place to escape the heat in Toy Story Land. There are no air-conditioned shops, just merchandise kiosks. Some parts of the attraction queues are covered and shaded and other parts are left in the sun.
Toy Story Land Character Meet and Greets
You can meet Buzz Lightyear, Sheriff Woody, Jessie, and now Bo Peep in Toy Story Land! Also look out for roaming Green Army Men and their Drum Corps. These Green Army Men are more into playtime and less yelling, which is more kid friendly.
Buzz Lightyear is near the first set of Tinker Toys as you pass Sheriff Woody's statue on your way in. Woody and Bo Peep are by the entrance to Toy Story Mania, and Jessie has been moved to Andy's Wall by Alien Swirling Saucers. These character meet and greets are available from park open to park close. They are all outdoors, so the waits can get hot.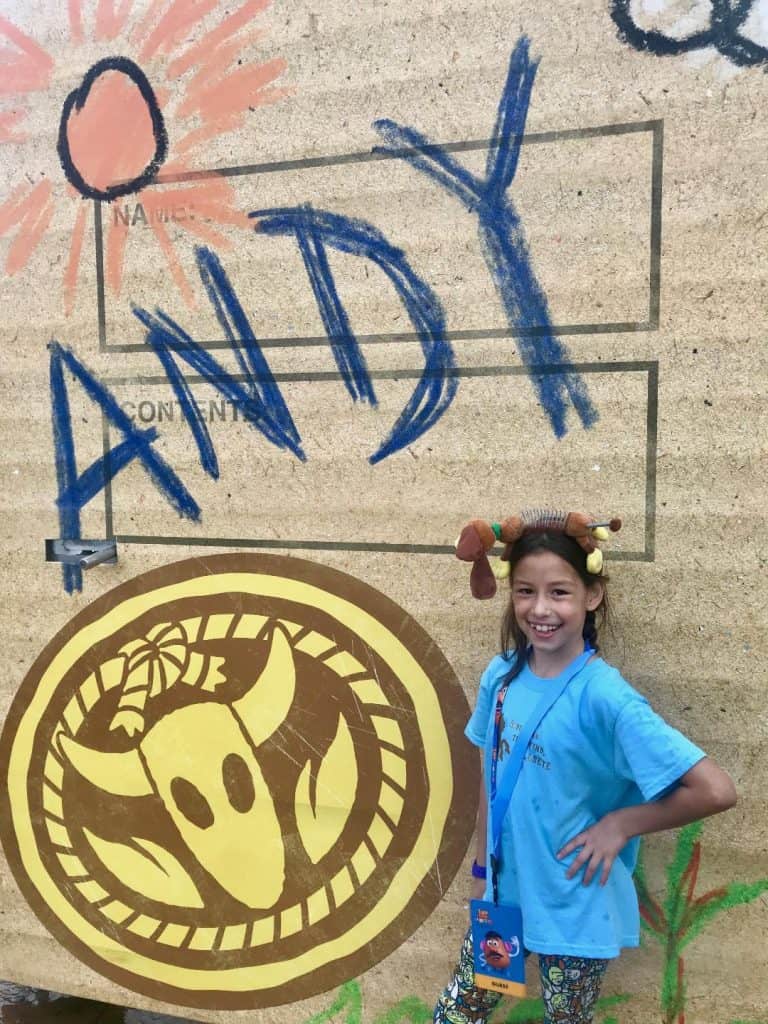 Toy Story Land Tips for Young Kids
Young kids will love the giant icons of their favorite Toy Story Characters. They'll love the photo ops and merchandise, especially those Slinky Dog ears.
Toy Story Land will draw in the crowds and waits will be heavy. Make sure to grab a FastPass for Slinky Dog Dash if you want to ride. If you can't, and you want to wait in line, then I recommend visiting at night. You'll get out of the sun, and Toy Story Land lit up in lights is magical.
If it rains, grab a poncho and have some fun! Slinky Dog Dash will close in heavy rains and lightning, but the other two rides will remain open!
Explore and have fun! Toy Story Land is a fabulous place to remember you're a kid and make memories with your family. Golly Bob Howdy!