With the pandemic, people are wondering if it's safe to visit Universal Orlando. My family and I visited during the Annual Passholder preview days and the first 2 opening days. We enjoyed being in the Universal bubble with new safety precautions and standards. Here are 7 reasons to stay at a Universal Orlando hotel if you do plan on visiting Universal Studios in Florida, especially during Covid-19.
Reasons to Stay at a Universal Orlando Hotel Especially During the Pandemic
We originally booked a Universal Orlando hotel so that we would be guaranteed entry to the parks during Annual Passholder Preview Days since we didn't have a reservation. Plus we scored an awesome Annual Passholder hotel rate. Read about some other Universal Orlando AP Benefits.
My family and I stayed at Universal Orlando's Endless Summer -Surfside Inn and Suites. It's Universal Orlando's newest hotel, and it's right for budget travelers like us. Also, since Universal Orlando hotels just opened on June 2, we guessed we would probably be the first people to stay in the room in months, so everything was very clean!
We only booked two nights to see how it would work out, and then we'd make adjustments from there. Because we were having such a great time, we ended up staying an additional two nights.
Universal Express Passes for Universal Orlando Hotel Guests
If my family could have fit in one room at Lowes Royal Pacific Resort or the Hard Rock Hotel, we would have for one night to get the Express Passes, but we can't. You get unlimited front of the line passes for the most popular rides at Universal Studios and Islands of Adventure, except for Hagrid's Magical Creatures Motorbike Adventure.
Between the Virtual Queue and Express Passes, you'd be golden for riding everything with little to no wait!
We did not have Express Passes, and we were fine, but that's after Universal worked out some problems with the Virtual Queue the first couple of days. We were able to ride Hagrid's multiple times and other rides had 5 minute to 20 minute waits.
Free Transportation to Universal Orlando Parks
Location, location, location. Some of the Universal Orlando Resorts have boat transportation right to Universal CityWalk or you can walk directly to CityWalk from Loews Sapphire Falls Resort, Loews Royal Pacific Resort, and Hard Rock Hotel. The Hard Rock Hotel is actually located in CityWalk, and Loews Portofino Bay Hotel is closed right now.
The Universal Orlando hotels with bus transportation are Universal's Endless Summer Resort, Universal's Aventura Hotel, and Universal's Cabana Bay Resort.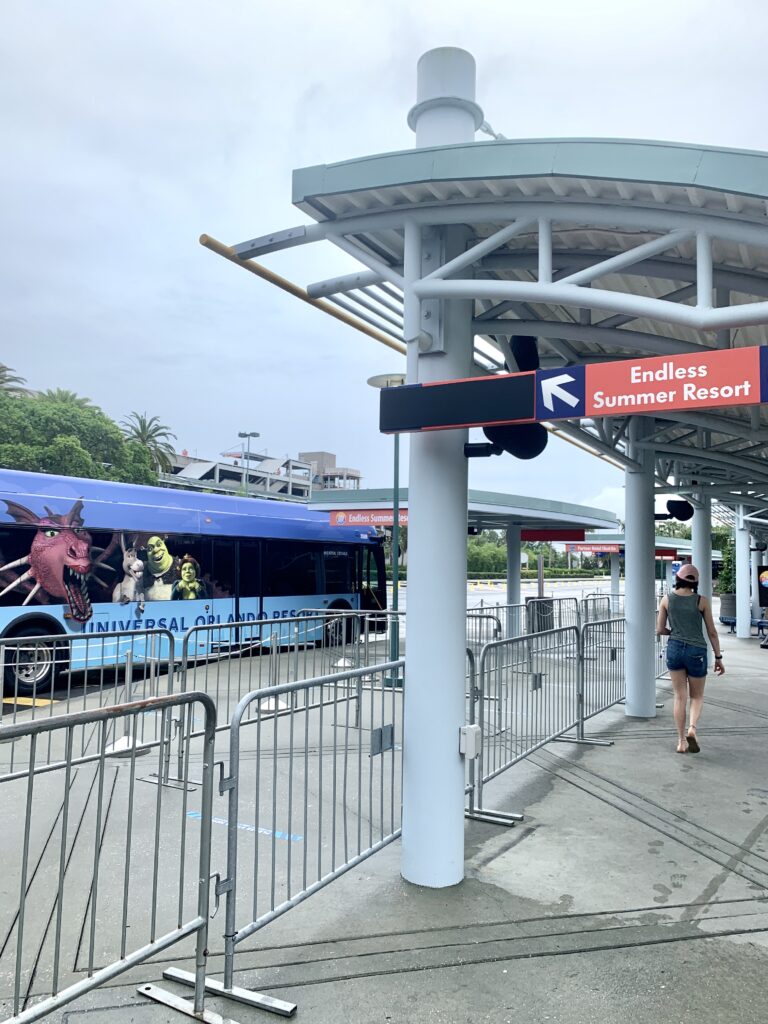 The first Preview day during Universal Orlando's reopening, the buses weren't coming quickly at Endless Summer, so at one point 4 buses showed up at once. That was nice to get everyone on the bus, because they are social distancing. The first day they only let 15 people on the bus.
After that first day, we never had to wait more than 2 or 3 minutes for a bus to the parks or back to the resort.
Temperature Checks at Universal Orlando Hotels
When you arrive to check-in at a Universal Orlando hotel, you'll receive a temperature check when you walk in the front doors to the lobby.
You'll also receive a colored wristband if your temperature is less than 100.4 degrees, which also allows you to bypass the temperature checks at the parks and at CityWalk. You have to do it every day, and they change the wristband color each day.
It was nice to quickly get that done in the lobby before heading to the parks. Then we just held up our wrists and they waved us through.
Universal Early Park Admission
As a Universal Orlando hotel guest, you're allowed early entry an hour before park opening. The biggest crowds we saw were when trying to get through security before the Early Park Admission. This is because if you ride the bus, you're being shuffled into security with everyone from the parking garage. Also there were only 2 or 3 security screeners opened at that hour.
However, you do get some pretty awesome pictures with hardly any people in the parks, but my favorite is Diagon Alley! Universal Studios was the park available every day and most people got in line for Harry Potter and the Escape from Gringotts when they arrived.
This was the perfect time for my family to use their interactive wands, drink Butterbeer, and take pictures with a mostly empty Diagon Alley.
Then we still had time to do standby for Gringotts and get it on the Virtual Queue when it opened there.
Merchandise Delivery
Listen, those Universal lockers are small when having to put your bags in them before riding certain attractions. So if you're buying all the Harry Potter merch, then they'll deliver your items directly to your Universal Orlando on-site hotel. Just let the cashier know you'd like to take advantage of this free service when making your purchase.
Access to the Virtual Queue from Universal Orlando Hotels
One of the best reasons to stay in a Universal Orlando hotel is access to the Virtual Queue without actually being in the park! This may be my favorite perk, but to be honest, I don't know how long it will last.
The Virtual Queues are geotagged, so you have to be on property. A couple of mornings we wanted to sleep in, so I thought there was no way we were going to get on Hagrid's Motorbike Adventure. The previous two days, they had been all snatched up, and there's no standby queue. You have to a have a reservation on the Virtual Queue to ride.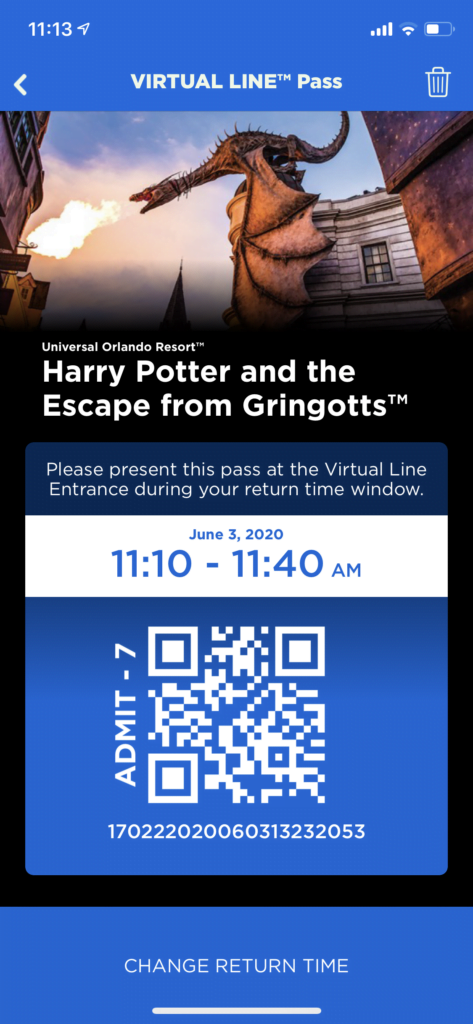 Well one morning I was awake before the family and decided to see if I could make a reservation without scanning my ticket in the park. Bingo! I was able to make a reservation for two rides including Hagrid's. I also grabbed my husband's phone and could make separate reservations online from his, too.
So if this remains to be the case, it's worth some precious hours of sleep, especially if it's bad weather, you can plan ahead from the comfort of your Universal Orlando hotel room. Also if you return to the hotel for an afternoon break, you can change return times if you want to head into the parks later. Definite solid perk.
Extra Clean
The Universal Orlando Hotels are even extra clean. So while you may have to give up some things, I appreciate the extra cleanliness. I noticed surfaces being wiped down after every guest check-in. Also the gyms are closed every hour and a half for a cleaning.
You won't have your room cleaned daily, but you can request towels, toiletries, etc.
They have a lot to lose if things aren't clean, and after spending a night in a hotel on the way home in another state, I wanted to go back to Universal Orlando!
One thing to note is that some of the pool slides and pools are closed at certain hotels, so make sure to call ahead and see if that's a deal breaker for you. We were going to try Cabana Bay for a better pool, but since the slide was closed, we opted to save money for a more basic pool, and the kids still had fun swimming.
Enjoy your stay at your Universal Orlando hotel! We had a blast, loved all the extra security measures, appreciated the cleanliness, and everyone was friendly and made us feel at home.
And did you know if you're a Universal Orlando Annual Passholder, you can get discounts on a hotel room if available. We snagged a $99 rate for a Family Suite at Endless Summer!