Wondering if Turning Red is ok for kids? This latest movie from Pixar Studios does not hesitate to get personal in a teenage girl's life. Yes, you'll get fluffy red pandas, and you'll also get talk about periods and puberty, which is not a bad thing. Director Domee Shi does not shy away from uncomfortable conversations, but she also brings joy and acceptance into the same conversations. Here's what parents need to know in this Turning Red Parents Guide.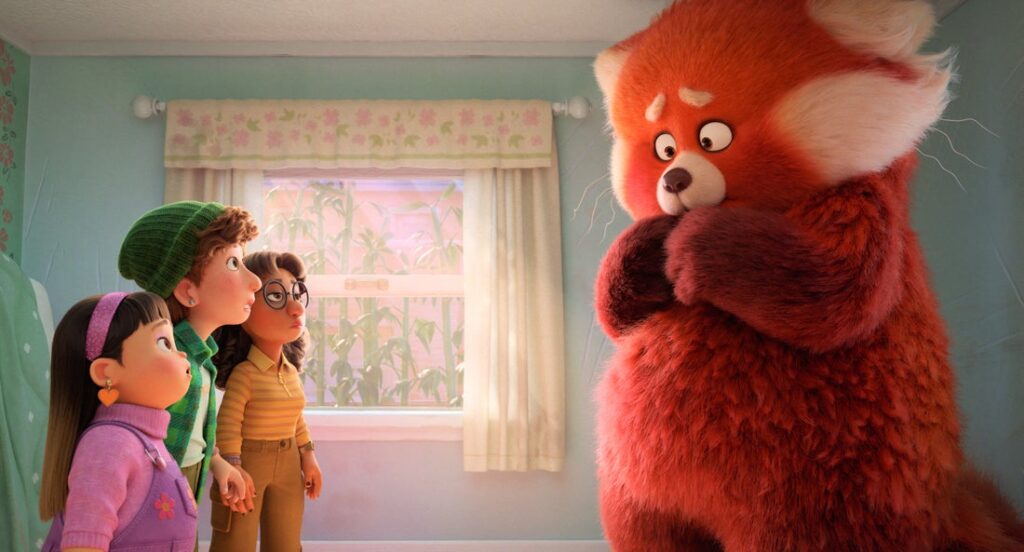 Is Turning Red Kid Friendly?
In Turning Red, Mei Lee (Rosalie Chiang) is a confident and nerdy 13-year-old with a solid girl gang who is going through the chaos of adolescence. She has always been obedient to her parents, but as she goes through puberty, she realizes she's not only changing physically, but emotionally, too. And to add to everything, she changes into a giant red panda when she gets too excited, sad, angry, or shows any kind of strong emotion. What will the kids at school and her parents think?
Why is Turning Red Rated PG?
Turning Red is rated PG for Language, Thematic Material, and Suggestive Content which means some material may not be suitable for young kids.
PG means parental guidance suggested, and Turning Red may require parental guidance and conversations. There is some suggestive dialogue that younger kids may pick up on.
Language
There is no profanity in Turning Red, but there are words that little ones may repeat like stupid, crap, psycho, butthead, perv, and the mention of "sexy things."
Mature Content
A bully at school says unkind things to Mei and her friends.
Some of the girls are boy crazy, especially for 4*Town, a boy band. They talk about their hotness and physical appearance. Mei becomes even more boy crazy after she turns into a panda (a metaphor for her period and puberty) and Ming (Mei's mother) calls 4*Town delinquents with their gyrations.
There are a couple of scary scenes which may frighten young ones, but nothing over the top. Pandas look dark with glowing eyes.
There is mention of periods, pads, puberty, hormones, all things teenagers go through. While change -physical and emotional – are major topics, they are talked about in a mature and age appropriate way.
Is Turning Red Appropriate for Kids Under 8?
If you've seen Domee Shi's Oscar-winning short, "Bao," you know she's not hesitant to break ceilings or show emotion in her work. Is Turning Red kid friendly? Yes, I would recommend it for kids ages 8 and up. However, the movie skews toward an older age. This is not Toy Story. These girls are 13 years old; I'm assuming 8th graders, so some topics may be too old for the younger crowd.
If ever a movie was made for my family – me, a middle-aged boy-band-loving mother of 5 girls. But the beauty of Turning Red is that although it perhaps is targeted to an audience like my family, it can be enjoyed by many more. Smart and witty dialogue keeps the film on pace. Are some of the characters obnoxious sometimes? Yes. But so are teenage girls.
One of the best things about the film, besides the beautiful and vibrant animation, is the breakdown of stereotypical petty girls. Mei's 3 best friends are supportive, kind, and smart, each with different personalities. And while they may have crushes on 4*Town or find other boys cute, the primary focus is not having a relationship with one of them.
When people throw the phrase "coming of age" around, this film is what I think of. Middle schoolers learning to be who they are while being goofy, silly, and frankly, not having sex. I get this is an animated film and it's Pixar, but it's also not your classic Cinderella story. Some of the TV shows and movies aimed at pre-teens and teens are way too dicey for that crowd.
If you're not ready to answer questions about changes or hormones or periods or what maxi pads are, then this probably isn't the movie for you. However, I'd rather my kids come to me with these questions while we watch together than their peers.
The struggle of a protective and loving mother not wanting to let her baby grow up is so relatable. I have had that same push and pull with my own daughters, letting them be who they are while letting go of some of my unrealistic expectations for them. Plus, I adore Mei's dad, Jin, and how sweet and worried he is about his daughter. We need more of these types of sensitive father figures in films, too.
Domee Shi touches on all the right chords, while also letting us peek into some of her experiences. Through the chunky, cute style of animation and anime we get to see emotions played out up close and personal on Mei's face and also a mixture of eastern and western cultures.
Turning into a panda not only represents Mei's changes, but according to Shi, "what we inherit from our moms, and how we deal with the things that we inherit from them." Ah, the complications of familial dynamics and mother/daughter relationships. I live it every day, but here is an example of how we can have those complications and still come out stronger.
Will you be able to relate to Turning Red? Absolutely! Just because Onward was about sons doesn't mean daughters couldn't relate to their relationships with their fathers.
I can't wait to jam out to 4*Town's tunes with my kids and play them in repeat, because dance parties? That's one of our love languages. Turning Red doesn't handle topics with kid gloves, but still allows it to be kid friendly. This is one of Pixar's best films not shying away from mature conversations. It tackles growing up, puberty, and complicated mother/daughter relationships beautifully, as we all try to unpack the things we've inherited from our families.
More Parent Movie Reviews
The Adam Project Parents Guide