I am a Disney snack fiend through and through. While Walt Disney World will always be my first love, Disneyland offers me snacks I can't find on the east coast. If you offer me good snacks, we're definitely friends. These are the best Disneyland snacks you can only find in Disneyland, so make sure you try them when you visit the Happiest Place on Earth!
DISNEYLAND CHURRO
Yes, they have churros in Walt Disney World. And no, they're not the same. I can't explain it, but the churros in Disneyland are so much better. Between me and my 5 girls, we stop by the churro carts daily.
RASPBERRY ROSE MICKEY MACARON
This one is my favorite. MY FAVORITE. I love macarons (one o)! A macaron is a French sweet meringue-based confection. I've never been a huge fan of raspberries though. All the cast members at Jolly Holliday Bakery Cafe in Disneyland Park told me I had to try it. All of them. So I couldn't be rude, and I tried it. It was ah-mazing. And Mickey-shaped! The macarons were flaky and soft, the raspberries added a nice texture and balanced out the rose cream in the middle. I called my friend after I ate it and told her how incredible it was. Another friend texted me to tell me how much she loved it after she tried it on my recommendation.
MATTERHORN MACAROON
Now it's time for the macaroon (double o). Don't confuse the two, because you'll be sad if you're expecting one and get the other. A macaroon is made with coconut, like this beauty. The Matterhorn Macaroon is also dipped in white chocolate to make it even more drool-worthy and remind us of the snow covered attraction, The Matterhorn Bobsleds. I don't know why I waited so long to try this one, because I've wanted to try it ever since I saw pictures online. I also picked this up at the Jolly Holiday Bakery Cafe. If you're not a coconut fan though, I'd skip this one.
CHILI CONE QUESO
Aaah, Cars Land. My favorite place in Disney California Adventure Park. The whole area is fun, puts you right in the movie and is filled with yummy places to eat. My favorite quick place to grab a bite is the Cozy Cone Motel. There are different cones set up where you can find different snacks like churros, ice cream, pretzel bites, and flavored popcorn.
However, the cone to beat is Cone #3 and the Chili Cone Queso. It's beef chili, cheddar cheese and corn chips served in a bread cone. You can also get vegetarian chili. When my husband first wanted to try this, I turned my nose up at him, but then I had a few bites and ordered my own. Plus I can eat it while I walk, so more ride time!
MICKEY BEIGNET
Fried dough and powdered sugar is always a winner. But then make it into a Mickey head shape? Winner, winner, chicken dinner! Extra bonus for the nonalcoholic Mint Julep being at the same stand. You can get both at the Mint Julep Bar in New Orleans Square in Disneyland Park. You can also find Mickey beignets at Café Orléans. While square-ish beignets can be found at a Walt Disney World Resort, is there even a contest here? Mickey always rules.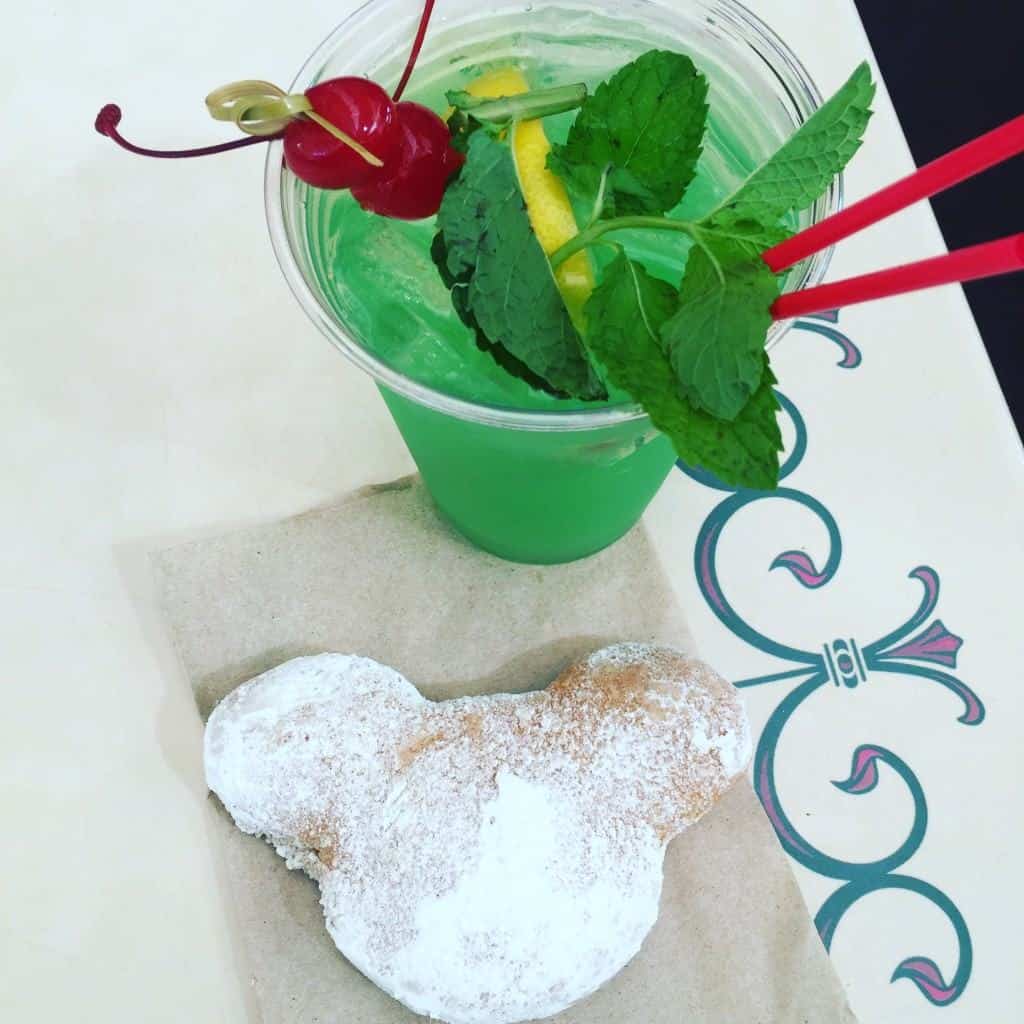 CHEWBACCA CHEESECAKE WITH SALTED CARAMEL
You don't have to be a Star Wars fan to enjoy this awesome dessert, but it's fun if you are. My daughter loved carrying her Chewbacca plush all around the park, so when she saw this dessert, she knew plush Chewie would love it. I don't think she knew how much her mom would love it. It's really rich and has layers of a chocolate frosting on top. In short, it's divine. I love salted caramel anything. You can find this "wookie" of deliciousness at Redd Rockett's Pizza Port in Disneyland Park. It's Chewie approved and shareable. I can't even finish one by myself, and I can eat a lot of dessert.
LOBSTER NACHOS
A light snack? Probably not, but these Lobster Nachos at Cove Bar in Disney California Adventure Park are a shareable meal. Since they have chips, I'm calling them a snack and hence they're making the Best Disneyland Snacks list. Pieces of lobster on house-made tortilla chips with black beans, pico de gallo, chipotle creme, and cheddar and oaxaca cheese sauce will make your mouth water. There are some breathtaking views at Cove Bar, too. We sat next to the water and had a lovely view of Mickey's Fun Wheel, yet were far enough away to hear the screams of terror from those who chose the swinging gondolas.
The next time you're in Disneyland, give something new a try! My last trip I tried 3 of these things for the first time, and they knocked some of my favorite contenders down the list. (Sorry, Red Wagon corn dog, but I still love you.) If you have any favorites I missed let me know! I'd love to add more to the best Disneyland snacks list. There's always room for one more.