I am a Disney snack lover through and through and am always on the hunt for the best Disneyland snacks and the best Disney World snacks. While Walt Disney World will always be my first love, Disneyland offers me snacks I can't find on the east coast. These are the best Disneyland snacks you can only find in Disneyland, so make sure you try them when you visit the Happiest Place on Earth!
Best Disneyland Snacks You Have to Try
Even if you haven't been to Walt Disney World, if you're going to visit the Disneyland Resort, then you have to try these snacks. Some are simply the most delicious treats ever, while others are a novelty that's worth your Disney dollars. Eating around the parks is one of my favorite activities.
DISNEYLAND CHURRO
Yes, they have churros in Walt Disney World. And no, they're not the same. I can't explain it, but the churros in Disneyland are so much better. Between me and my 5 girls, we stop by the churro carts daily. They seem more fresh and melt in your mouth at Disneyland. Also it's the perfect treat to eat while watching a parade.
RASPBERRY ROSE MICKEY MACARON
This one is my favorite. MY FAVORITE. I love macarons (one o)! A macaron is a French sweet meringue-based confection. I've never been a huge fan of raspberries though.
All the cast members at Jolly Holiday Bakery Cafe in Disneyland Park told me I had to try it. All of them. So I couldn't be rude, and I tried it. It was ah-mazing. And Mickey-shaped! The macarons were flaky and soft, the raspberries added a nice texture and balanced out the rose cream in the middle.
I called my friend after I ate it and told her how incredible it was. Another friend texted me to tell me how much she loved it after she tried it on my recommendation.
MATTERHORN MACAROON
Now it's time for the macaroon (double o). Don't confuse the two, because you'll be sad if you're expecting one and get the other. A macaroon is made with coconut, like this beauty.
The Matterhorn Macaroon is also dipped in white chocolate to make it even more drool-worthy and remind us of the snow covered attraction, The Matterhorn Bobsleds. I don't know why I waited so long to try this one, because I've wanted to try it ever since I saw pictures online.
I also picked this up at the Jolly Holiday Bakery Cafe. If you're not a coconut fan though, I'd skip this one.
CHILI CONE QUESO
Aaah, Cars Land. My favorite place in Disney California Adventure Park. The whole area is fun, puts you right in the movie and is filled with yummy places to eat. My favorite quick place to grab a bite is the Cozy Cone Motel. There are different cones set up where you can find different snacks like churros, ice cream, pretzel bites, and flavored popcorn.
However, the cone to beat is Cone #3 and the Chili Cone Queso. It's beef chili, cheddar cheese and corn chips served in a bread cone. You can also get vegetarian chili. When my husband first wanted to try this, I turned my nose up at him, but then I had a few bites and ordered my own. Plus I can eat it while I walk, so more ride time!
GROOT BREAD
Yes, I said Groot Bread. As in bread shaped like Groot's head from Guardians of the Galaxy. How can you not buy this? Definitely one of the best Disneyland snacks ever made. It's actually pretty tasty, too!
You find the sourdough bread at Fairfax Market in Disney California Adventure. The key is to get there early, because once they run out, they run out. I have cried Grootless bread tears before on another trip when I was too late.
ETA: You can no longer get Groot bread at Disneyland, but you can make your own with this Teen Groot Bread recipe.
MICKEY BEIGNET
Fried dough and powdered sugar is always a winner, but making it into a Mickey head shape is extra points. Bonus for the nonalcoholic Mint Julep being at the same stand.
You can get both at the Mint Julep Bar in New Orleans Square in Disneyland Park. You can also find Mickey beignets at Café Orléans. While square-ish beignets can be found at a Walt Disney World Resort, is there even a contest here? Mickey always rules.
ETA: Disney World is coming for you, Disneyland. You can now find Mickey-shaped beignets at Port Orleans Resort – French Quarter.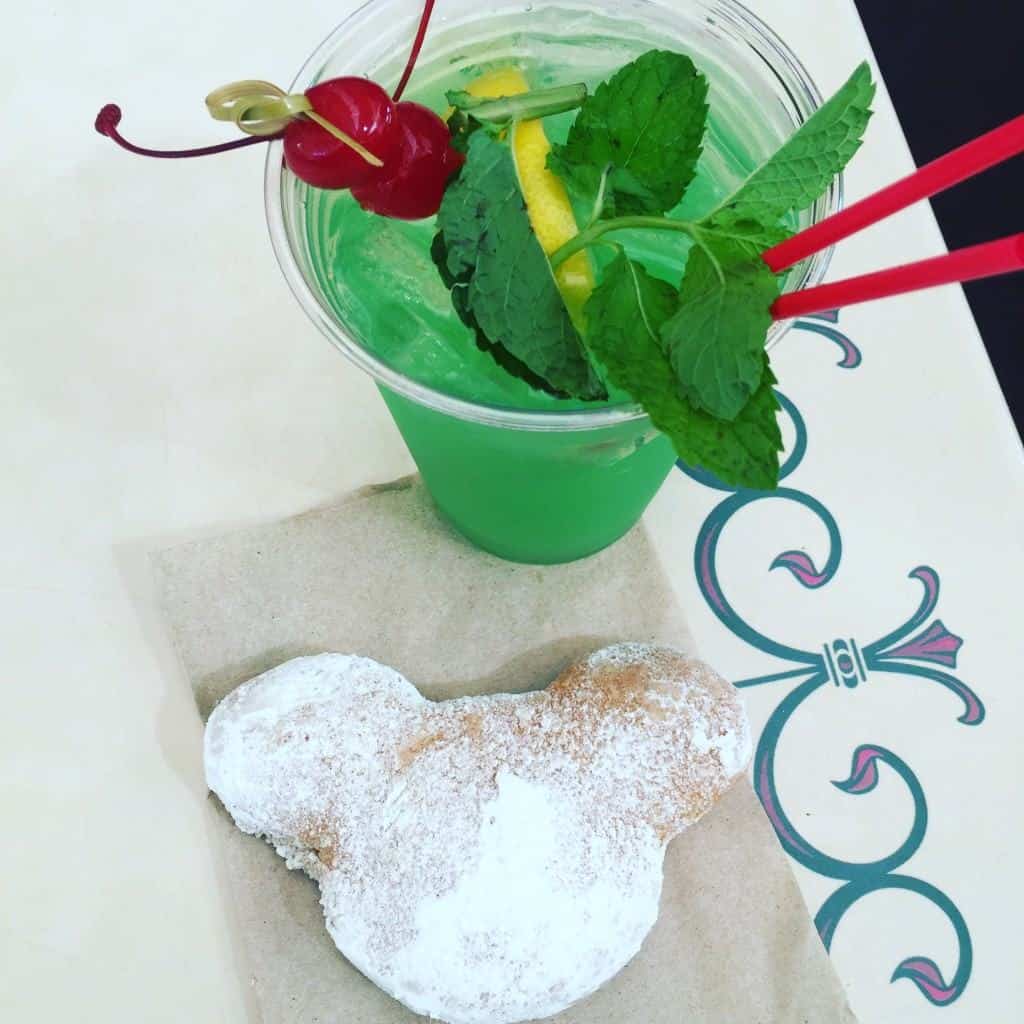 PEPPERONI PIZZA AT NAPLES
I just had to mention the Pepperoni Pizza at Naples Ristorante e Pizzeria in Downtown Disney. So perhaps not a snack…but if you share a pizza, it can be a snack-sized portion. When someone told me to order the Pepperoni Pizza, I'm like really? With so many choices? I admit it. I was wrong to doubt. It was incredible! If you need a break from the parks, do yourself a favor and try it.
In my opinion these are the best Disneyland snacks you can't try at Walt Disney World. The corn dogs from Little Red Wagon would have made my list (because they are delicious), but you can now get a similar corn dog at Sleepy Hollow at Magic Kingdom. So the next time you're in Disneyland, don't forget to try these snacks! Your taste buds will thank you. Happy snacking!