When given the choice of an edible or artsy craft, my kids will always choose edible, because they like to eat. However, you can make this easy Rainbow St. Patrick's Day craft for kids as a work of art. too. Grab some colored cereal like Fruit Loops, marshmallows, paper, and you're good to go. Plus my husband taught me a trick to help younger kids make nicer rainbows with one easy hack.
St. Patrick's Day Rainbow Craft for Kids and Toddlers
This St. Patrick's Day craft is super easy and fun for kids, plus they can eat the materials! We're not huge St. Patrick's Day celebrators, but we do like leprechauns, rainbows, and of course, any St. Patrick's Day treats.
To make an edible St.Patrick's Day craft for kids, then you'll need:
Colored cereal
Mini marshmallows for clouds
Paper (any color, we chose blue)
Paper cups
*Glue if you want an inedible craft.
First, start by sorting the colored cereal in bowls.
If this is a Snow Day activity and you have more time, then have the kids sort them. If not, you can have the pre-sorted cereal on the table already.
Second, separate the cereal and make your rainbows!
I cannot free hand a perfect rainbow, especially a cereal rainbow. But also, with kids' crafts, they don't have to be perfect! However, my husband saw my kids (and I) struggling with making rainbows without a template or drawing lines on the paper, so he suggested using a cup.
Genius! He used a glass, but then I found party cups in our pantry for the little ones to use. Start the first row of cereal, then add on top of it. It's even easy enough for preschoolers to do this St. Patrick's Day craft.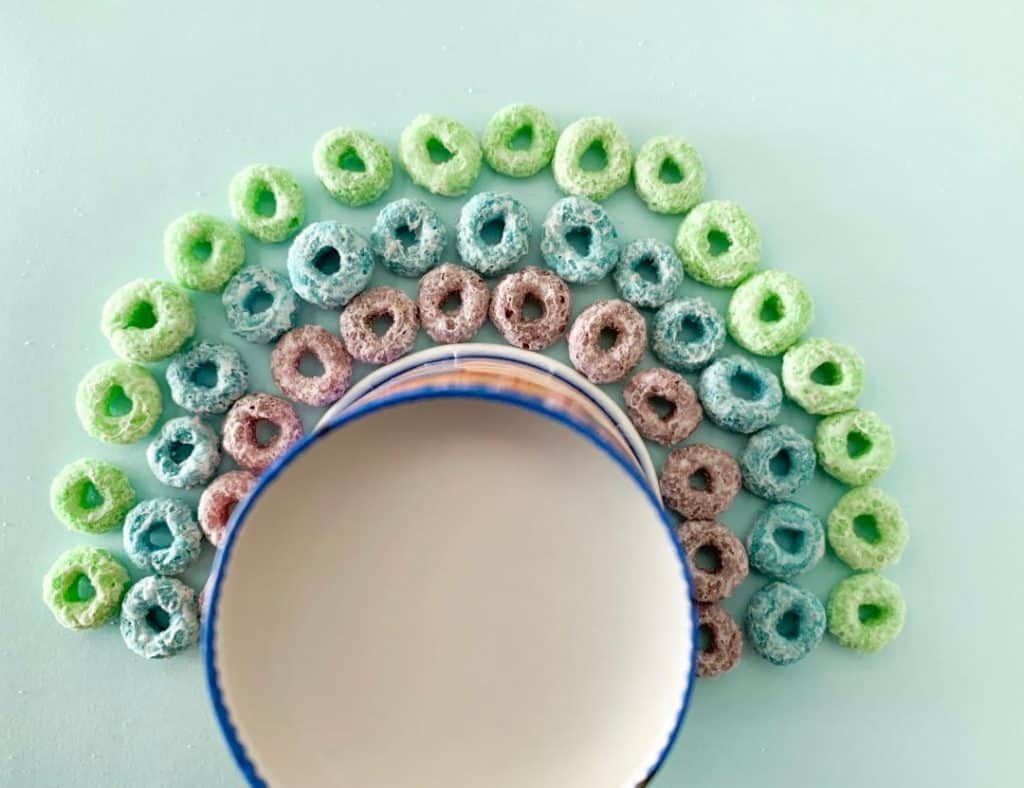 Keep layering your cereal like a rainbow and then add mini marshmallows for clouds. My kids enjoy just building and eating the materials.
However, use Elmer's glue, if you want this to be a cute take-home St. Patrick's Day craft for kids!
Your kids and preschoolers can choose what colors they put where. One of my girls decided to start with purple on the bottom while another started with red on the bottom.
Not only does this edible Rainbow craft make a great St. Patrick's Day craft, but we've also made it during snow days and play dates. It's easy, fun and doesn't make a lot of mess.
Plus rainbows keep things cheery and bright!
If you need a good laugh, these St. Patrick's Day memes will make you chuckle.