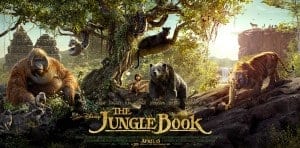 Oobeedoo, is The Jungle Book for you-oo-ooo? Sorry, I couldn't resist. I was happy when they included some of the famous songs from Disney's animated version.
Is The Jungle Book Kid Friendly?
After seeing some previews for The Jungle Book, I'll admit I was a little nervous about watching it. When it comes to movies, I scare easily. I took my oldest daughter (11 years old) with me to the screening, and when she heard the movie was in IMAX 3D, she got nervous, too.
"That means it's going to be loud, right?"
"Yes," I replied, "yes, it does. Get ready and enjoy!"
And enjoy it we did! I've been pleasantly surprised by the live action remakes Disney has been making lately. I love the catchy, cute Baloo and Mowgli from the animated Jungle Book, so I didn't want that memory messed up. And it wasn't. This one just took the story and experience to another level. It wasn't an exact replica of the first movie without straying too far from the original plot line. Some people may be annoyed about the plot differences like I was with Maleficent, but I always like to see it for myself to be the judge. I thought The Jungle Book was a wonderful film about friendship, loyalty, and family.
Should you take small children?
My vote is for ages 6 and up. Now some children younger would be just fine if they're used to watching similar movies or action movies. My girls are a little sensitive. The 7-year-old would jump at some intense scenes, because there are intense scenes. Even I jumped! My 5-year-old saw Star Wars: The Force Awakens, and loved it. But that is so out of her reality, that it's just fun make-believe.
However I wouldn't take her to The Jungle Book, (or else wait until it's on video so she can watch it on a smaller screen), because the animals look incredibly real. They are all digital, but the detail and physicality of these animals, especially when they fight each other is incredibly life-like. I felt like a part of the pack. The film is so well done that it would be perfectly believable to a small child that this could happen to them. Intense scenes include animals jumping out, animals fighting with each other, and some death.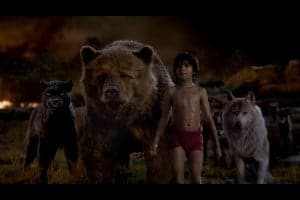 I love that there is no bad language and no sexual content. You can still tell a great story without those things, and The Jungle Book proves that.
I also think it's a great movie to have conversations with your children about what friendship and family mean. Family doesn't mean biological relationships. Mowgli (played by Neel Sethi) is a man-cub raised by a family of wolves. But Mowgli finds he is no longer welcome in the jungle when fearsome Shere Khan (a tiger) promises to eliminate what he sees as a threat. Mowgli embarks on a captivating journey of self-discovery, guided by panther-turned-stern mentor Bagheera, and the freespirited bear Baloo.
On the car ride home, I had a great discussion with my middle-school-aged daughter about the movie. Sometimes middle school feels like the jungle. We were able to talk about what qualities make a good friend as there were also themes of trust, loyalty, and betrayal. We talked about fear and courage, the courage to stand up to others and for what you believe in. Mowgli was an outsider by definition, but he was able to find his pack, his tribe. We also had good laughs at how much we jumped and what a bunch of scaredy cats we are. It's moments like these I cherish.
So trussssssssssst in Kaa (voiced by Scarlet Johansson) and go see The Jungle Book. Bill Murray and Idris Elba, the voices of Baloo and Shere Kahn, were incredible. It's a great family movie and one for our growing Disney library. Two thumbs up! The Jungle Book is now playing in theaters everywhere!