Isn't It Romantic starring Rebel Wilson, Adam DeVine, and Liam Hemsworth is rated PG-13. However, just because a movie is rated PG-13, doesn't make it automatically safe for kids to watch. Is Isn't It Romantic kid friendly? Those who have seen Pitch Perfect will likely want to see it. Here's a parent's guide on Isn't It Romantic and the scoop on language, sexual content, violence, and mature themes.
Is Isn't It Romantic Kid Friendly?
As a fan of Pitch Perfect, I was excited to see a little Fat Amy and Bumper Reunion. In Isn't It Romantic, Rebel Wilson is the anti-rom-com heroine. In an attempt at satire, it fell a little flat, but there were some funny scenes especially with Rebel and Adam doing their thing. While the teen girls in the audience found the movie amusing, I don't know that I'd let my 14-year-old or 12-year-old watch it.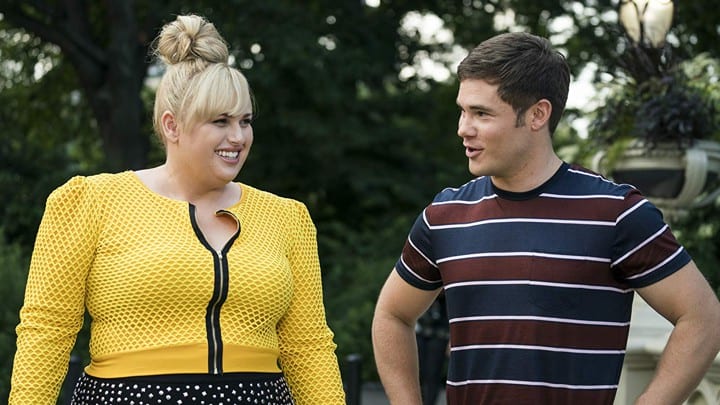 Profanity in Isn't It Romantic
There was quite a bit of language with them pushing it all the way to include that allowed f-word in a PG-13 movie. There were at least 8 uses of the word sh–, sh–hole, 2 b-tch, 2 uses of Godda–it, at least 15 uses of 'oh my God,' a few damns, bullsh–, a–, whore, piss off, and tits. There's also a scene where they bleep out the work fu–ing and mother fu–er at least 4 times, but you know what's being said. Then they finally say the f-word at the end of the movie. One character also gives two middle fingers to another.
Sexual Content in Isn't It Romantic
There are quite a few sexual references in Isn't It Romantic. One male character simulates a fake orgasm, there is implied sex between two characters, there are romantic kisses between male and female characters and two male characters. You see a bare chested Liam Hemsworth in a towel wrapped his waist several times. Characters also use crude sexual phrases and words like sex, penis, and hands on junk. Also one character rips off another character's shirt and licks his chest.
Violence and Mature Content in Isn't It Romantic
There is no violence except for an attempted mugging. As far as mature content, there is some drug use where neighbors are selling weed and alcohol consumption.
Should You Take Your Teens to Isn't It Romantic
Overall, the storyline is dull. For some teen girls, it may be a fist pump in the air that we don't need a man to love ourselves or that rom coms are ridiculous. However, I just wanted it to be funnier. It's the zingers, the dry humor, even the stereotypical gay best friend that gets the laughs.
I'll pass on this one for my teen daughter, because I doubt it's the 'love yourself' message, she and her friends will be talking about later. And I don't want the takeaway to be 'hey, remember when that guy was pretending to have an orgasm and Rebel Wilson tried to say mother fu–er and couldn't?' Ha, so funny.
Overall, I'd wait to watch Isn't It Romantic on video. The teenage crowd may enjoy it for the stars, the attractive Liam Hemsworth and Priyanka Chopra (who I love in dramas, but wasn't that funny here), and the cheap laughs. Liam Hemsworth has an Australian accent in this movie, and it kept throwing me off, because he looked and sounded so much like his brother Chris, aka Thor, but he wasn't. His character was cringey (as my middle-schooler likes to say).
There's a karaoke scene that I kept wishing would turn into a riff-off, but alas my dreams were shattered. I'll stick to the rom coms I do love to watch that were mentioned in the film like Sleepless in Seattle, Notting Hill, and 13 Going on 30.