Having a big family means I expect my children to do chores around the house. As much as I'd like to be Supermom, I'm not. That's when I need to rely on my family to help out while teaching my kids some responsibility. Laundry is a big chore in our house, because 7 people equals a lot of dirty clothes. Since my kids vary in age, there are different age appropriate ways they can help. This is how I teach kids to do laundry.
Teaching Kids to Do Laundry
In every job that must be done, there is an element of fun, according to Mary Poppins. To get all the kids involved, decide what their love language is. I know chores aren't the most exciting thing, but in my house, my kids like to choose items for their rooms.
So for laundry, let them choose their own kids laundry basket or kids laundry hamper, whatever system works best in your home.
Sort the Clothes – Age 3+
Every child has a kids laundry hamper in their room. They can all throw clothes in the hamper from age 3 and up. Take off your dirty clothes, throw them in the hamper and not around the house, please. The older kids have two laundry hampers – one for whites and one for colors.
I also will have them separate denim into a different pile. For the color sorting, I usually start around age 8. Though the 6-year-old is capable, I'm just happy when clothes aren't hanging from the lamps.
Read the Labels – Age 12+
Seriously teach your kids (and maybe husbands, love you, honey, xoxo) to read the labels of clothing before washing them. Some say turn inside out, some say dry clean only, some say wash in cold.
When the label says line dry or lay flat to dry, don't put it in the dryer unless you want small clothing. My daughter's sweater shrunk. To avoid frustration, I usually reserve this responsibility for ages 12 and up. If you have a responsible 8-year-old or 10-year-old, then go for it.
Load the Washing Machine – Age 3+
I use Tide PODS laundry detergent pacs to wash our clothes, but little hands should not touch the pods. Keep out of reach of children.
They are still capable of helping though, with adult supervision. Tide PODS works with both high efficiency and standard washers. I put in one pod for normal size loads BEFORE the clothes go in and pods for large loads, so the kids clothes come out fresh and clean.
Then the kids throw in their laundry on top. We have a top loader, so we like to make throwing the laundry into a game of basketball. This is where the element of fun comes in! My daughters will often have laundry basketball competitions. She shoots, she scores!
Drying Clothes in the Laundry – Age 12+
In teaching kids to do laundry, I leave the drying to ages 12+, because of the reading labels. My 10-year-old is capable, so she does load the dryer sometimes, but maturity plays a factor. I usually just handle the dryer, because we have a top loader and the other kids aren't tall enough to reach the bottom of the washing machine. If we had a front loader, I'd let the younger ones help transfer the clothing.
Fold Clothes – Age 4+
Folding clothes is one of those necessities that I realllllly dislike. Good thing I have 5 kids to help out. I'm trying to embrace my inner Mary Poppins (instead of Cruella de Vil) mentality. Sometimes we'll have a folding party where we all watch a television show together while we fold. I also will make it a competition.
Whoever folds the most laundry items wins a treat or if we reach our goal of folding two loads in 15 minutes, then bedtime gets pushed back 30 minutes. And in times of desperation, I'll pay my kids $1 for a really big load of laundry.
The 4-year-old can match socks and fold shorts and kitchen towels. When there are extra socks without a match, they go on our Lost Socks hanger. The 6-year-old struggles a bit with folding shirts, but let's be honest, so do I. Ages 8+ can fold and put away their clothes no problem!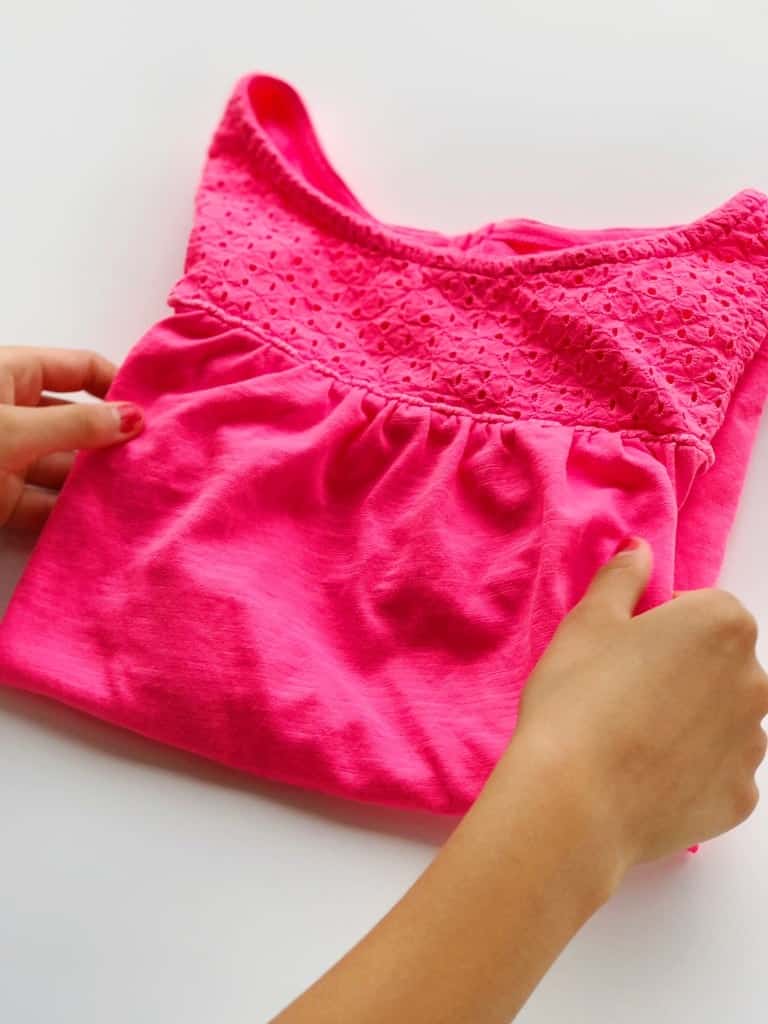 Put Away Clothes – Age 4+
I've found the best way to have kids put away their clothes is for them to be put away immediately. Sometimes we are just busy or I'm the one folding, so the kids aren't home to put away. Another thing that helps is to have their own kids laundry basket for clean clothes with their name on it.
Then they can be dropped there until the clothes make it into their proper drawers or closets. Because if there's a pile somewhere that is not put away, it will get knocked down every time guaranteed. Sometimes we'll have timed races to see who is the fastest at putting away clothes. It's a nail biter, I'm telling you.
With regards to lost socks, sorry, I've got nothing for you. I don't know where they go. Twilight Zone? Sock heaven? But somewhere there is someone with a whole lot of mismatched socks and hair ties.
Get your kids involved! Teaching kids to do laundry does not have to be miserable. They are more than capable with helping out with the laundry. They may not do it from start to finish until they are tweens or teens, but little ones can help in their own ways. It's fun to see them smile with pride at a job well done.
This post was originally written for #Tide in my life as part of a Tide sponsored series for Socialstars™