Have you ever wished that something was created just for you? That's how my young kids feel about Dutch Wonderland – finally a kingdom just for them, where they don't have to wait while their sisters ride all the big rides without them. With rides, shows, a mini water park, snacks, face painting, pony rides, and more, Dutch Wonderland shows kids that they rule the world. Here's why your family will love Dutch Wonderland!
Thank you, Dutch Wonderland, for providing my family complimentary tickets. All opinions on my love of divers dressed in Frog Costumes are my own.
Dutch Wonderland For Kids
Dutch Wonderland is located in Lancaster, PA. It's about a 2 hour-ish drive from Northern VA, perhaps a little further depending where you're located and about 30 minutes from Hersheypark. I always suggest arriving early before the park opens to get a head start on the crowds.
We went on a Tuesday in the summer, so the crowds were smaller, and it was easy to navigate our way through the park. When you arrive, you pay $5 for parking or you can pay $15 for preferred parking. I would save your money and just walk the little extra way.
When you arrive, you'll see the Dutch Wonderland Castle, go through a bag check line outside, and head through the castle (which is a gift shop) to the park entrance. I also recommend purchasing Dutch Wonderland tickets online ahead of time, so you can skip the ticket window lines.
Dutch Wonderland Rides and Attractions
At Dutch Wonderland, you'll find rides and attraction for everyone from under 30″ to 54″ and above. All the attractions and height ranges are listed on their website. We used to go to Dutch Wonderland as a family when all my girls were tiny.
As toddlers, they loved attractions like Duke's Dozers and Wonder Whip. Now only my two youngest (ages 6 and 7) were short enough for Wonder Whip. Yes, you can be too tall to ride some attractions. That's why this place is for kids, and my girls were loving it.
Dutch Wonderland offers classic rides like the Fun Slide or a train ride around the park. They also have family rides like the Sky Ride, Bumper Cars, and Kite Flight.
There are a plethora of rides for little kids. My girls would run from one ride to the next. Keep in mind that they are a bit slow to load and unload, so just have some patience.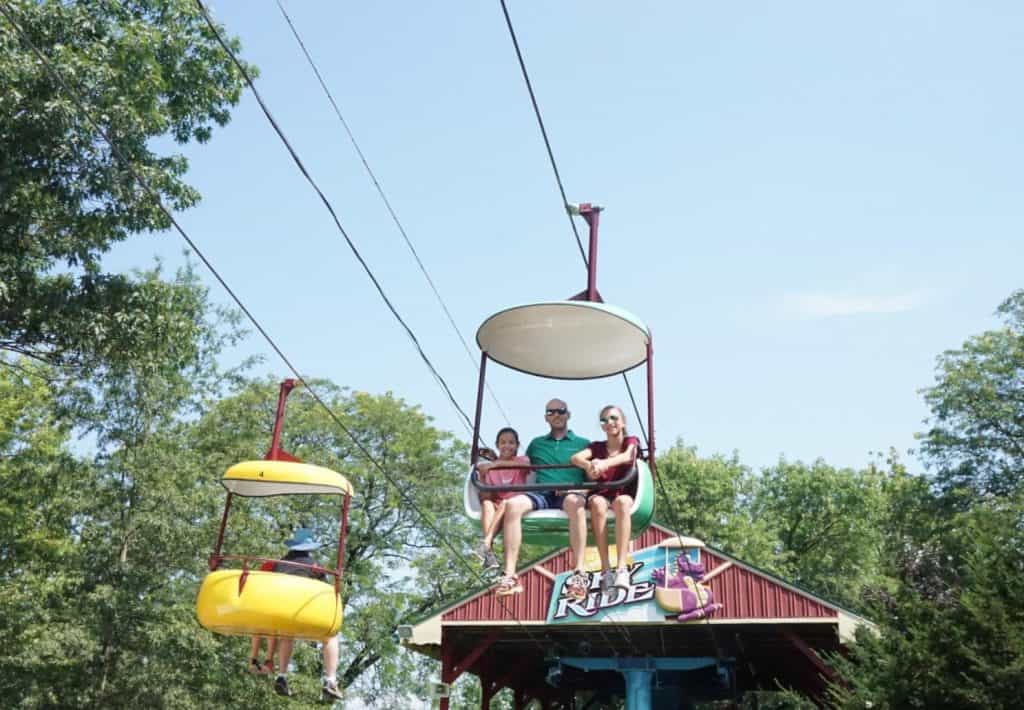 If you want something a little extra, then check out Dutch Wonderland's newest ride – Merlin's Mayhem! It's a high-flying coaster that gives you the right amount of thrill. It's not super crazy, because even I rode it, but it's fast enough to make you laugh all the way down.
If you want smaller coasters, don't worry they've got you covered. Kingdom Coaster is a fun wooden coaster with a little less height.
Dutch Wonderland Diving Shows
We always attend every diving show at Dutch Wonderland. They are phenomenal! Adventures of the Frog Prince and A Dragon's Tale are the shows with a storyline. Adventures of the Frog Prince is our favorite – it's cheesy and awesome. Not only do they make us laugh, but the talent and athleticism of the divers is remarkable.
Some dives are meant to make the audience laugh, but the highest dive is insanity. They are diving into a 9 foot deep pool from a platform that's about 70 feet high. You have to see it for yourself.
Also, when they say Splash Zone, they mean it. If you don't want to get wet, don't sit on the red benches. If you want to get soaked, then come to the Open Dive and enjoy life. My daughters come squishing out every time with the biggest grins on their faces. If I remember, I'll throw an extra pair of clothes in a bag just in case the sun isn't out to dry them off.
Duke's Lagoon
Duke's Lagoon is a mini water park in Dutch Wonderland. It has an area with small water slides for little ones and a separate splash zone area. Then there are bigger enclosed slides in rafts for more adventurous riders. All of my girls ages 13 to 6 loved the raft water slides.
They have changing rooms and bathrooms in Duke's Lagoon with lockers you can rent. There are also cabanas you can rent for the day.
We didn't fully get to enjoy Duke's Lagoon, because a storm moved in quickly and there was lightning in the area, so they had to close it. But the area is a nice way to cool off during the heat and enjoy some food and snacks without having to leave. They have Sharkys Grill, a Slush Shack, and a pretzel stand all inside Duke's Lagoon.
Dutch Wonderland Characters and More
Dutch Wonderland is more than just rides. You can take pictures with Dutch Wonderland characters and watch them in shows if your kiddos are shy. My birthday girl was ecstatic to get her picture taken with Duke!
A couple of my girls also enjoyed the pony rides and face painting. I was worried with the heat and water park that the face paint would come off (and it eventually did), but at $9 a pop, I was ok with it.
The pony rides are a little expensive for what you get. You get two loops around on a pony, and they take your picture at the end which you can buy at the front of the park. You can also throw in a cowboy hat for an extra $4. Since it was a birthday celebration, I sprung for both. They were in heaven, but I don't know that I would do it again unless it was a special occasion.
Dutch Wonderland Tickets and Coupon
Is Dutch Wonderland worth it? Absolutely! And now you can get a discount with this Dutch Wonderland coupon code – summerblog18! For Dutch Wonderland tickets, visit their page and enter summerblog18 in the promo code box to receive a discount on every Dutch Wonderland ticket you purchase!
You still have plenty of time to visit during summer. Labor Day is one of our favorite times to go to end out summer and enjoy Duke's Lagoon before it closes.
Did you know with your Dutch Wonderland tickets, you can preview the night before for free! Enjoy the last three hours of Dutch Wonderland the night before you visit for a full day. Any full day ticket, regardless of where it is purchased is eligible to be Previewed.
Dutch Wonderland Rain Guarantee Policy
Another reason to visit Dutch Wonderland is their awesome rain cancellation policy. Seriously, it's the most generous policy I've ever seen at a theme park.
If it rains for more than one (1) consecutive hour during your visit to Dutch Wonderland and you decide to leave the Park for the remainder of the day, stop by Guest Services as you exit and present your ticket stub. You will be issued a single-day admission ticket valid for any day during the remainder of the summer season, Happy Hauntings or Dutch Winter Wonderland. You must have your ticket stub to receive a rain ticket. Rain tickets will only be issued on the day of your original visit at the Guest Services Office.
So remember when I said, a storm came in when we tried to enjoy Duke's Lagoon? Well it was around 6:oo PM when we went and the rain came. It wasn't a heavy rain, but there was lightning so a bunch of rides were closed. Dutch Wonderland issued new tickets to all guests who stopped by Guest Services to come back another day. Their customer service is amazing.
Dutch Wonderland is such a wonderful place for families, especially those with small children. We have made so many memories, and I hope your family has their own laughs here, too.