This is a partnered post with Abrams Books. All opinions about how awesome, friendly kids rule the world are my own.
I have 5 daughters, and my middle child is a typical middle child. As a fan of the Diary of a Wimpy Kid series by Jeff Kinney, she was thrilled when she heard that the new spin-off novel, Diary of an Awesome Friendly Kid: Rowley Jefferson's Journal, was being told from Rowley's point of view. Rowley Jefferson can sometimes be overlooked, and that's how my middle girl feels, wondering where she fits in. All my girls play sports and do well in school, but I was most proud when I received a letter from informing me that my daughter was receiving an Outstanding Friendship Award; here's why.
What is Diary of an Awesome Friendly Kid: Rowley Jefferson's Journal About?
Introducing the newest Wimpy Kid author—Rowley Jefferson! Rowley's best friend Greg Heffley has been chronicling his middle-school years in thirteen Diary of a Wimpy Kid journals . . . and counting. But it's finally time for readers to hear directly from Rowley in a journal of his own. In Diary of an Awesome Friendly Kid, Rowley writes about his experiences and agrees to play the role of biographer for Greg along the way. (After all, one day Greg will be rich and famous, and everyone will want to know his life's story.) But Rowley is a poor choice for the job, and his "biography" of Greg is a hilarious mess.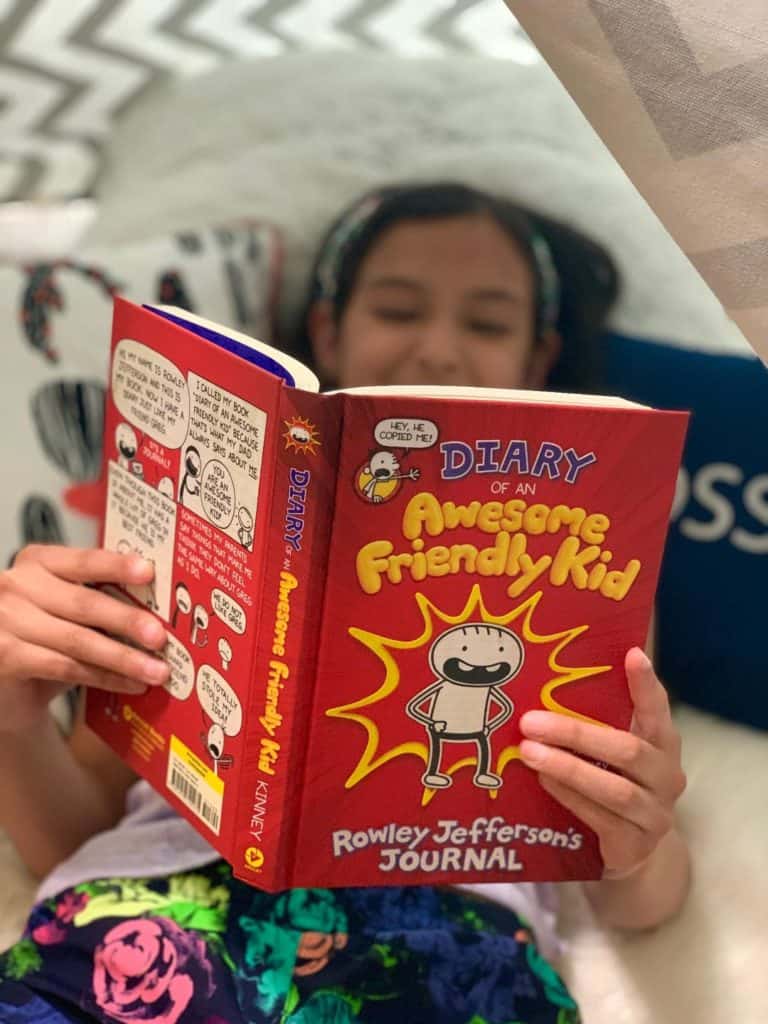 My daughter has been collecting and reading the Diary of a Wimpy Kid books for a long time. She finds them very funny! When I would read them, as a parent I thought the same as Rowley's dad, "I don't like Greg." He's kind of rude to Rowley. However, no friendships are perfect. In some of the books, you do see how much Greg cares about Rowley and sticks up for him.
In Diary of an Awesome Friendly Kid: Rowley Jefferson's Journal, you finally get to see what the friendship is like from Rowley's point of view. Rowley exhibits the characteristics of an awesome, friendly kid through his positive outlook, enthusiasm, and kindness. Middle School can be tough, so kindness and a positive outlook, even humor, are essential.
My Awesome Friendly Kid
I'm always proud of my girls for trying their best. Sometimes they win trophies for sports or certificates for Honor Roll, and I'm happy for them. However, when I received a letter that my daughter, along with two of her friends, were receiving the Outstanding Friendship Award in Recognition of Excellence in Supporting Special Education, my eyes watered.
Steve is special. He really is. My daughter knew it from the first day she met him, which was on her first day at a new school. She has been lucky enough to be in his class for the past 3 years. He is kind, has a great smile, and a pure heart. Those are the kinds of friends she looks for.
For the school talent show this year, my daughter and her friends included Steve in a dance number to "We're All in This Together," from High School Musical! It was fantastic, and everyone involved had a wonderful time!
Afterwards, Steve's mom told us she had nominated the girls for an award. I don't know exactly what she said about them because they haven't received it yet, but I know it meant a lot to her.
Outstanding Friendship Award
In the letter, it says "This prestigious award honors those who have gone above-and-beyond what is typical and what is expected to include, support, and create opportunities to shine for students with various types of visible and invisible disabilities, and celebrates the extraordinary impact you have had on the personal and academic success, self-esteem and sense of belonging for students with disabilities in LCPS."
For a moment, I thought, well it seems a little silly to award someone for friendship. I know these girls adore Steve. But a friend who found out that my daughter was receiving the award messaged me and said that "working with kids with special needs as I do, I know it's important to treat all friends at school the same."
So here's to all of our awesome, friendly kids. Sometimes my middle girl may wonder if she can wear Stormtrooper shoes or get looks if she wears a Captain America mask, but the more we praise our kids for being awesome and friendly, the more they'll believe it, and want to be that. So let's shout it out!
After all, we're all in this together.
You can purchase your copy of Diary of an Awesome Friendly Kid: Rowley Jefferson's Journal! My daughter was even inspired to keep her own journal about why she's awesome.
And keep an eye out for when Greg Heffley returns in Diary of a Wimpy Kid #14, out later this year!