The Bon Voyage Adventure Character Breakfast at Trattoria al Forno features rare characters seen together – Rapunzel, Flynn Rider, Ariel, and Prince Eric on the BoardWalk at Disney World. I was ecstatic to go! Tangled is my favorite movie and you can only find Flynn Rider at special hard-ticketed events like Mickey's Very Merry Christmas Party. So was it worth the price tag? Character meals are expensive, friends, but sometimes it's about more than the food. Here's our Bon Voyage Character Breakfast review.
Bon Voyage Character Breakfast
Let's start with the details. Where is this breakfast? It's on Disney's BoardWalk at Trattoria al Forno. Characters are only there for breakfast. The Bon Voyage Adventure Breakfast is $45 for adults and $29 for children ages 3-9, or 1 Table Service Credit on the Disney Dining Plan.
Since I first wrote this post, the price has increased by $11 for adults and $9 for children. That's a bit of an increase, but it also means it's popular.
Reservations are popular for this location, so advanced dining reservations are strongly recommended. You can book 180 days in advance. I couldn't find a reservation until I asked for help from my magical friend who can find a dining reservation anywhere.
However, then I found a later time for the day I needed 2 days before my trip. So keep trying if you can't get one right away.
And don't worry if you forgot a princess dress, accessories, or a Pascal, because Disney has you covered. They have a cart of merchandise for sale in the lobby area of Trattoria al Forno.
The Characters at Bon Voyage Character Breakfast
This is the main reason I booked this breakfast. Like I said, Tangled is my favorite movie, so meeting Rapunzel and Flynn Rider is really fun! Plus with the new Tangled: The Series show, it makes it really relevant. I also like that they added Prince Eric with Ariel.
The characters make their way around to each table, and they do not meet together. Also, they do not have handlers, so trying to get a family picture is tricky unless you can grab a server or a nice stranger to take your picture. They sign autographs as well as leave an autograph card at your table with all their signatures.
I'm not really sure what my face is doing, but Flynn's Rider smolder though. And yes, my kids got their own picture with him. I'm not a monster! Just a fan.
My girls loved bringing their autograph books! My youngest was smitten with Ariel.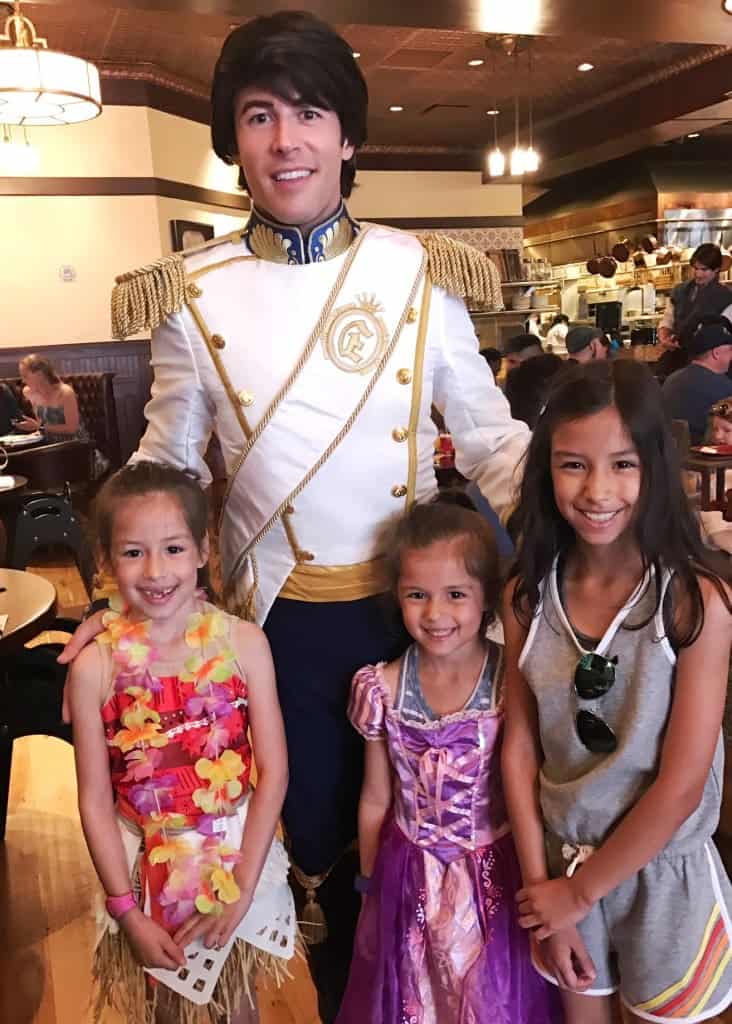 I love that they added Prince Eric to this breakfast, too. The characters really do make the meal.
They also do a parade around the room during the breakfast that is cute for all the kids who wants to join.
Bon Voyage Character Breakfast Menu
First, each guest starts off with an adorable frying pan of pastries.
The clamshells have fruit filling inside, and the colored muffin tasted like cake according to my children.
Then you can choose a fruit salad or berry, yogurt, and granola parfait.
For the adults, you can choose one of the following entrees. For a current Trattoria al Forno breakfast menu, always check the Walt Disney World website, as menu items are subject to change.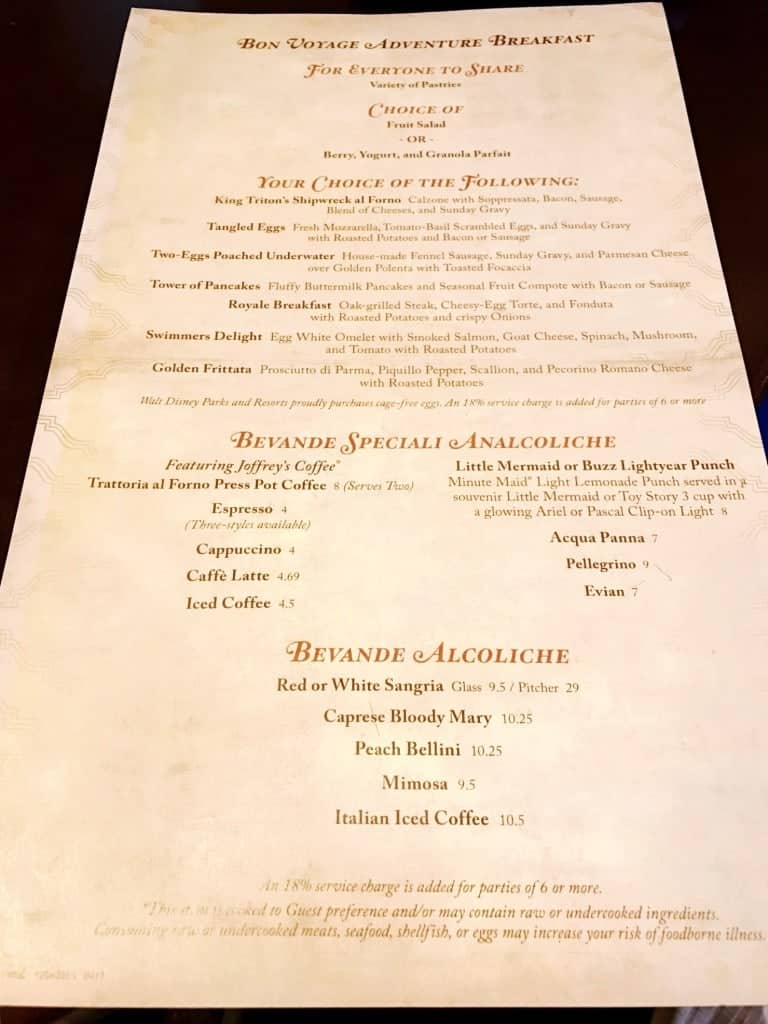 King Triton's Shipwreck al Forno
Calzone with Scrambled Eggs, Bell Peppers, Salumi, Bacon, Sausage, Blend of Cheeses, and Sunday Gravy
Tangled Eggs
Fresh Mozzarella, Tomato & Basil Scrambled Eggs, Sunday Gravy with Roasted Potatoes and Bacon or Sausage
Two Eggs Poached Under Water
Fennel Sausage, Sunday Gravy, Parmesan, Golden Polenta, Toasted Focaccia
Tower of Pancakes
Apple Compote served with Bacon or Sausage
Royale Breakfast
Oak-grilled Steak,Asparagus, Cheesy-Egg Torte, Fonduta, Breakfast Potatoes, Crispy Onions
Swimmers Delight
Egg White Omelet with Smoked Salmon, Goat Cheese, Spinach, Mushrooms, and Tomatoes with Roasted potatoes
Ursula's Cauldron
Breakfast Potatoes topped with Fennel Sausage, Fonduta, and Crispy Onions
Flynn's Feast
Two Eggs Your-Way, Breakfast Potatoes, Bacon, Ham, Sausage
Pascal's Palette
Fresh Fruit, Greek Yogurt, Honey, House-made Granola
Food at Bon Voyage Adventure Breakfast Review
I ordered the Tower of Pancakes and my husband ordered the Royale Breakfast and we shared, because we wanted something salty and sweet.
The Tower of Pancakes were good, what you would expect from a pancake. It's a very good portion and comes with bacon or sausage. I love the cute detail on the pancakes. I don't think I touched the fruit, because I'm not a huge blueberry fan. I've seen it served with strawberries before though.
The steak on the Royale Breakfast was pretty good. Once again, the portion size was good and the potatoes and onion crisp were a nice addition. Neither of us, however, liked the Egg Torte. Perhaps we're not fancy enough, but whatever cheese was on it did not smell good, and was not appetizing.
If you want a really good breakfast steak, then I recommend Topolino's Terrace, the Character Breakfast at Riviera Resort.
Kids' Menu
Here's a look at the options for the under 10 crowd.
My kids chose Flounder's Flapjacks and the Mickey Waffle.
Well except it wasn't a Mickey Waffle. Don't get me wrong, the Ariel and Flounder waffles are adorable, but when the menu says Mickey waffle and it's not shaped like Mickey, you get a side-eye from a 6-year-old. However, they have since changed the menu to read character waffle.
Also the verdict on the sausage was that it was spicy, and my daughter regretted not getting bacon. Always choose the bacon!
Flounder's Flapjacks made me laugh a bit.
Bless it. Those fish-shaped pancakes look like me trying to cut out a fish shape out of a pancake. I think my daughter would have appreciated round pancakes with maybe a sugar stencil on the adult pancakes. It just wasn't a ton of food.
Is the Bon Voyage Character Breakfast Worth It?
Well the good news is I received 10% off with my Annual Pass. I cringed a bit at the $150 I dropped for 2 adults and 3 children. And now the price tag is even higher. Am I glad I tried it? Yes, absolutely!
The characters seal the deal. To be able to see rare characters at a breakfast makes the price tag easier to swallow. The food was decent. I left full, but I do miss the variety of a buffet. I think my kids eat more that way.
However, it is nice not to be getting up and down from the table to get food all the time and worrying about whether you're going to miss a character coming by. My kids were happy, and we all had a great time.
If you want more classic characters like Mickey Mouse, Minnie Mouse, Donald Duck, and Daisy Duck, then I definitely recommend Topolino's Terrace! Plus Disney's Riviera Resort is stunning!
For more ideas on character experiences, check out the Best Disney Character Dining for Toddlers!