Hey Ferb, I know what we're going to do today – interview Phineas and Ferb creators Dan Povenmire and Jeff "Swampy" Marsh as well as the voice of Phineas – Vincent Martella! Yes, there's a new Phineas and Ferb movie premiering on Disney Plus on August 28, 2020 – Phineas and Ferb The Movie: Candace Against The Universe. My family has missed this show so much, so it was like a family reunion being able to interview the wonderful talent and creators of Phineas and Ferb.
Why Did They Decide to Make Another Phineas and Ferb Movie?
Listen, I'm not complaining! Phineas and Ferb has always been a show that my entire family could watch together, so I say bring on more P & F! And if you're looking for another great family show, I last interviewed Dan and Swampy in 2017 for Milo Murphy's Law.
So after 5 years, why now, why a new Phineas and Ferb movie?
Swampy answered that it was easy. "The decision was made when Disney called us and said,"Would you like to make a movie?" Everyone was excited and on board, so they said um, yeah! Plus it took them 2 1/2 years to make!
The gang is back together – Buford, Baljeet, Phineas, Ferb, Candace, Jeremy, Stacy, Isabella, and more!
Why is Candace the Main Character of the new Phineas and Ferb movie?
Candace finally gets her due in Phineas and Ferb The Movie: Candace Against the Universe. Ashley Tisdale is the voice of Candace and she always does a great job. Now we get some more backstory!
Dan said, "We decided to have Candace be the main character for a couple of reasons. One was that we were trying to come up with a new story that we hadn't told in 222 episodes of the series." You guys – 222 episodes! This series holds such a special place in my heart.
Another reason they had Candace as the main character was to introduce the boys by having someone they love in jeopardy. So the driving force of the movie is that Candace gets kidnapped by aliens, and they have to go rescue her. Usually Phineas and Ferb is driven by them having fun and this way there's still fun while also having jeopardy.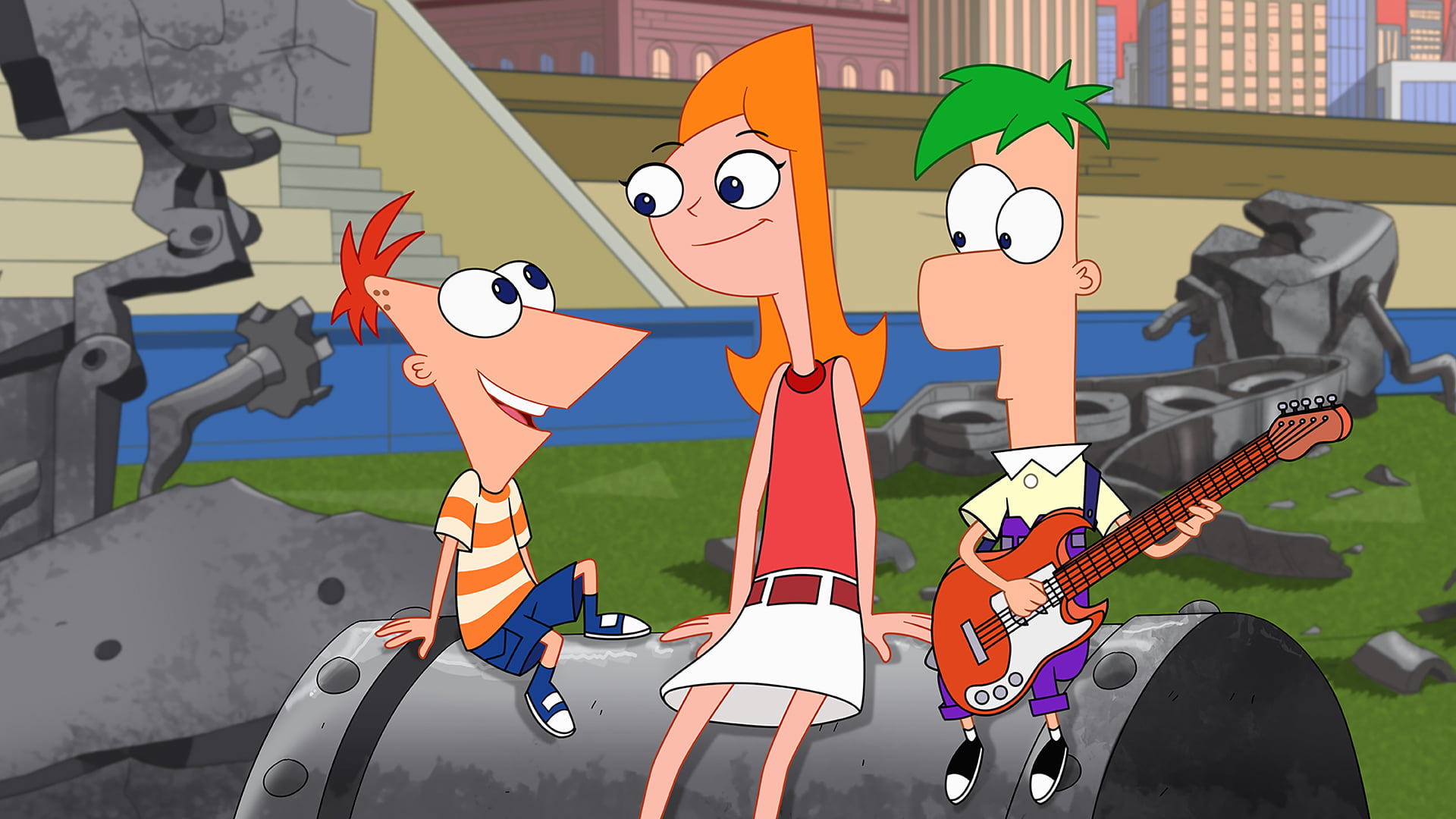 What Easter Eggs are in Candace Against The Universe?
You know I had to ask about the Easter Eggs in Phineas and Ferb The Movie: Candace Against The Universe. Both Swampy and Dan started laughing. Dan replied, "I made a list at one point for somebody of all the Easter Eggs in the movie, and there was a WHOLE BUNCH of references." He said they tried to put in as many as they could without slowing down the story at all.
Look for Easter Eggs from the very first musical number! You may recognize some backing vocalists from previous episodes. But they did try to fill as many as they could for the fans!
Check out the complete interview and Q&A below!
You don't have to seen the previous seasons or Phineas and Ferb movies to enjoy this film! It's great for families! I do love that when Perry first appears my 8-year-old remarked, "But I thought they knew Perry was an agent from the other dimension." Then another daughter remarks, "They wiped their memories, remember?" It's the show that keeps the conversations going in our home.
Phineas and Ferb The Movie: Candace Against The Universe really is a love letter to fans and full of nostalgia plus new stories! I'm so happy to see Phineas and Ferb back on my TV screen. Watch it on Disney Plus streaming August 28th!