March is a full month! But you know what they say, beware the Ides of March. These funny Ides of March memes will help you get over the impending gloom. Or really just get ready for April.
Best March Memes for the Ides of March
The phrase 'Beware the Ides of March' became famous in Julius Caesar by Shakespeare when the soothsayer warns him of the Ides of March. And then he got stabbed. In reality it's not that serious. Although March did start the beginning of Daylight Savings Time and that whole March Madness thing. But these funny March memes to warn us of the Ides of March will get us through.
But that's none of my business…
Well since Pi Day is March 14th, you never know.
In case you need to reassure somebody.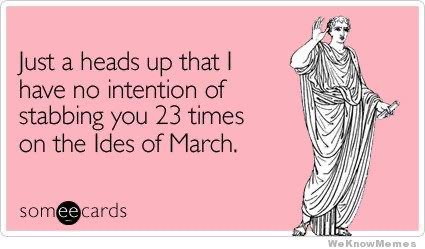 Et mew, Brute?
Just stay away from guys named Brutus.
It's true. Who has time for that?
Not even Caesar dressing is safe.
Good luck today and the rest of March!
More Funny Memes