Thor: Love and Thunder is in theaters now. This latest Thor movie is sure to be a summer blockbuster. If you've seen the film, then you'll totally get these funny Thor: Love and Thunder memes. If you haven't yet, you may want to avoid this post due to some possible spoilers.
The Best Thor: Love and Thunder Memes
Thor: Love and Thunder offers some big laughs and also a naked rear end on screen while Thor goes on a journey of self-reflection. Meanwhile Gorr the God Butcher wants to kill all the gods. Thor must stop him, but he'll need some help from Korg, Valkyrie, and unexpectedly, his ex, Jane Foster.
These memes from Thor: Love and Thunder will make you laugh, and if you still need some more funny, then check out these Thor: Love and Thunder movie quotes. And if you haven't seen Thor 4 yet, then here are 5 essential movies to watch before Thor: Love and Thunder.
Thor Love and Thunder The Snyder Cut
Release the Snyder Cut! Oh wait, wrong universe.
Taika Keeps It Weird
There's nothing wrong with weird and wild. If you've seen Thor: Ragnarok, well Taika said hold my beer and gave us Thor: Love and Thunder. There are certainly some crazy moments. Goats, anyone?
Wanda's Side-eye
Listen, but is she wrong?
Poor Jane
So Thor may have been a little jealous…
A New Thor Love and Thunder Meme Template
This Thor 4 scene is the setup for many new memes!
You can make your own!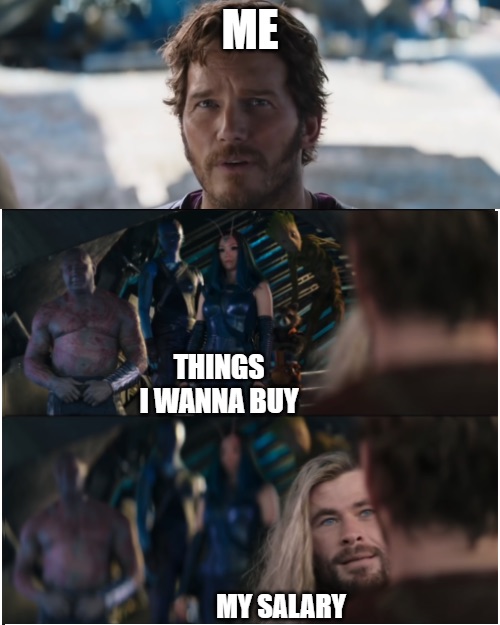 There May Be a Resemblance
So there may be some similarities. I'm sure it's just a coincidence.
The DC/Marvel Crossover
Christian Bale sure can play a hero and a villain.