Calling all Avengers and superhero fans! It's party time, and I've got your Superhero Party ideas all in one place. My baby girl wanted an Avengers party for her 5th party, and I was happy to oblige. If you and your family are Avengers and Marvel fans, then they'll love these superhero party and Avengers party ideas!
Thank you, Punchbowl, for partnering with me to create a Marvel-ous party for my daughter!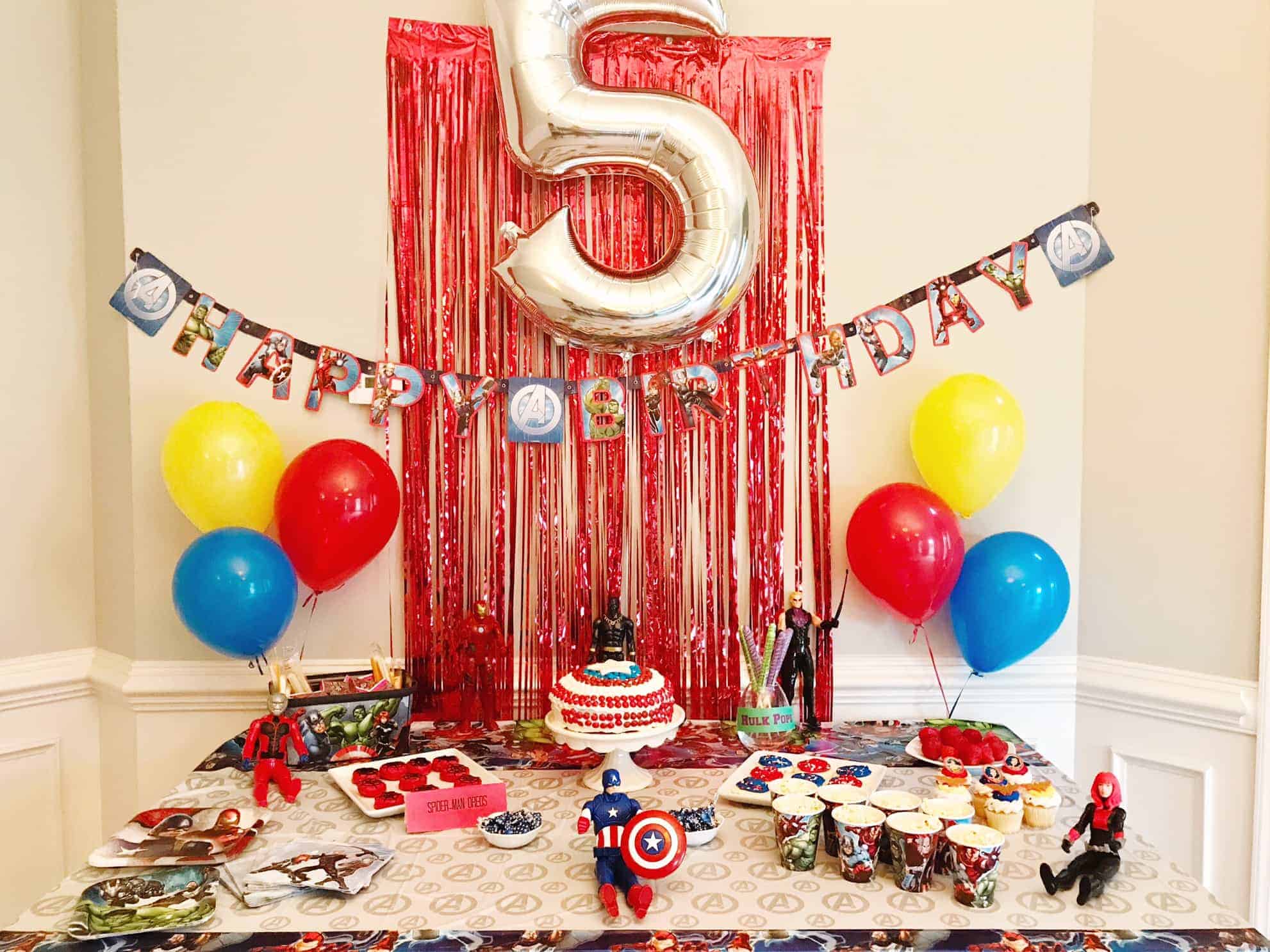 Superhero Party Ideas
We are huge Marvel fans in my house. HUGE! It was perfect timing with the release of The Marvel Online Invitation Collection from Punchbowl – featuring your favorite characters from the Avengers, Spider-Man, and Guardians of the Galaxy. Here are some of our favorite Avengers party ideas complete with food, decorations, party games, and invitations.
Marvel and Avengers Party Invitations
Punchbowl is my favorite online invitation provider, and when they launched over 40 different invitations starring beloved Marvel characters, I was giddy! Ahem, I mean my kids were excited. The collection offers dozens of online designs that look just like real paper. Not only are they great for kids' birthday parties, but I'll be darned if this Captain America online invitation isn't showing up on a girls night out invite!
I dig digital invites, because they're easy, and usually people are quicker to RSVP. My girl's favorite is Spider-Man, so that's the one she chose. With Avengers: Endgame coming out, your kids will love choosing their favorite Avenger or Marvel character!
Superhero Party Ideas – Decorations
I like simple around here. We purchased some Marvel party supplies like plates, napkins, and a tablecloth. Then we added balloons, a door curtain, and some Avengers toys. Basically anything Marvel or superhero you have at home, you can add to table décor. We used a Marvel box for additional snacks like cheese sticks and fruit snacks.
Avengers Party Ideas – Food
My daughter asked for a Captain America cake, so with my limited cake-making skill level, I opted for a Captain America Shield. You can use M&Ms, Skittles, or any colored candies. I used Skittles, because they had leftover red, white, and blue packages from 4th of July.
The star is the hardest part to make, but I ultimately ended up buying a little container of pre-made fondant from Michaels and cutting out a star with a cookie cutter. It was really easy, and well worth not having to try to make the star out of candy.
If you're going to make the cake the night before, just be aware that the candy can get heavy and cause the cake to sink a bit. That's what happened to me. I also threw in some Wonder Woman cupcakes to represent girl superheroes and some girl power.
A trick I use for birthday parties or special occasions when I'm short on time is to buy plain cupcakes from a grocery store bakery and then put on rings or any small toy to represent whatever theme I want. So you can do this with any superhero or Marvel character ring or toy. Often bakeries like Target will just sell you the rings, too.
I saw some cute Spider-Man Oreos my friend Kristi made, and I had to make them for this Avengers-themed party. I couldn't find the mold she used in the store, and I had no time to order online, so I just dipped them in Wilton Candy Melts. Then we drew a web with black icing we found in the store.
My girl loves lollipops, so when I spotted green and purple at the party store, I instantly thought of the Incredible Hulk! They even match Hawkeye in the background. Just put lollipops in a vase if they have long sticks.
If you need Marvel drink ideas then try this Black Panther Frozen Drink recipe or Spider-Man drink.
Superhero Party Ideas – Games and Activities
I don't know about your kids, but mine are obsessed with slime! So we had to make Avengers Slime. We used Elmers Glitter Glue for extra glitter and added different superhero confetti for pizazz. You can never have too much pizazz with slime.
We also had Avengers Academy. I taught the kids different moves I learned in Disney California Adventure during Summer of Heroes. I taught them how to throw a shield, evade the enemy, and intimidate the opponent with a good Hulk roar.
Minute To Win It type games are always a hit for Superhero party ideas. We played one where the kids had to transfer as many Skittles as they could from one plate to another in one minute by using a straw. They had to suck in the air so the Skittle would attach to the end of the straw and make sure not to breathe out or the candy would fall. It was so funny to watch!
All of these Avengers party ideas are simple and fun – which is my kind of party. My daughter had such a blast and proclaimed it the best birthday ever!
If you're wondering just who all these Marvel characters are, then check out this Marvel movies in order post where you can find the best way to watch all 20 Marvel Cinematic Universe movies! You can even show them at your Avengers party. Just be sure to check out which Marvel movies are kid-friendly in my reviews!
And if you want to make a big impression, have you thought about ordering a Yard Card to celebrate your loved ones' birthdays? Many yard carders have superhero themes. If you need a birthday yard card in Winter Garden, FL, then check out Celebration Yard Cards!
Have fun with all these super Avengers party ideas!