Walt Disney World knows how to throw a party. In addition to my favorite party, Mickey's Not-So-Scary Halloween Party, they also offer a Christmas party. Mickey's Very Merry Christmas Party starts in November, and it is magical, festive, and very merry indeed. However, Mickey's Very Merry Christmas Party is also expensive, so make sure to follow these 2022 Mickey's Very Merry Christmas Party Tips.
2022 Mickey's Very Merry Christmas Party Tips: Is it Worth It?
I've been to a few of the Mickey's Very Merry Christmas parties, and they can most definitely be worth the extra price of admission. When you hit the $100 mark, then I gasp a bit. Y'all, it's like $150-$170 now.
Is Mickey's Very Merry Christmas worth it? If you love Christmas, it can be, but you really need to love Christmas. It's easier to justify the price if I go with friends, but when you add up the cost for a family, it's a lot of money.
So once you've spent that money, make the most of it and have a holly jolly good time!
1. Enter Magic Kingdom Park Early
You can enter Magic Kingdom park at 4:00 p.m. with your Mickey's Very Merry Christmas Party, so do it! The hours between 4 and 7 pm are when you should ride attractions and eat something.
If you use your party ticket as a park ticket, then the cost makes it more worth it, especially with ticket price increases to Magic Kingdom. But if you're strolling in at 8:00 p.m., then you're not getting your money's worth.
I like a good holiday party, and they do add some extra magic to a Disney vacation.
DO NOT schedule a table-service meal during Mickey's Very Merry Christmas Party. It will eat up too much party time. I know you want to eat at Be Our Guest, but it's going to have to be another time.
2. Fill Up on Free Snacks at Mickey's Very Merry Christmas Party
"Free" snacks are always a way to get my attention. And of course free isn't really free. If you want to know something about me, I will never turn down an opportunity to eat something sweet while strolling through the parks.
Like I said, do not eat a table-service meal during the party. However if you find yourself getting hungry, then you have complimentary cookies and cider and hot chocolate.
This year you can find packaged cookies like Snickerdoodles, Gingerbread, Chocolate Chip, and Buttercream Frosted at various quick-service locations. The complimentary drinks include hot cocoa, eggnog, or apple cider.
3. Make a List of Must-See Characters at Mickey's Very Merry Christmas Party
One of the best reasons to attend Mickey's Very Merry Christmas Party are for the character photos with rare characters. I'm still a sucker for taking pictures with Disney characters, especially in their holiday outfits.
Now if you don't care about characters at all, then obviously skip it. But if you love Disney characters, them make a list and prioritize before the party.
Here is a list of characters at 2022 Mickey's Very Merry Christmas Party and where to find them.
I love when they have their fancy holiday dresses on or their dapper suits. These outfits are special for the party. I also love when more rare characters come out like the Disney Princesses and their Princes. Heeeeeey, Flynn Rider! Ok, I lied. Totally worth $100 to get a pic with that smolder.
Lines can get long, so if you really want Jack and Sally, then line up as early as 4:00., so you can already be in line before the party starts. Moana usually starts meeting around 5:30 p.m., and her line also gets long.
Isn't Santa Goofy adorable?
4. Scope Out Minnie's Wonderful Christmastime Fireworks Viewing Spots
I love watching fireworks at Walt Disney World and Wishes and Holiday Wishes were my favorites. Basically anything with the word wishes. However, Disney has started to favor fireworks shows with more castle projections.
Minnie's Wonderful Christmastime Fireworks seems to follow that trend. There's not a lot of Disney IP and a ton of Christmas music! If castle projections are important to you, then I recommend watching from the hub. You'll have to find a spot early if you want to be close to the castle.
However, if you just want to see fireworks, consider watching from the back of Fantasyland. It will give you a different view and you won't have to grab a spot early. However, the downside is no castle projections. It just depends what is important to you.
The season is practically perfect when you sit on Main Street, U.S.A. with a cup of hot cocoa and a cookie and watch Disney holiday fireworks go off around Cinderella Castle. When the snow on Main Street, U.S.A. starts falling, that's just the icing on the holiday cookie.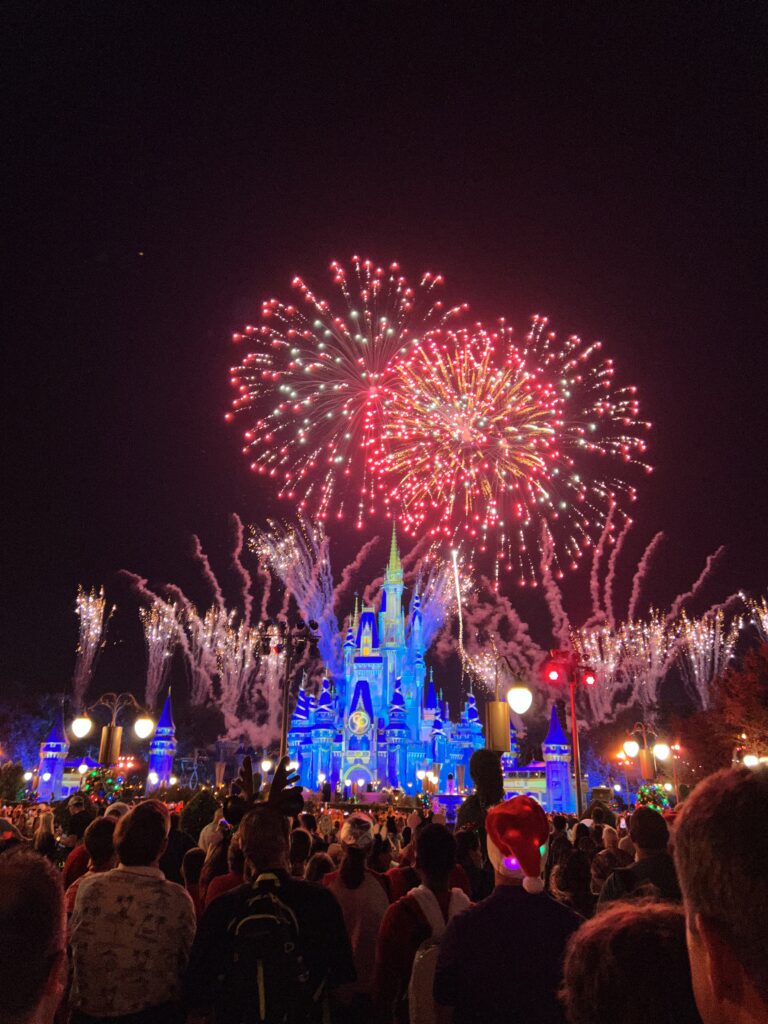 5. Watch the 2nd Mickey's Once Upon a Christmastime Parade
Mickey's Once Upon a Christmastime Parade is full of Disney magic, Disney characters, and also holiday characters. The famous toy soldiers make an appearance, and this year, the parade had a Black Santa Claus! The castle is lit up and costumes are beautiful. The whole parade is really fun and worth a watch.
If you can hang, I recommend watching the later parade at 11:00 p.m. versus the 8:30 p.m. parade. It's less crowded and you won't have to grab your parade spot as early.
6. If You Have Toddlers, Consider Their Bedtime
Can your kids and or toddlers stay up late? If the answer is yes, then take them to Mickey's Very Merry Christmas Party. However, if you know your toddler is a bear past 8:00 p.m., then consider not taking them. It's just not worth it.
Instead be the early risers and get to the parks early. This Guide to Walt Disney World with Toddlers will help you out.
7. Wake Up Late and Take a Rest Day Before MVMCP
If you're planning on attending Mickey's Very Merry Christmas Party, then you want to stay until they kick you out. So my suggestion is to not wear yourself out that morning. Take it easy, sleep in, relax at your hotel. But I wouldn't try to Rope Drop another park and then hop over for the party unless you know you have alllllll the energy.
MVMCP is fun, but there's a lot to see and do and you want to be in peak holiday form.
Enjoy the party!
If you're looking to save money on souvenirs, try the Character Warehouse Outlets and here's where you can find the holiday musical popcorn tin!
For more Disney holiday fun, visit these Walt Disney World Resort hotels for Christmas or try Olaf's Holiday Tradition Expedition Scavenger Hunt in Epcot.