If there's one thing you can look forward to at the end of April…It's Gonna Be May Memes! You don't have to love boy bands or Justin Timberlake to appreciate them, but it adds to the fun if you do. Here are some of the best It's Gonna Be May Memes found on the internet for 2022!
Best It's Gonna Be May Memes 2022
What does It's Gonna Be May mean? Well if you're an NSYNC fan, you're familiar with their song, "It's Gonna Be Me." At the very end, you'll notice it's a drawn out "me" that sounds like May. Now this popular meme surfaces every year on April 30th as a fan favorite!
Even Justin Timberlake can poke fun at himself.
Everybody… It is ACTUALLY GONNA BE MAY!#canyoumemeyourself

Probably not, right?

— Justin Timberlake (@jtimberlake) April 29, 2016
Four years ago was quite the celebration when NSYNC received a star on the Hollywood Walk of Fame on, you guessed it, April 30th!
The Original It's Gonna Be May Meme
I always consider this one to be the OG meme that started it all. I don't know if it is, but it's classic Justin Timberlake.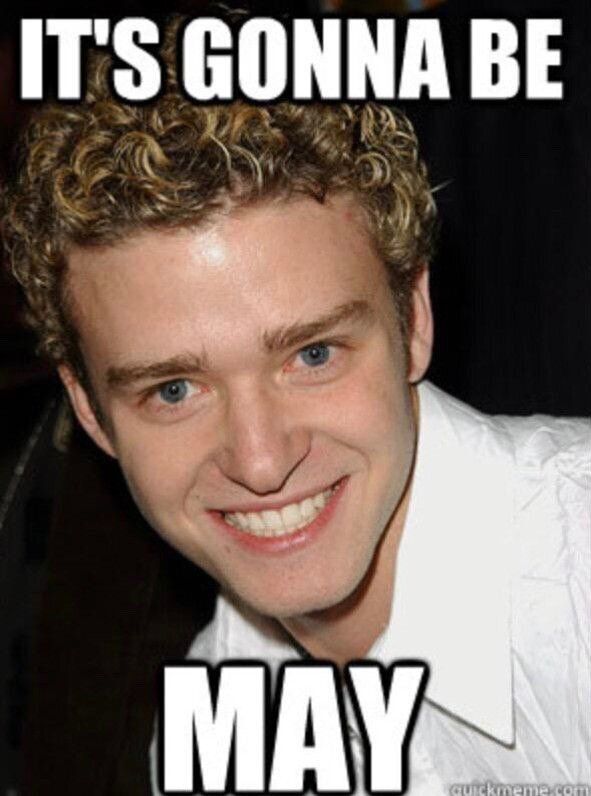 When NSYNC Joins the Fun
Lance Bass and Chris Kirkpatrick shared this meme combining two of NSYNC's most popular songs!
It's Gonna Be May the Fourth
Yes, I appreciate a good fandom crossover. Because right after it's gonna be May, it's time for May the 4th memes!
May Quarantine Memes
Remember 2020 and quarantine?
Trolls Meme
Justin Timberlake is the voice of Branch in the Trolls movies. Even he and Poppy got in the fun.
More Boy Band Love
Who did this? I can't! Love me some Backstreet Boys, too!
Not For Everyone
So not everyone loves It's Gonna Be May Memes. If you don't, this one's for you.
me seeing these "it's gonna be May" memes pic.twitter.com/z0S3HgWM7Y

— miss maxie baby (@macksmorereese) May 1, 2017
And Just in Case You Forget
Mark it on your calendar.
Happy May, y'all!