Looking for fun summer activities and crafts with kids? One of my favorite activities when I was a kid was tie dye shirts. It's not as messy or complicated as I remember, and my children feel a sense of creativity and accomplishment. Grab some old t-shirts, go outside, and have a blast. Here's how to tie dye shirts with kids.
How to Tie Dye Shirts 
Here's what you'll need to get started to tie dye shirts (or anything) with your kids! Not only is it a fun summer project, but tie dye shirts are great for parties or party favors!
Tie Dye Shirt Supplies:
T-shirts (I like white, but you can use other colors for a different look)
Dye (Pick up a kit or just the dye at your local retailer) I like the Tulip Kit. (affiliate link)
Rubber Bands
Something to cover your work area (Because, kids!)
Gloves
Plastic Zip Bags
Where to Tie Dye Shirts
I chose to work outside, because a spillage of dye outside makes for a less crabby mom than a spillage of dye inside the house. I covered the ground with a plastic tablecloth, and I showed the kids some options of patterns they could make that came with the instructions.
If you choose to work indoors, I wouldn't go near carpet. Here are the tie dye patterns my kids chose.
How to Tie Dye A Shirt In A Swirl Pattern
Probably the most common tie dye shirt look is a pattern that makes a swirl.
1.Lay the fabric flat.
2. Pinch the fabric in the center.
3. Begin twisting the fabric in a circular motion and continue until all of the fabric is in a spiral shape. As    you get to the end, the fabric won't naturally just lay in the spiral. That's okay.
4. Secure the spiral with rubber bands into wedges.
5. Apply the dye to the fabric.
I let my daughter choose whatever colors she wanted to put next to each other. I had my opinions, and I was proud of myself for not voicing them. She was able to make her own decisions.
How to Tie Dye a Shirt in a Bullseye Pattern
1. Lay the shirt flat.
2. Pinch a piece of fabric in the center and tie it with a rubber band.
3. Tie another rubber band a little further down and make a line shape.
4. Apply the dye to the fabric.

How to Tie Dye A Shirt in a Crumple Pattern
1. Lay the shirt flat.
2. Scrunch fabric together.
3. Apply dye.
The crumple pattern is probably the easiest method, because you literally just bunch up the fabric. Even I can't mess that up! Perfect for little kids who want to get in on the tie dye fun. No rubber bands needed.
Wrap, Let Sit, Rinse
After you are finished applying the dye (if there are white spots left on the shirt, then that's where you'll have white as part of your pattern), I drop the shirts in a bag, seal it, and leave it to dry overnight. Six hours is probably enough, but I just leave mine overnight, so I can wash the tie dye shirts in the morning.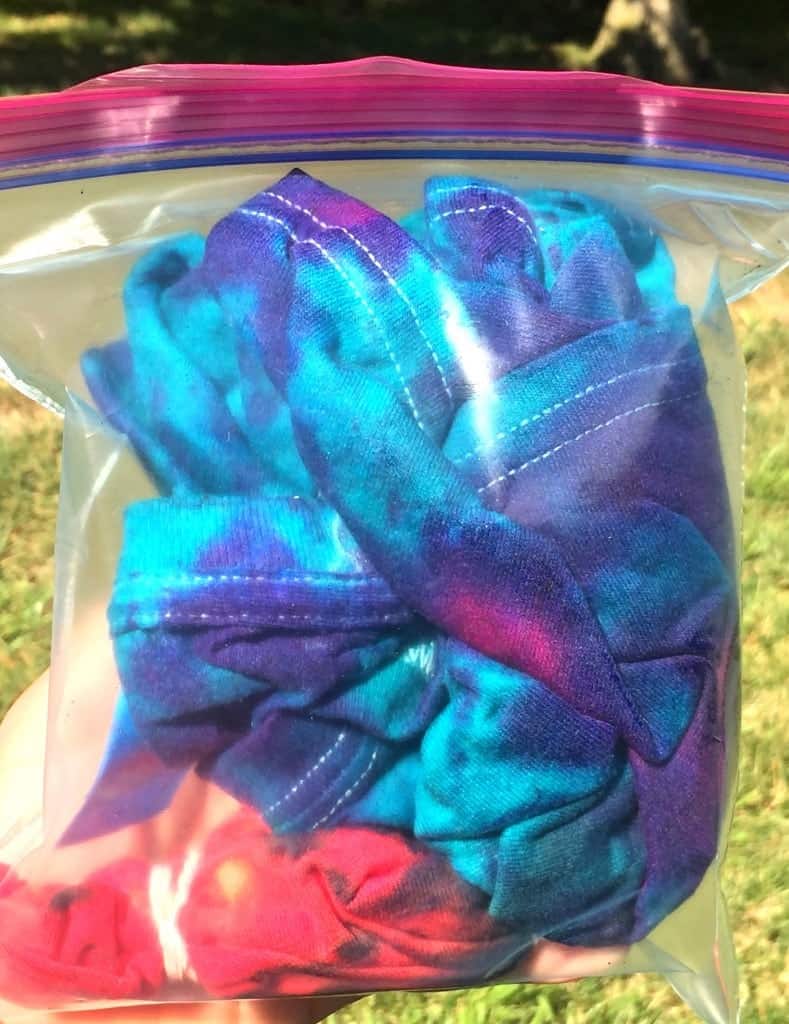 How to Wash a Tie Dye Shirt
After you've let your shirts set, rinse off the dye until the water runs clear.
Now time to wash and dry your tie dye shirts! I wash them on a delicate cycle and do not add other clothing.
Oh yeah, now it's time to wear the works of art proudly.
Seriously though, these kids were so proud of their creations. I looked away when some dye got on their legs and arms. I didn't offer unsolicited advice. Most importantly, I was beaming with pride at their creativity.
I hope you enjoyed this tutorial on how to tie dye shirts with kids. Add it to your summer fun list and have fun creating!
For more summer fun, you can also make Avengers slime with your kids!