This shop has been compensated by Collective Bias, Inc. and its advertiser, Walmart Family Mobile.  All opinions are mine alone. #DataAndAMovie #CollectiveBias
My family has been excited for Finding Dory ever since it was announced. We like to prepare for new sequels by watching their prequels. For Star Wars: The Force Awakens, we of course had to have a Star Wars marathon at home. For Captain America: Civil War, it was an Avengers marathon. So naturally, we needed to watch Finding Nemo to prepare ourselves for Finding Dory.
Going out to the movies is an expensive trip for this family of 7. Anytime you have to multiply something by 7, it starts to add up. So we usually opt for family movie nights at home. We like to theme it up, because it's just more fun that way. I want my kids to enjoy family time. But I'm very simple and we use as much stuff as we have on hand at home. Here's what you need to host your own DIY family movie nights.
Choose the Movie
Luckily we have Walmart Family Mobile PLUS and get a free new release movie rental from VUDU ($7 value) once a month with their Unlimited Talk, Text, & Data plan. We can search through the VUDU library which includes new and old releases and decided to go retro with Finding Nemo. Then we stream it on ROKU for a movie theater experience.
Walmart Family Mobile PLUS includes up to 10GB of 4G LTE data PLUS a free movie on VUDU every month PER line for $49.88. With all that data, my family is having movie night, entertaining kids at siblings' sporting events, and mama can message friends for support during long training runs on the treadmill.
You can find Walmart Family Mobile phones in the electronics section of your Walmart. I chose the Cool Pad Rogue phone for $19.88. Yup, you read that correctly- $20! I gave it to my tween, and she was in heaven. Best thing I love about Walmart – the word "rollback!" Rollbacks save me money. The phone Starter Kits are cheaper than before ($25) and now on rollback for just $19.88* until July 7th. Money saved is more money for snacks!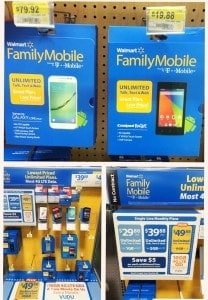 Decorations
Like I said, simple. I bought Finding Dory paper products, but you can use anything. I prefer not to wash dishes. I personally love balloons and streamers, because they are inexpensive and can liven up the place. Plus it's hard to screw it up, and the kids love to be involved with the decorating. We turned the fireplace into the sea with blue streamers and made jellyfish with pink balloons and streamers. Add Nemo, Dory, or any other of their fish friends, and you have a whole ocean in your living room. In the big blue world…
Food & Snacks
What's a movie night without snacks?
Our fish-studded menu included mini cupcakes with turtle, fish, and octopus gummies. We also had popcorn mixed with Finding Dory cereal (aren't those Nemo and Dory marshmallows adorable?), octopus hot dogs, blue jello with fish, green grapes as seaweed, goldfish crackers (how lucky were we to find Finding Dory colors), and juice boxes (because see 'no dishes' comment above). Seriously everything was so simple and quick, and the kids loved it! No real fish were harmed during this party, because we know fish are friends, not food.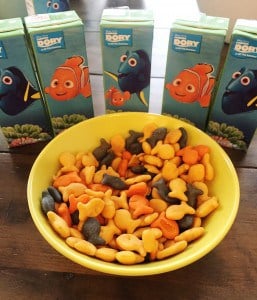 Games
Games are optional for family movie nights, but we like to throw one or two in. We invited some friends over for this movie night, and had pool noodle races. We just printed out pictures of the characters and put them on a noodle and let the races begin! It was pretty hilarious to watch. We included Dory, Nemo, and Crush. And if you want to wear a shark costume while doing it, who are we to stop you?
The most important thing is family time. We just love having a good time together and family movie nights accomplish that. Invite some friends over, too, for added laughs. Now we anxiously await Finding Dory!
What are your favorite family togetherness activities?
*Disclaimer: All prices for phones and plans included in this post are accurate as of the date of posting; however, these prices are subject to change. Please refer to http://cbi.as/3edbs or your local Walmart for current pricing.