These hilarious 2023 Thanksgiving memes will give you a reason to laugh on turkey day. They may even be better than pie. Just kidding, nothing's better than pie. If you can't be with the ones you love, then at least make them laugh by sending them memes for Thanksgiving!
Funny Thanksgiving Memes 2023
These are some of the best Thanksgiving Memes to share with family and friends. Forget the pilgrims, bust out the turkey and wear elastic-waisted pants. If you get tired of football, there are always memes. Or you can watch these Thanksgiving movies for kids and families.
And if you need a laugh the day after Thanksgiving, these Black Friday memes will give you a chuckle!
And You Thought Politics Were Bad
But really it's the pumpkin pie that'll cause the fights. Forget politics and religion.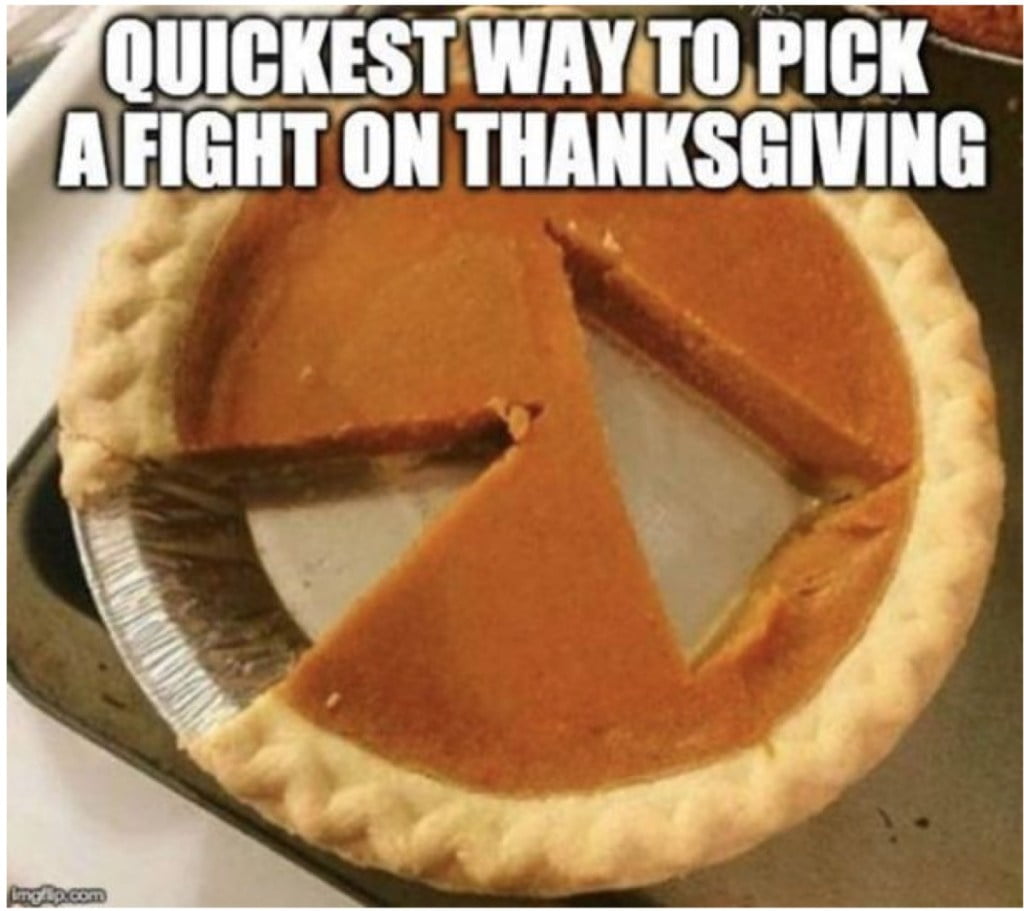 Dang Kids
They just don't appreciate your labors.
It Me.
Sorry, every year.
Luckily This Was So 2020
But we're still being careful.
Mashed potatoes all day, every day.
What's your favorite Thanksgiving food?
Family Drama
If you don't have family drama on Thanksgiving, congratulations!

But also, if you're gonna have some, then count me in.
When the Unfriend Button is Used
Are we still getting rid of toxic friends? You know it's bad when when Facebook is used.
Also Me.
Can I get one of these for after dinner?
Gonna need this for Black Friday shopping.
For those of you who like to give Thanksgiving its moment.
I know I feel this way about Halloween.
For the Christmas haters.
Is it really a meme post without a Hey Girl meme?
It doesn't even have to be Ryan Gosling. Someone please come do my dishes.
Family Time
Accurate portrayal of me and my kids.
Sorry, if it's been a hard year.
But at least there's pie.
Oh and Calories Don't Count This Week
The Real MVP
No Lies Detected
Listen, mom works hard, cut her some slack this Thanksgiving.
I Mean I Started Decorating November 1st
Sorry Thanksgiving, Christmas is just way shinier.
Thanksgiving Savings Time
Another reminder to set those scales back. You've earned this.
Happy Thanksgiving! I hope everyone has a safe holiday and you find ways to give thanks this year!
More Funny Memes