Calling all Captain America fans! Make your own DIY Captain America Flying Shield Disc so your shield can soar or you can take out your enemies like Cap does in Avengers: Endgame! This is a fun Captain America craft that your kids can do, with some supervision. All you need are a few supplies to get started.
This is a paid promotion for Avengers: Endgame. All opinions of my love of Captain America are my own.
Make Your Own Captain America Flying Shield Craft
We are firmly Team Cap in this house and to celebrate the release of Avengers: Endgame on Digital today, we're making our own Captain America Flying Shields! Why make your own? Because these fly further! You can play outside in the backyard and have a fun frisbee game with your friends. Want the traditional red, white, and blue shield? You got it. Want different colors? Then choose your favorites!
Or you can get serious and use that Captain America shield to knock down obstacles or enemies/siblings 😉 You decide!
Avengers: Endgame is on Blu-ray August 13! If you need to catch up on your Marvel movies, then check out these lists of Marvel movies in order to watch before Avengers: Endgame.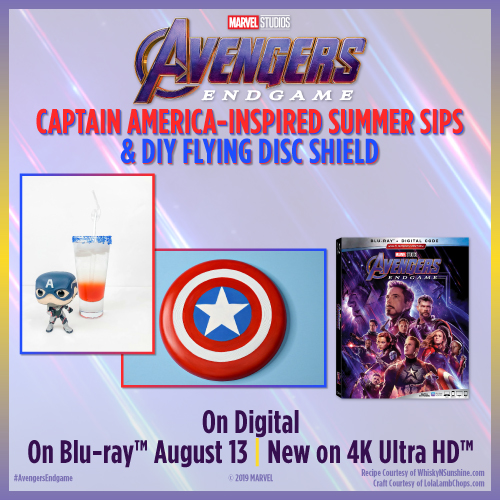 Captain America Flying Shield Supplies
Here's what you'll need to make your own Captain America flying shield.
Frisbee
Spray Primer and Sealer
Red, White and Blue Craft Paint and Brushes
Sticky back paper
Captain America Star Template (Included in this post)
Captain America Shield Instructions
Spray Frisbee with primer.
Paint on red and white stripes.
Use template to cut out stencil from sticky back plastic.
Use stencil to paint on star and blue circle.
Touch up paint as needed.
Finish by applying a coat of spray sealer.
To print, click on Captain America Shield Star Template
Have fun making your own Captain America Shield Craft! Perfect for all the Captain America and Avengers fans out there. We love you, 3000.
For more Avengers and Superhero crafts, check out these Hawkeye DIY Pencil Arrows. Also, find more Avengers party ideas including a Captain America Cake and Spider-Man Drink.
Avengers: Endgame is on Digital today and Blu-ray on August 13th! You don't want to miss the exciting conclusion to the battle against Thanos. You can check out my parent movie review if Avengers: Endgame is kid friendly here.