Easter is one of my favorite holidays, not only because of the meaning, but also because of the desserts! I'm usually good with popping a handful of Cadbury Mini Eggs in my mouth, but this year's Easter dessert involves an Easter Cookie Cake plus Cadbury Mini Eggs – the perfect combination! I hope you enjoy the recipe!
Best Easter Desserts
When I was younger, my mom used to make a round cake with vanilla frosting, sprinkle coconut that had been dyed with green food coloring and add jelly beans on the top. Then she'd add a couple of Peeps. It was like a bunny fest in a grass meadow. She still makes it for us for Easter, and I'll always think of it as one of the best Easter desserts.
Now my love affair with Cadbury started young, too. I think I can blame this obsession on my dad. He used to take business trips to England all the time, and he would bring home tons of chocolate (he has a sweet tooth, too.) The Cadbury was my favorite! That's why I always stock pile some Cadbury Mini Eggs around the house. Add in cookies, sprinkles, and M&Ms, and it's a like an awesome Easter Cookie Cake explosion!
Cadbury Mini Eggs Easter Cookie Cake Recipe
Makes 1 9-inch round cookie cake
INGREDIENTS
1/2 C unsalted sweet cream butter, softened
3/4 C sugar
1 egg
1 egg yolk
2 tsp vanilla
1 1/2 C flour
1/4 tsp salt
1 tsp baking powder
1/2 tsp baking soda
1 1/2 tsp cornstarch
1/2 C M&M easter egg chocolates
1/4 C Cadbury Mini Eggs
1/4 C rainbow sprinkles
1 9 inch springform pan
1 can of baking pam spray
DIRECTIONS
Preheat oven to 350 degrees.
Spray your springform pan and set aside.
Using a standing mixer, cream together the butter and sugar until light and fluffy.
Beat in the egg, egg yolk and vanilla until combined.
In a medium bowl, using a whisk, mix together the flour, salt, baking powder, baking soda and cornstarch together.
Gradually mix in the dry ingredients with the wet ingredients.
Once the dough has forms, mix in the candy and sprinkles.
Using a rubber spatula, press the dough into the springform pan.
Bake in the oven for 20-25 minutes or until the cookie is lightly brown on top.
Let the cookie completely cool
Vanilla Frosting
1/2 C unsalted sweet cream butter, softened
1 1/2 C powder sugar
1 tsp vanilla
2-4 tbsp heavy whipping cream
Easter sprinkles
1 piping bag with a star tip
DIRECTIONS
Using a standing mixer, combine the butter, powder sugar, vanilla, and heavy whipping cream.
Mix the frosting until combined and stiff.
Once the frosting is made, scoop frosting into the piping bag.
Carefully remove the cookie cake from the springform pan and place onto a serving plate.
Pipe the frosting around the edge of the cookie cake.
Top with easter sprinkles.
Cut, serve and enjoy!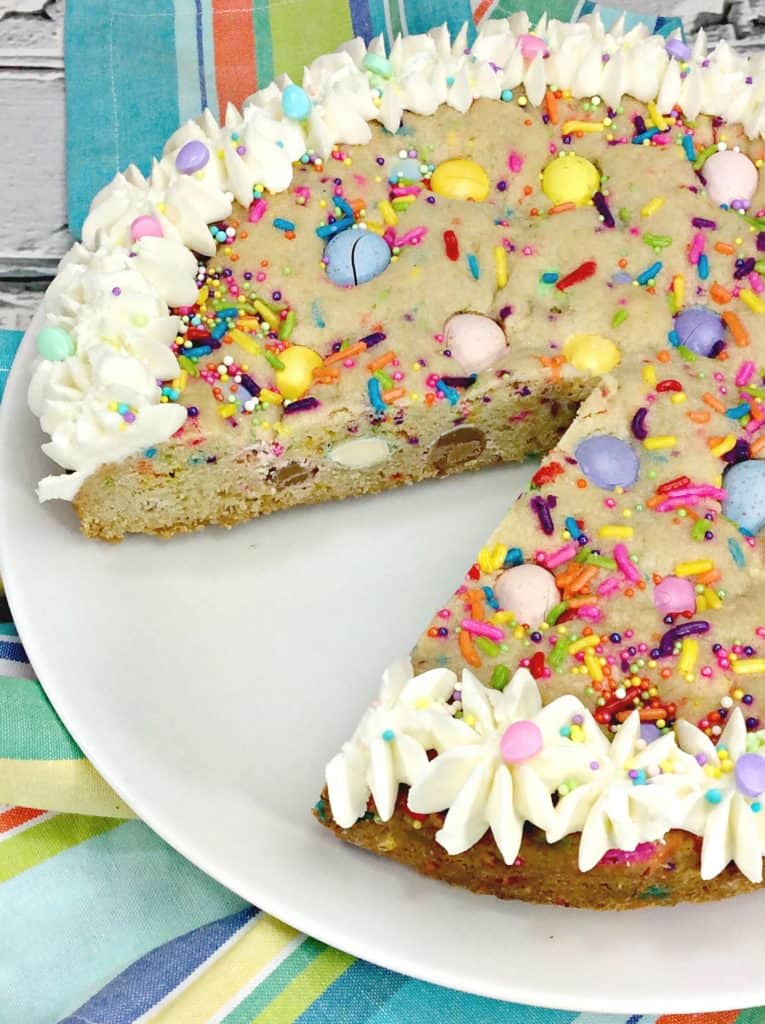 I hope you enjoy this amazing Cadbury Mini Eggs Easter Cookie Cake Dessert with your family and guests!