Ever since I saw the Black Panther movie in theaters, I have been in love with Wakanda, Shuri, Dora Milaje, and Black Panther everything. If you're anything like me, here's a Black Panther frozen drink recipe with a nod to Vibranium for all my fellow fans. This recipe is perfect for parties, movie nights, book clubs, or any gathering where you want to yell Wakanda Forever!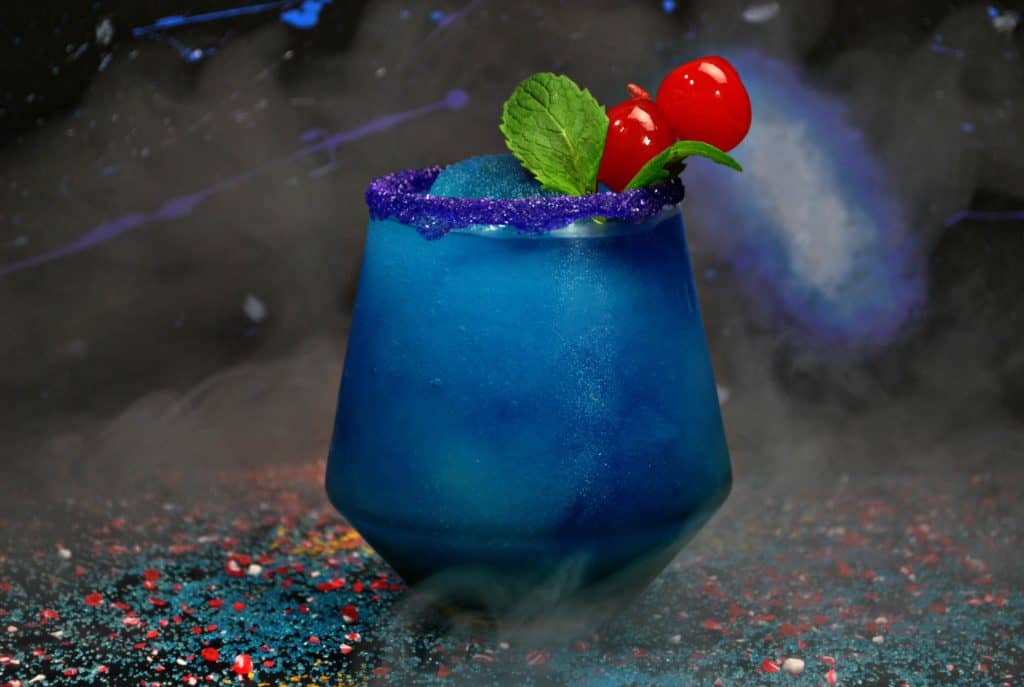 Black Panther Party Ideas
This non-alcoholic Black Panther movie frozen drink reminds me of Shuri and Vibranium, the metal in which Captain America's shield is made out of. When you're catching up on all the Marvel movies in order you need to watch before Avengers: Infinity War (including Black Panther), then add some fancy drinks to your party.
Sanding sugar always makes things fancier. My girls love it when I add garnish and sugar to their drinks. This Black Panther drink recipe would also be great for an Avengers party or if you want an adult drink, add your beverage of choice or check out this Black Panther cocktail.
Black Panther Frozen Drink Recipe
Ingredients:
2 cups cold Lemon – Lime soda
1/2 cup sugar
1 tsp Coconut syrup
1/2 tsp Blue Raspberry Lemonade Kool-Aid Drink Mix
3 cups ice
4 drops Neon Blue Food Coloring
Purple sanding sugar
Simple syrup
Cherries for garnish
Mint sprig for garnish
Directions:
Dip the rim of your glass into the simple syrup then into the purple sanding sugar.
Set to the side.
Make sure your lemon lime soda is cold.
Blend together lemon lime soda, sugar, coconut syrup, food coloring and Kool-Aid powder in a blender.
Add the ice and pulse until smooth. 
Pour into glasses.
Garnish with cherries and a mint sprig.
Enjoy this drink fit for a king – even King T'Challa.
For more Avengers party drink recipes, make this Captain America drink.
Avengers: Infinity War is in theaters April 27th! Check out the trailer to get you extra pumped as your favorite super heroes battle Thanos.