This shop has been compensated by Collective Bias, Inc. and its advertiser. All opinions are mine alone. #ThrowBarkDogChow #CollectiveBias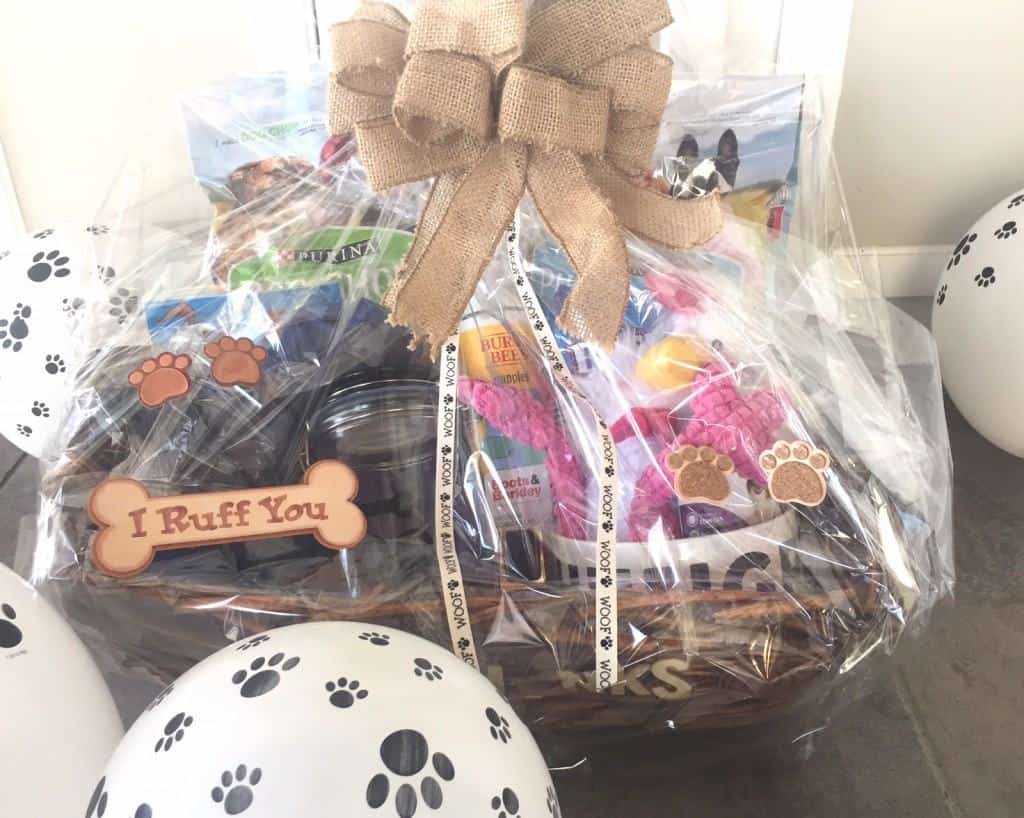 Birthdays are a big deal in our casa. That's just the way I was raised, so I've tried to pass that same tradition on to my familia. This month will be our dog's first birthday!! He will also receive the royal treatment. Let's start with some gifts, because who doesn't like presents on their birthday? We're including all of Tucker's favorite things and making him a woof-tastic dog birthday gift basket.
Tucker's Story
Let me back up a bit by telling you more about Tucker's story. I've shared a bit in the past, but Tucker is a Halloween puppy. At least that's where all the signs point. Tucker is a rescue dog, and he was abandoned on Thanksgiving. Tucker and two dog siblings were found walking on the side of a busy road, dirty and tired. A very kind man took them to a shelter, and they were saved from the shelter by a local rescue organization.
I have 5 daughters, and they all wanted a dog for a very long time. One daughter in particular had been begging for one for every birthday, Christmas, St. Patrick's Day, Easter, Memorial Day, etc. She reminded me of me, in fact. I longed for a dog as a child. I put it on every list. I knew her desire and could feel her pain.
This past Christmas my daughter just knew she would get a dog (and I had no intentions of getting her one). It's not that I didn't want a dog, I just wanted to be ready for one. They are a lot of work, and I already have 5 children which equals a lot more trabajo. But she would not let her dream go. She had so much faith that she was getting a dog, she had her sisters buy her dog items for Christmas like food bowls, dog treats, and a leash. I would ask her why she thought she was getting a dog, and her answer was always the same.
"Mom, I just know a dog is coming. I can feel it."
On Christmas Eve, I couldn't take it anymore. I had to make her wish come true. My husband and I went on a search. We found some pet stores, but I couldn't do it. I got a bad vibe from the stores, so I hoped my daughter would understand and would want to give a shelter/rescue dog a home who really needed a family.
On Christmas Day, I told my daughter that Santa had softened my heart, and that we could look for a dog together. So we searched through pictures online and found our Tucker! This was his online profile.
Well this year on his first birthday, we're celebrating and erasing those bad Thanksgiving memories with a party and awesome gift basket. Like my children, Tucker loves food, toys, and fancy things.
To make a gift basket for your favorite furry friend or to give a gift to another dog, just grab their favorite things like new chew toys, dog food, treats, treat container, shampoo, a warm vest, and a new spiffy collar.
I combined a birthday and a Thanksgiving theme, too, because we're so grateful that Tucker is part of our familia now. I added some wooden stickers to the front of the basket and purchased a stuffed turkey toy.
I also added his favorite dog food – Puppy Chow Natural from the Purina Dog Chow family. I included a bag of Dog Chow Natural since our little Tucker is growing up, and won't be a puppy much longer. It's only natural we transition him to his next stage in life. Sounds like the toddler years!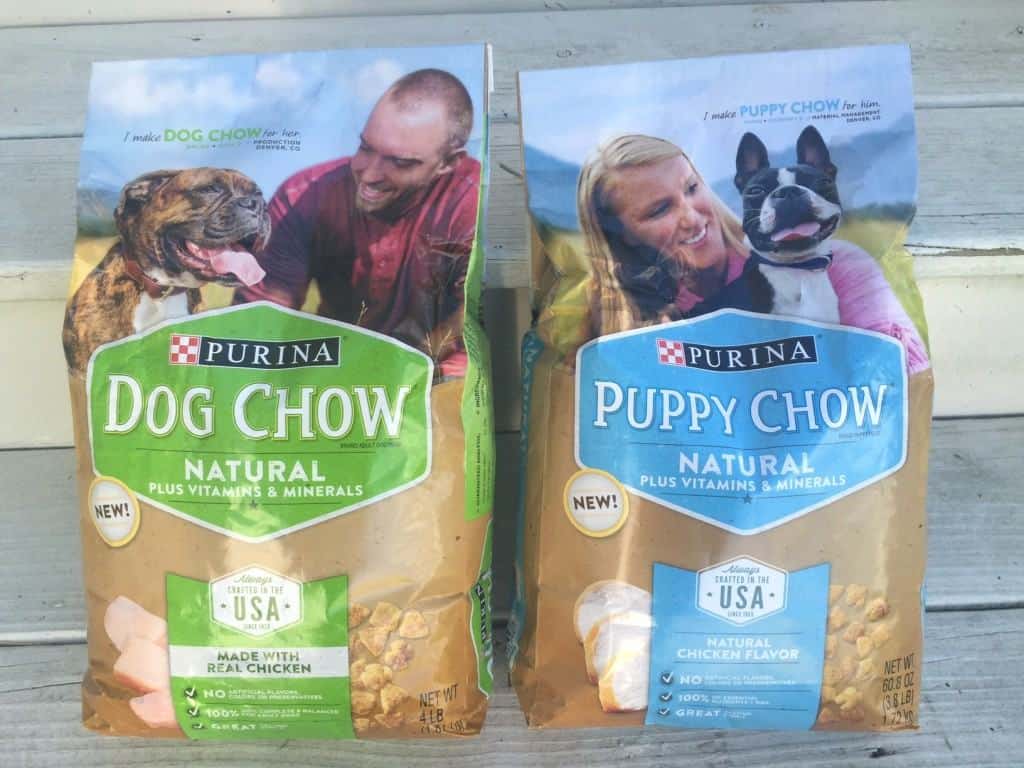 We found all our gift basket items at Target in the pet aisles. You can also find treasures in the Dollar Spot! That's where I found the adorable dog vest, dog treat container, food bowl, and crocheted bone.
Purina Dog Chow packaging got a new look, but it's still crafted in the USA, and is the same brand that has had 90 years of proven nutrition.
To add that extra gift basket look, cellophane wrap always does the trick. I wrapped a roll of cellophane around the basket, purchased a pretty fall bow, and added some extra dog stickers. I just use tape to tuck the sides under, so you can't see them.
We really do "ruff" our puppy, and it warms mi corazón to see the bond that Tucker has with my daughter. He loves everyone in the family, but these two have a special relationship. She was the one who did walks in the middle of the night, and who slept by him, so he wasn't lonely.
I can't wait to give him his basket and have a par-tay. But if there's one thing we Latinos know how to do, it's party. ¡Feliz cumpleaños, Tucker! We're so thankful for the memories we've shared, and the ones yet to come.
Purina is giving away five year's long supplies of Dog Chow from Target! Enter for your chance to win one of these fabulous prizes for you and your furry best friend!