It's Hollywood's biggest night – the 2023 Academy Awards! There were snubs and there were also cheers! Here are some of the best 2023 Oscars memes and reactions as well as some of the best Oscars memes from the past Academy Awards.
Best Oscars Memes and Reactions in 2023
The 95th Academy Awards are on March 12, 2023. With every Oscars season comes snubs, joy, and heartbreak. These 2023 Oscars memes deserve an Oscar for best reactions.
Y'all really hate Disney, don't you?
Can't wait for the live tweeting.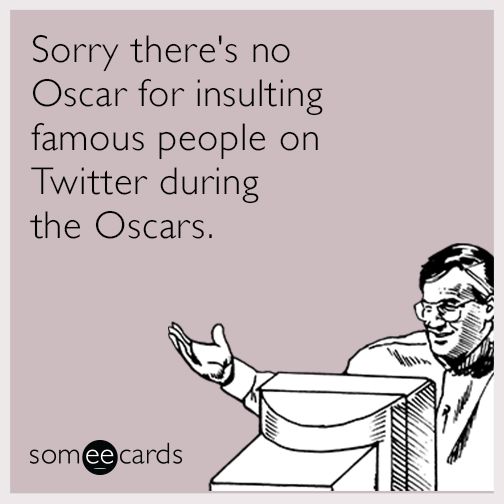 Last year was a doozy. I don't know if we can handle more drama this year. But also…
The shade.
Made this out of pure spite #Oscars pic.twitter.com/Kmi3HorgcT

— Babylon sweep (@tintinsuncity) February 27, 2023
That time when we had to stop with the Leo memes.
Did we ever find out what Ryan Gosling whispered? It looks like more than Hey Girl.
And the 2023 Oscars Meme Award goes to…Andrew Garfield!
But a very close 2nd goes to Pedro Pascal.
Oscars Reactions
But is she wrong?
Viola Davis (The Woman King) and Danielle Deadwyler (Till) should have been nominated for Best Actress and no one can tell me any different. #Oscars2023 pic.twitter.com/BghVHmu6GI

— Kelechi Ehenulo 🍿 (@kehenulo) January 24, 2023
Welp, some things never change.
oscars 2023 for best director in a nutshell: pic.twitter.com/5P9y50Az9e

— Rina (@bbblanchett) January 24, 2023
The fashion police.
Me judging everybody's outfits on the #Oscars white carpet pic.twitter.com/R9j0owzJI2

— tyler (@tcas25) March 12, 2023
Did you catch the Oscars pre-show? Hugh Grant was not feeling it.
And the Oscar for the guy who totally doesn't want to be there goes to Hugh Grant. #Oscars pic.twitter.com/Gq6Q3n1EEU

— Lance Ulanoff (@LanceUlanoff) March 12, 2023
Ashley, you deserve the award.
And the Oscar for Best Actress goes to Ashley Graham telling Hugh Grant "it was nice to talk to you" pic.twitter.com/EhENpbME3r

— Rolling Stone (@RollingStone) March 12, 2023
When Spider-Man was mentioned!
only thing i liked about jimmy kimmel's monologue was this andrew garfield reaction pic.twitter.com/X1ujr1cash

— NOSTALGIA (@notgwendalupe) March 13, 2023
Most genuine moment.
This is genuinely, extraordinarily beautiful. 🥹 #Oscars pic.twitter.com/b0cSSKmKtm

— Eugene Lee Yang (@EugeneLeeYang) March 13, 2023
First big upset of the night. I love Jamie Lee Curtis, but dang, Angela Bassett deserved that Oscar.
WOOOOOOOOOOOOWWWWWWWWW

First big shock of the night (to me) as #JamieLeeCurtis wins an #Oscar for Best Supporting Actress.

Angela did not look happy…and you can absolutely understand why.#Oscars #Oscars2023

— John Rocha aka The Outlaw Nation (@TheRochaSays) March 13, 2023
My thoughts exactly.
Now WHY have Ariana DeBose go up there to announce anyone BUT Angela Bassett??! pic.twitter.com/UEeybufLrk

— Nicole Nichelle is Innocent 😇 (@alamanecer) March 13, 2023
Love this shoutout.
Michael B. Jordan and Jonathan Majors give a shoutout to Angela Bassett: "Hey Auntie, we love you." #Oscars pic.twitter.com/xIQlVq8AOZ

— philip lewis (@Phil_Lewis_) March 13, 2023
If you didn't see the performance for Natuu Natuu, you should.
Here's the energetic performance of "Naatu Naatu" from #RRR at the #Oscars. https://t.co/ndiKiHeOT5 pic.twitter.com/Lf2nP826c4

— Variety (@Variety) March 13, 2023
The real MVP.
Shout out to the woman in the audience having to strain her neck all night to see the #Oscars stage pic.twitter.com/BdvCCtS5GT

— Michael Schneider (@franklinavenue) March 13, 2023
The camera panning to Lady Gaga sitting like this #Oscars #Oscars95 #AcademyAwards pic.twitter.com/tS5r9c1GUQ

— Kenny (@kennysroys) March 13, 2023
And a Harry reference to boot.
Treat people with kindness✌️ https://t.co/ZvUVHcrTBJ

— Malala Yousafzai (@Malala) March 13, 2023
Again, the support.
Angela Bassett holding Austin Butler's hand while he's nervous…is exactly the kind of woman I imagined she was 💕. pic.twitter.com/IPnYniCCux

— Nadine Babu (@NadineBabu) March 13, 2023
Ok, go ahead, Jessica.
Jessica Chastain's dedication to not getting sick is unparalleled. An icon. #Oscars pic.twitter.com/J82k1o4SeN

— maxance vincent (@MaxFromQuebec) March 13, 2023

And the Academy Award goes to…
Best Picture goes to…'Everything Everywhere All At Once' Congratulations! #Oscars #Oscars95 pic.twitter.com/lYJ68P97qf

— The Academy (@TheAcademy) March 13, 2023
Congratulations!!
More Funny Memes
Best Happy Birthday Memes
Ben Affleck Memes from Grammys