The Dallas Cowboys 2023 playoff loss was hard for fans. But the memes are funny for the haters. Enjoy this collection of Dallas Cowboys playoff loss memes.
Best Dallas Cowboys Memes for the Haters
Sometimes you can't help but take joy when a team like the Dallas Cowboys loses. Mama, don't let your babies grow up to be Cowboys. Here are some of the funniest Dallas Cowboys losing memes online. The way that game against the 49ers ended was just sad, but also kinda ridiculously funny.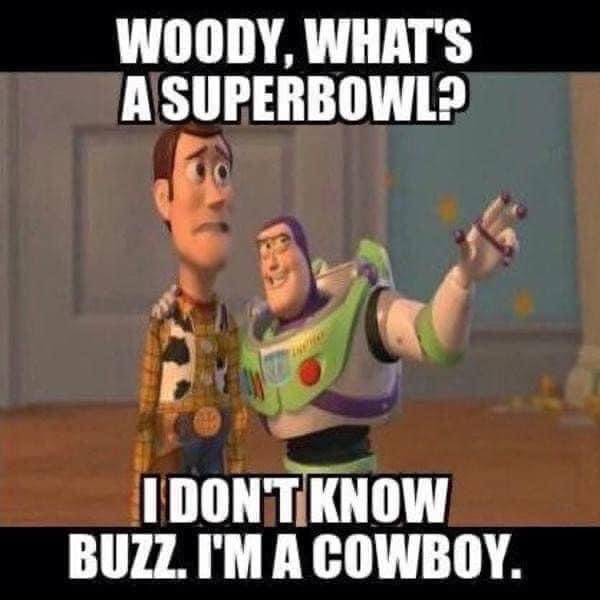 Cowboys fans thinking they have a chance every year pic.twitter.com/riQ9ly7ovM

— Complex Sports (@ComplexSports) January 23, 2023
ONE LAST TIME COWBOYS FANS.. pic.twitter.com/4MvaSGFLIE

— NFL Memes (@NFL_Memes) January 23, 2023
I do feel kind of bad for the fans. They've been going through it.
Give it to the Cowboys, they know how to finish playoff games in the funniest way possible

— Big Cat (@BarstoolBigCat) January 23, 2023
BRETT MAHER HAS MADE A KICK pic.twitter.com/E2JJfHkbPl

— NFL Memes (@NFL_Memes) January 23, 2023
The Cowboys giving us a chance to have their season somehow end more hilariously this year than last year. You gotta respect it.

— nick wright (@getnickwright) January 23, 2023
Cowboys fans everywhere rn….. pic.twitter.com/4Tbixe4GEm

— FOX Sports: NFL (@NFLonFOX) January 23, 2023
NFL fans watching another Cowboys playoff loss on the horizon pic.twitter.com/uuwffvkBsQ

— Complex Sports (@ComplexSports) January 23, 2023
Dak Prescott when the Cowboys need him most against the 49ers #DALvsSF pic.twitter.com/4GZshvwnbp

— Fun Guy (@FunGuyBurner) January 23, 2023
How Bout Dem Cowboys! pic.twitter.com/2AsIekCn3N

— Lᴀᴡʀᴇɴᴄᴇ Tʏɴᴇs (@lt4kicks) January 23, 2023
Another season ends in disappointment for the Cowboys 🥺 pic.twitter.com/Xzv4jrdUlK

— NFL on ESPN (@ESPNNFL) January 23, 2023
Stephen A. Smith and Shannon Sharpe watching the Cowboys get eliminated from the playoffs pic.twitter.com/WtLGFqEnaJ

— Complex Sports (@ComplexSports) January 23, 2023
More Funny Memes