Merry Christmas! Happy Holidays! Feliz Navidad! No matter how you say it, these funny Christmas memes for 2022 will make you laugh! Some of them will get you in the holiday spirit, others will make you chuckle, and others are a little savage. Thanks, Grumpy Cat (RIP).
Funny Christmas Memes for 2022
These hilarious Christmas memes will put you in the Christmas spirit. Deck those halls, drink that eggnog, wrap the gifts, and prepare to laugh with these holiday memes. Once December hits, it's fair game for Christmas memes!
These December memes reflect what happens when the clock turns from November 30th to December 1st!
Christmas Shopping
Listen, money's been a little tight this year.
Nama-Sleigh
Santa and the reindeer need to get their yoga game on to prepare for Christmas Day.
Grinchy Christmas
Are you a Grinch or a Buddy the Elf?

You Better Watch Out
You better not cry, you better not pout, I'm telling you why…
Fat Christmas
Nothing wrong with a little Christmas lbs.
Nature and Christmas
Nature during the holidays is the best!
Rockin Around The Christmas Tree
Or is it The Rock around the Christmas tree?
O Christmas Tree
Listen, nobody looks at the back of the tree, amirite?
Christmas Card Etiquette
Please don't use an apostrophe to pluralize a last name on your Christmas cards. Santa is begging you.
When the Elves Misunderstand
Uh oh, Santa's mad.

Christmas Surprise
Those moms sure are sneaky.
Christmas on November 1st
Forget day after Thanksgiving, I think we've moved up the date. Nothing wrong with that.

Santa's in Trouble
Poor Santa is just trying to do his job, while Mrs. Claus is not happy about it.
The Naughty List
So my list may have gotten shorter this year.

Love Actually Christmas Meme
Love Actually…if you know you know. But also, I blame his character and not Alan Rickman.
Brace Yourselves for Christmas
It's November, so Christmas is here!
Star Wars Christmas Meme
Don't fall for it, guys.
Grumpy Cat Christmas Meme
Listen, Grumpy Cat is not having it and is throwing shade on your red holiday Starbucks cups.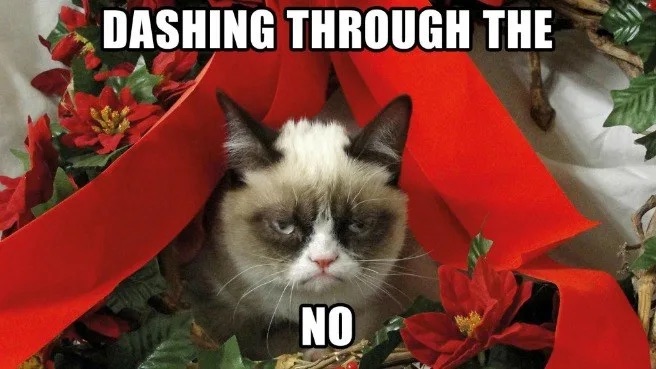 Sprinkles Are Where It's At
Sprinkles make everything better, even Salt Bae knows it.
Mariah Carey Christmas
Is it really Christmas if you haven't heard All I Want for Christmas is You a million times?
And then it gets old.
Christmas Music
I love Christmas music, but on a loop, every day? Working retail was brutal sometimes.
Close Enough
Well 2022 was a hard year, so maybe I'll just buy my own stuff.
Dog Christmas Meme
I'm telling you, those sprinkles are a dead giveaway.
Maybe It Was the Dog
Poor Grogu. Christmas is ruined.
Scary Christmas Meme
Maybe send this one to an ex.
Family Time
But it's all about the family time, right?
Instead of Gifts
Hey, sometimes the best gifts don't have to cost money.
Christmas Movies Meme
At the end of the day, all I want to do is watch Christmas movies, especially Hallmark movies.
Or you could be watching those kinds of documentaries.
The Smell of Christmas
If you want to smell of joy, then you know where to go.
Merry Christmas! I hope Santa brings you what you've been asking for.
More Holiday Memes
For some more holiday fun, these Elf on the Shelf memes, funny holiday memes and snow memes should also give you a chuckle. And if you love Hallmark, then enjoy these Hallmark Christmas movie memes! If you want a little more tame holiday spirit, then these clean Christmas memes won't offend anyone…hopefully.