I have been compensated by PediaSure for this post; however, I am sharing my own thoughts. All opinions are my own.
Let's be honest here. Who doesn't love a good animal-shaped pancake? I'm starting to realize I can't feed my children cold cereal for breakfast and dinner every day. No bueno. I've told y'all about our ridiculous practice and sports schedule every night of the week. So with time being short, I'm always looking for ways to give my picky eaters nutrients. And when I can, I love to make dinners fun with easy animal pancakes.
I'm not talking pancakes in the shape of Captain's America's profile here. That would be nice, but mama lacks skills and time. These are easy animal-shaped pancakes that will make my kids laugh and appreciate my efforts, and only require standard geometric shapes.
To add some extra nutrients to our breakfast for dinner, I use PediaSure Sidekicks shakes where it calls for milk in our favorite pancake recipe. My kids like the Vanilla Shake in their pancakes for the added flavor. When I first made them, they commented how good they were. I pretended not to be offended by their surprise. But come on, I can cook..sometimes.
Each shake is a source of 7g protein, 3g fiber, and 25 essential vitamins and minerals for kids who are growing fine but missing key nutrients. When we're home, I can use them in my cooking. When we're on the go, then the kids can drink one right before practice to hold them over until dinner. Even though I find them in the baby section at Walmart, all my kids enjoy them!
Pig-Shaped Pancakes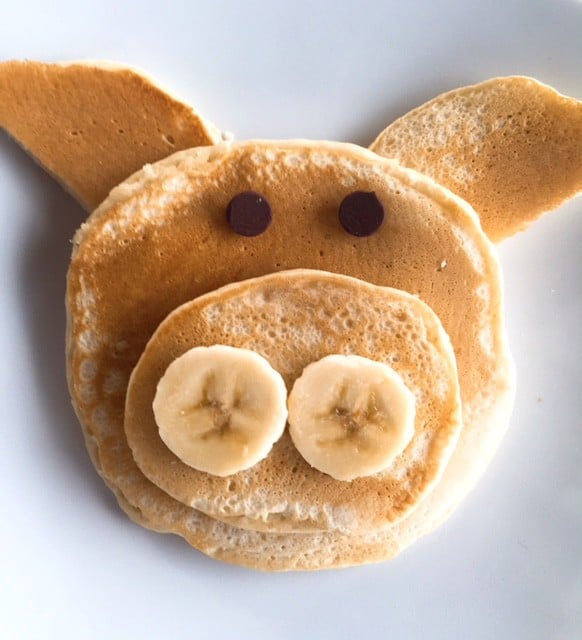 A fan favorite ever since my youngest daughter ate them at Bob Evans. All you need is 3 circle pancakes, 2 half the size of the others. Cut two banana slices for the nose, add chocolate chips for the eyes and cut a small circle pancake in half for the ears. Add some bacon for an extra touch if you'd like. But maybe turkey bacon, so the pig pancake isn't offended.
Ladybug Pancakes
All you need is 2 round pancakes and a half of a smaller round pancake for the head. Add some chocolate chips for spots. I just used chocolate syrup for the antenna (or is it antennae?). It came out looking a little Loki helmet-ish, but my kids dig Loki, so they thought I was cool.
Emoji Pancake
For the tweens I added an emoji pancake. Once again, bonus cool mom points. I just cut out hearts from strawberries with a paring knife, cut part of a pancake for the mouth and dipped it in chocolate syrup.  Instant happiness.
Add animal-shaped pancakes to the list of our favorite dinners and weekend breakfasts. It makes me happy that my kids loved my recipe of using PediaSure Sidekicks in our pancakes.  Now you can save on PediaSure Sidekicks shakes at Walmart when you bundle them and buy 2 by clicking HERE. Our favorite flavors are vanilla and chocolate.
Here is our favorite recipe for Vanilla Pancakes. Bon appétit!
---
Vanilla Pancake Recipe
1 1/2 cups all-purpose flour
3 1/2 teaspoons baking powder
1 teaspoon salt
1 tablespoon white sugar
1 1/2 cups PediaSure Sidekicks Vanilla Shake
1 egg
3 tablespoons butter, melted
In a large bowl, mix together the flour, baking powder, salt and sugar. Make a well in the center and pour in the PediaSure Sidekicks, egg and melted butter; mix until smooth.
Heat a griddle, skillet, or frying pan over medium heat. Lightly grease griddle with cooking spray or oil covered paper towel. Pour or scoop the batter onto the griddle. Amount depends on desired size of pancakes. Brown on both sides and serve hot.